Elyse Saunders has delivered her awaited EP, Free. The six track release features hits like the title-track, Free, along with her summer single, "Sunshine State of Mind," and "Wine Down" along with three new releases.
If you've had the chance to see Elyse Saunders perform live or even virtually, her voice is effortless and her talent is absolutely natural. In each song, Saunders has at least one shining moment to showcase her amazing vocals.
RELATED: Elyse Saunders joined us for one of our live Front Porch Sessions. Check it out …
"I created Free as a means of bringing joy to others. I want people to listen to it and get excited – not only about the music, but also about embracing their own identity, and finding happiness and freedom in every moment."
Saunders really channels her goal of finding happiness and freedom. It's hard not to smile and sway along with each song.
"Free," the title-track which was released in May 2020 as a single, is a care-free, windows-down driving-down-the-highway anthem. The single had great response … it garnered 500,000 Apple Music streams and over 100,000 YouTube views, won Video of the Year and Song of the Year at the Mississauga Music Awards, and was a semi-finalist in the Country & Unsigned Only categories of the 2020 International Songwriting Competition.
"Sunshine State of Mind" was released as a single in May 2021, with the same core themes shared from "Free." Care-free, easy love drives the single's story and created a fun vibe for listeners looking forward to the summer. "Sunshine State of Mind's" music video has over 100,000 views and was also featured on CMT.
RELATED: Have a listen to Elyse's "Sunshine State Of Mind" …
"Wine Down" is smooth and slower, bringing listeners back just a beat. It's about slowing down and being in the moment with the one you love, and taking advantage of the time together. Sometimes date night doesn't need to be a night on the town. "Wine Down" is my favourite track on the EP.
Bringing the party back, "Famous" is fun and sassy. Feeling famous in her "scuffed-up chucks," famous is really about making the most of what you've got, embracing some main character energy, and looking forward to every day. Life isn't about being famous per se … but it's about loving every moment.
"Genes" is an empowering and inclusive anthem. Positivity radiates through the music and lyrics. You can't help but move to the song which is powered by a higher tempo and a very contagious hook.
"California" closes out the EP as Free's bonus track. Channeling some true California energy, the song is breezy, reminiscent, warm and welcoming. "California" is a listener's trip to paradise.
If you're looking for a dose of country music that will literally surround you with positivity, gratitude, and happiness, check out Elyse Saunders' EP, Free, streaming on all platforms now.
Follow Elyse Saunders on Instagram, Tik Tok, Twitter, and Facebook.
Stream Elyse Saunders' EP Free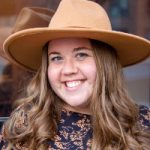 Country music lover with an unhealthy collection of concert t-shirts. Always looking for up and coming artists. Believer in music's ability to soothe the soul. Connect with me on Instagram and Twitter.