Kendra Kay's latest single "Wild" has already collected over 500,000 streams globally, and what better way to follow that, than with the release of an Acoustic version and music video?
Recorded and filmed at Catherine North Studios in Hamilton, Ontario, the intimate performance brings listeners closer to the heart story behind "Wild".
Initial Reactions to "Wild"
"Audiences across the country really connected with this song so we wanted to give them an exclusive acoustic version of it. This intimate delivery gives the listener a new experience from the original which is exactly what we wanted! I just want to say a huge thank you to everyone for the support on this single", explains Kendra.
"Wild" is a song that I so easily connected to as a listener. Kendra's voice drew me in, you can hear and feel the emotion, and it really carries through the entirety of the song. She really knows how to bring her listener through the entirety of the story she's telling.
Wild is just that – loving someone "Wild", without boundaries or hesitation. Written by Carly Pearce, Jeff Pardo, and Molly Reed, Wild compliments Kendra Kay's traditionally-inspired country sound.
More About Kendra Kay
Raised in a rodeo family on a farm in Elkhorn, Manitoba, Kendra Kay commands the stage with powerhouse vocals and a welcoming, energetic stage presence. Kendra is a 5-time MCMA Award winner, Top 10 Finalist for the CBC Searchlight Contest, and has headlined the legendary El Mocambo. After being sidelined from her hockey career, Kendra turned to her love of music, building a career around her traditional roots and a love for country music.
"My live show is definitely where my heart is," says Kendra about getting back on stage and traveling across Canada to perform. With lots of live events in store this year, check Kendra Kay's website for upcoming tour dates near you.
Follow Kendra Kay on Social Media
Stream "Wild (Acoustic)" by Kendra Kay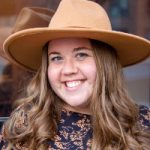 Country music lover with an unhealthy collection of concert t-shirts. Always looking for up and coming artists. Believer in music's ability to soothe the soul. Connect with me on Instagram and Twitter.