If you're looking for a soulful Canadian Country Rocker, Marshall Potts is your next stop.
"Free and Easy" is the title track and current single from Marshall Potts' upcoming third album, Free and Easy.
"Free and Easy" is the latest powerful example of Potts' mission to deliver a universal message of positivity and optimism through music.
Before even listening to the lyrics, Potts' captures your attention with soul, emotion, and absolute passion. Potts' voice infuses seamlessly into this country-rock track. You can't help but picture yourself swaying to the song in a packed crowd. The perfect escape to freedom for music-loving, concert-missing country music fans.
This artist from British Columbia prides his latest music on reflection and personal growth.
"The album collectively tells the story of my own spiritual journey and inner awakening," Potts explains. "'Free and Easy' invites the listener to join me on this journey."
Potts easily resonates with listeners who are about the immersive experience that music can offer. Not only are you listening when you hit play on "Free and Easy", but you're feeling, understanding, and living the experience that the track offers.
I need to feel, feel like I'm needed
I feel welcome, when I'm inside
Said I'm alone, I'm alone when you're not laughing
Said I'm empty, said I'm empty without your smile
Potts draws on the human experience of interconnectedness and belonging. The lyrics are genuine and experiential. Relating to his own time spent on his personal journey, Potts' seeks to share his life learning through the power of music.
Adding this track to your summer playlist won't be hard if you enjoy country-rock crossovers and meaningful lyrics.
You can follow Marshall Potts on Twitter, Instagram, Facebook, and Tik Tok.
Stream "Free And Easy" By Marhsall Potts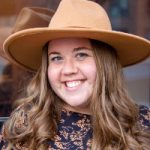 Country music lover with an unhealthy collection of concert t-shirts. Always looking for up and coming artists. Believer in music's ability to soothe the soul. Connect with me on Instagram and Twitter.