Tenille Arts has built momentum that stretches far outside of Canada. This past summer, she played a number of huge stages, including Cavendish Beach Music Festival in PEI, Lucknow's Music in the Fields, and a tour with Lady A. 
Her 2021 album, "Girl To Girl" chalked up hit singles like "Back Then, Right Now" and "Give It To Me Straight".
To say Tenille's star has risen would be an understatement. With fans across the globe, an authentic personality and a stage presence that connects to every audience member, she is well on her way to stardom.
To start her next chapter, a brand new song, with a brand new label.
Tenille Couldn't Wait To Release This New Song
Tenille is back with a heartfelt, vulnerable ballad, "Jealous of Myself", the first release with her new label. 
"This song means the world to me. It was a labor of love from the incredible songwriters (Emily Weisband, John Byron, & Trevor Rosen), the brilliant Nathan Chapman, and my whole team. I am so beyond thankful," says Tenille.  
A unique perspective on a past relationship, "Jealous Of Myself" reflects on the moments spent as a partner and being jealous of a past self that was part of that experience.
Hearing this song live this past summer, the intimate experience of sharing this song with her audience has leveled Tenille up as a performer. It's hard not to be drawn to the emotional value that comes with "Jealous Of Myself".
"Jealous of Myself" Is First Release With Dreamcatcher Artists
Dreamcatcher Entertainment has recently expanded their repertoire to the label world, signing Tenille Arts to Dreamcatcher Artists as their flagship artist.
On the partnership, Tenille says "I am honored to be the first artist to sign with Dreamcatcher Artists, and to have the opportunity, for the first time, to participate in the ownership of my music." 
"I have been able to have a hand in helping build this incredible team of hard working people who never stop believing in me. I want to thank each and every one of you, you know who you are, for empowering me to continue to chase my wildest dreams. We have already been able to achieve so much together, and I cannot wait to share my new music with the world."
After years of forging her own path in country music, Tenille is excited to be working with a label that supports her journey thus far, and allows for creative freedom and ownership over her music.
Tenille Arts is an incredible role model for young artists looking to build their careers. A clear image of hard work, dedication, and tenacity, Tenille has shown that hard work truly pays off.
Connect With Tenille Arts On Social Media
Instagram – @tenillearts
Facebook – Tenille Arts
Twitter – @tenillearts
TikTok – @tenillearts
Stream "Jealous Of Myself" By Tenille Arts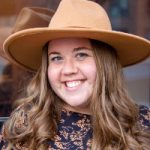 Country music lover with an unhealthy collection of concert t-shirts. Always looking for up and coming artists. Believer in music's ability to soothe the soul. Connect with me on Instagram and Twitter.