Brandi Vezina isn't looking back with regret in her latest single, "Dodged a Bullet", which hit streaming platforms today.
"Dodged a Bullet" is just as the name says … happy to be looking back on something knowing you got out when you did. 
"Dodged a Bullet" Features Her Grandma!
Brandi comes from a musically-inclined family, so it's no surprise she's incorporated her family into her music. Brandi's Red River Metis Grandmother Marcella Vezina also adds her vocals to "Dodged a Bullet". 
On having her Grandma on the track, Brandi says, "It was important to have my Granny on this track because her prayers helped me get out of a bad situation."
"Dodged a Bullet", while reflecting on Brandi's own experience and getting out of a difficult situation, rings bells for many of us listeners. It's safe to say many of us can look back on something, whether it's a relationship, a past opportunity, and realize the good that didn't come of it. It's important to look back and recognize yourself for getting out of a situation and not sticking around to see if it would get better.
Brandi Vezina co-wrote "Dodged a Bullet" with Liz Christensen and Sarah Elliot, and the track was produced by Murray Pulver.
On working together, Brandi says, "Liz Christensen, Sarah Elliot and I have forged such a powerful writing bond. It's a blessing that we are able to connect and create the music we do together."
More About Brandi Vezina
Brandi Vezina is a singer/songwriter from Winnipeg Manitoba whose authentic country roots are influenced by rock and the blues. She comes from a musically-inclined Red River Metis family. Her biggest inspirations are Johnny Cash, The Rolling Stones, Janis Joplin and Miranda Lambert.
Her previous singles include "Gasoline", "Almost", and "Danger" all received tremendous support from SiriusXM Canada's Indigiverse, Top of The Country Radio, and North Americana.
In 2022, Brandi collected five Manitoba Country Music Association nominations for Female Artist of the Year, Album of the Year, Fans Choice, Emerging Artist and NCI FM Indigenous Country Music.
Her newest single "Dodged a Bullet" is the first release of 2023 for Vezina.
Brandi Vezina on Social Media
Stay up to date on Brandi Vezina's latest releases, performances and more on socials!
Instagram – @brandivezinamusic
Twitter – @brandivezina1
Facebook – Brandi Vezina
Stream "Dodged A Bullet"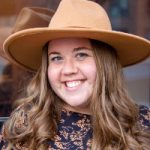 Country music lover with an unhealthy collection of concert t-shirts. Always looking for up and coming artists. Believer in music's ability to soothe the soul. Connect with me on Instagram and Twitter.