Montréal-based country singer-songwriter Brittany Kennell is celebrating the release of her latest single, "Together We're Rich".
"'Together We're Rich' is a best-friend anthem that celebrates friendships at their simplest and without the extravagance. It's about the easy hangs, the no-frills, going through the drive thru for fries," says Brittany.
Brittany is also gearing up for a number of shows this summer, with a number of festival slots through Quebec, including Lasso Music Festival, along with Cavendish Beach Music Festival.
RELATED: See the full Lasso Music Festival Lineup …
A CBC Breakthrough Artist of 2021 and SiriusXM Top Of The Country finalist, Brittany has played the Grand Ole Opry and was the only Canadian to take part in NBC's The Voice.
I sat down with Brittany to chat more about her career and what she's learned over her decade plus in the music business.
5 Questions With Brittany Kennell
1. Do you ever struggle with feeling like you had to be something else or that there were expectations set of you? Do you still feel that way sometimes now?
"Within my career and outside of it. There were moments in my time in Nashville where I felt like what I was doing wasn't what people wanted, so I started adapting to what was expected of me."
"I really lost myself, and it wasn't until I moved home that I realized."
There will always be doubts; that's one thing Brittany has learned for sure. "Did I pick the right career choice", "am I ever going to get anywhere". Knowing everyone faces these at some points in their lives, Brittany knows it's most important to focus on the "why".
Brittany says, "The highs and lows of the industry are so tough. The highs don't last forever. It's peaks and valleys, the peak is one view. Appreciate the high, prepare for the valleys."
2. Where do you feel on your journey that you learned a valuable lesson about building your career?
"It was probably when I moved home to Montreal and took a year off from music. It was really important for me to get back to things that really mattered. Not that music and career don't matter, but they're not everything."
After being gone for ten years while she lived in Nashville, only seeing family a few times a year, missing holidays, getting to hang out really showed her the greater picture of the journey. She appreciates music as it is and now knows she has a lane and is doing something important and it's working out.
"I didn't pressure myself with music and trying to be something I wasn't. I'm now focusing on the good things and the simple things in life."
3. How do you stay focused on your goals and path while managing the many "shiny objects" or distractions the music industry offers?
"It's super tough because you see it every day, especially with social media. It's so hard not to compare and we all do it. It's hard to stay aligned with what you want to do. You have to take breaks, be around people who support you, and really choose mentors career-wise that you look up to."
"Look at Miranda Lambert, she's a big mentor and idol for me as far as her career path. I love Bruce Springsteen, I love the longevity of his career path. Same as Marren Morris and Kacey Musgraves. I think how does this align with what I want to do? This gives me the inspiration to stay on track."
Brittany has always been about the music and learned that as a young Bruce Springsteen fan. The music is what it's about, and connecting with people. She's been thoughtful about finding idols that share those same values and goals that she does.
4. Can you share a little bit about your relationship with social media? How do you balance the demand for more and the need to disconnect sometimes?
"Social media is a funny game and I've definitely been on all sides of it. I've been on the side where I need to post every day, and I've gotten to a place where if it works for me I'll post it. I've really tried to create a bridge between sharing too much personal stuff and keeping some things separate."
"I've created a gap between what to post and what not. I try to stay away from the rabbit hole of it. It's a little unhealthy. I try not to go on in the morning, I create office hours on there."
"Social media takes away from the present moment. You can get lost in it so easily. Focus on the present moment rather than what everyone else is doing."
5. If you could tell your younger self one thing, what would that be?
"I think something i"m really learning right now and wish I knew when I was younger was to own who I am and be confident in that."
"I feel like I've always not wanted to step on anyone's toes, I'm shy about certain things. I was shy about music and owning up to my confidence. So I'd tell myself to be proud of who I am and be confident in that."
RELATED: Have a look at all the other great women in Canadian country that we have featured …
About Brittany Kennell
Brittany Kennell started taking music lessons really young and remembers always writing songs.
"I loved writing music, not because anyone told me to," she says looking back.
Her parents loved karaoke, music was always playing; she was certainly part of a family of music lovers. Her brother plays guitar and her sister sings. Her parents have always been supportive of her music and have always supported her in following her dream.
When it came to heading off to school, it was a teaching program, or Berklee for songwriting. "If I got into Berklee I was going to dedicate my life to music, and if not, I was going to dedicate my life to teaching."
Kennell would head off to Berklee and graduate her 4-year program in just three years. From there, she moved to Nashville and fell in love with it. At the age of 21, Brittany would work as a server and play gigs as often as possible. She'd write whenever she wasn't doing either of the former.
NBC's The Voice was where she would take "the artist thing" to a whole new level. "I loved the on stage connection with people. It solidified a lot for me as an artist."
Brittany made the best decision she's ever made when she returned to Montreal after ten years in Nashville. She was able to "relearn" herself and remember what she loved that made her move to Nashville in the first place. She really believes the universe redirected her. She moved home just before the pandemic and was thankful to be close to her family. Now she's part of the booming Quebec country music scene!
Brittany has released two singles this year so far. "House and a Dog" was a really big message for Brittany to share. She's always prioritized her career and sometimes it felt like she was falling behind, even though she knew she was making the right decision for herself.
"I had been single for four years, I was tired of people asking if I'd met somebody yet. If that chapter doesn't happen for me, I want to be okay with having other goals, and knowing it's okay to pursue a career. I want to be satisfied and content with my choices. If my career gives me a house and a dog, I'm proud of that."
Her newest single "Together We're Rich" was released April 28, and is a special nod to the best of friends. "I'll get this and you get that – together we're rich."
You can stream both songs everywhere now!
BONUS: Advice For Artists Considering TV Talent Competitions
"Keep your head on your shoulders, be grateful for the opportunities, but don't get too carried away with it. You can end up putting your emotional eggs in one basket, and feel really discouraged if it doesn't work out. I know artists, they give up and don't want to do music after the TV experience. Be grateful for the experience, stay true to yourself, don't let that be your career end if you don't make it through, it's a stepping stone. Utilize it as an opportunity."
RELATED: We talked to Brittany about her time on The Voice …
Connect With Brittany Kennell On Social Media!
Instagram – @brittymusic
Twitter – @brittymusic
Facebook – @brittymusic
TikTok – @brittanykennell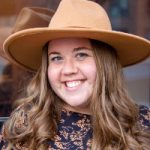 Country music lover with an unhealthy collection of concert t-shirts. Always looking for up and coming artists. Believer in music's ability to soothe the soul. Connect with me on Instagram and Twitter.