Melissa Livingstone is celebrating the release of her latest single "Grew Up On It", which dropped in late January.  
Looking back on her small town roots, the way she was raised, and life in the outdoors, "Grew Up On It" gives listeners a taste of where she came from.
Melissa had a huge 2022, including her big move to Nashville and some exciting festival slots.
Supportive of her friends, carrying a positive attitude wherever she walks, and penning tunes about life in a small town, Melissa Livingstone has learned a thing or two from a decade in the music industry.
5 Questions With Melissa Livingstone
1. You knew from a young age that music was your path. What do you think you'd be doing if you didn't have a career in music?
"I had 18 jobs in my life. SO MANY JOBS."
"The only two things I ever wanted to do other than music was be a pro snowboarder or work with dogs."
Melissa actually had a job at a dog daycare for three years and it was the best job she ever had. It was actually something she thought about after returning home from a less than inspiring CCMA Awards week.
2. You've been in Nashville for about a year now. What's one thing you wish you knew before you moved that you know now? What's your advice for artists looking to make the move?
"It's okay to not go out all the time. When I first moved here I was like I need to go out every night, I have to network."
When you're living in Nashville, making your living, and building your career, it can get exhausting. You're performing multiple times a week, taking in other peoples' music, trying to ensure you're in the right places, and it gets hard to socialize when your battery is drained.
Melissa was so close to burnout before Christmas, between planning 2023, playing shows, and supporting her friends.
"Everyone in the industry who lives here understands you can't be on every day and sometimes you do have to say no," says Melissa. She does say that she will fight through the exhaustion when her best friends are playing, she hates to miss out on their moments.
Melissa's defining moment in Nashville was her debut at one of Nashville's coveted writing rounds, The Listening Room.
"I blacked out for the first ten minutes, it was insane. It was that moment where I realized I'm living the dream, doing what I love every day. Some days are definitely hard, but I'm doing it and I'm loving it."
3. Can you share a little bit about your relationship with social media? How do you balance the demand for more and the need to disconnect sometimes?
"I have a love-hate relationship with all of them – specifically TikTok."
That's where she grew a following last year, however she's still not reliant on it. "Country Enough" was a song that gained traction on the platform and reached a greater audience.
The social media double-edged sword is something Melissa is certainly aware of.
"It makes it feel like music is defined by likes and that can be hard to swallow. At the end of the day, I don't want to tie my value to this."
"I spend too much time on social media. It's hard not to go on it, especially with a new release coming. I'm spending so much time consumed with social media."
Melissa does take breaks for a week every few months. It gives her space to reset and remind herself of the world around her that isn't tied to the connections on her phone.
4. You're a very outgoing and friendly person – definitely a go-to person in a room full of people. How do you focus on the positives and the good when the music industry gives you reasons not to?
If you've had an opportunity to meet Melissa, you know she's absolutely outgoing, positive, and such a welcoming person to be around. She's the type of person you gravitate toward in a room full of strangers.
"I don't know if I've just been blessed with a positive mindset. My parents always said I was a happy kid. I'm a free spirit, I enjoy making others happy."
She laughs before she finishes with, "Everyone is so negative, someone's gotta be positive!"
While she acknowledges she has bad days too, she really overrides her negative feelings with a positive mindset.
"I internalize everything, I don't let on to others when I'm discouraged. But I'm doing what I love, in a city I love, surrounded by people I love. I just have to remind myself of the good."
5. How have your small-town roots been a positive influence on your journey as a country artist? How do you stay rooted in your values?
"The way I was raised was to respect everyone. Everybody is somebody in a small town. For me, it's about taking that with you everywhere I go."
For Melissa, her family keeps her together. She stays in touch with people from her hometown, and it provides a constant reminder of never forgetting where she came from.
It fuels her in a way; in remembering how she felt as a child and teenager, the happiness she experienced, even in overcoming tragedy, her goal is recreating that happiness for people in her life.
BONUS: Melissa's Top Tips to Artists Who Are Making Their Way
Be a good, genuine person: What separates you is being authentic, not faking friendships, rather than trying to get to the right people to get shows and slots
Surround yourself with good people: Pick the people that bring you up, if you help each other along the way, that's great
Hobbies outside of music: Lots of hobbies, like snowboarding, hiking, working out, being outside
About Melissa Livingstone
Melissa Livingstone grew up in the tiny fishing town of Ucluelet, British Columbia, spending most of her time outdoors. Melissa learned to play piano and took vocal lessons, but the small community she was raised in didn't have opportunities to get on stage.
At seventeen, her family moved to Kelowna, where she graduated a year early from school, and traveled Europe for six months with her friends. Upon her return from traveling, she connected with her first producer and recorded her first album at just nineteen years old.
However passionate, Melissa had no idea what the music industry had to offer. Recording her first album was her first introduction to pre-production, hiring different musicians, and the cost of recording.
"I literally had no idea. I knocked on Kelowna radio people's doors with my CD saying 'you should play my music'."
Her first CCMA's didn't offer inspiration and motivation, she left Halifax feeling discouraged. However, she pushed through, started writing more music and recording with a new producer, and kept figuring it out along the way.
The last five years have been a journey of self-discovery for Melissa as she's learned who she is as an artist, what she wants to say to the world, and developed her brand. After years of feeling unsure of her music, trying to be what others thought she should be, and singing what they thought she should, she's finally settled into who "Melissa Livingstone" is.
Connecting with Grady Saxman has been pivotal for her music and career. 
"He's a dream to work with. He did exactly what I wanted."
2022 was a huge year for Melissa, which involved her permanent move to Nashville, touring across the West Coast, a number of festival slots, and her biggest single release yet.
Melissa Livingstone's journey has been a testament to her persistence and determination to find her true identity as a singer-songwriter. Through her experiences, she has learned that music should be fun and explored in different ways and that it is important to stay true to oneself and create the music that is important to you.
Connect With Melissa Livingstone On Social Media
Instagram – @melissalivingstonemusic 
Twitter – MissMelisMusic
Facebook – Melissa Livingstone Music 
TikTok – @melissalivingstone
Listen To Melissa Livingstone's Music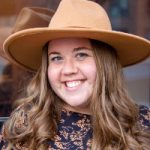 Country music lover with an unhealthy collection of concert t-shirts. Always looking for up and coming artists. Believer in music's ability to soothe the soul. Connect with me on Instagram and Twitter.