Hailey Benedict has been singing, basically, since she could talk. The St. Albert native didn't grow up in a musically inclined family, but she sure had their support as she began to pursue her passion for performing at the age of six years old.
When she learned piano and dove into guitar, the ability to accompany herself on stage fuelled an ever greater passion. She began songwriting and performing at retirement homes and for charity events throughout Alberta.
RELATED: Hailey Benedict joined us On The Porch for a great conversation …
Delaying her post-secondary education after receiving acceptance to top schools including Berkeley, Hailey has released original music, including her Top 30 single, "Wanted You To".
Her TikTok content has gone viral a number of times, with teasers of her music and her impressive participation in "The Thunderstruck Challenge." She's built a community of over 200,000 followers on the app.
I got to sit down with the rising star to chat more about launching her career as a country musician and more.
Listen To Our Chat With Hailey Benedict. We Talked About The REAL Trifecta
5 Questions with Country Artist Hailey Benedict
1. Let's start with an easy one. What does a day in your life look like?
"I'm trying to be a medium riser."
Hailey has always been a night owl. There was a point in early lockdown days where she recalls staying up until three or four in the morning and rolling out of bed mid-afternoon. Now, she tries to get a "medium start" to the morning, because she still isn't an early riser.
"I get up around 8:30 and usually start my day with a steeped tea, double double."
Her days have variety, depending on the project she's working on. Sometimes she starts working on emails or project-related items and ensures she has a co-write mixed in to her early to mid-afternoon. Given there's not a lot to break up the day working mostly from home, she ensures she invites her mom on a walk with her to get outside for some air.
Once she's crossed off the task list for the day, she enjoys dinner with her family before settling into the social media feeds. She loves going on TikTok Live and engaging with her followers.
Her screen breaks include cozying up with a book. Hailey's always been an avid reader and enjoys it as one of her main hobbies … I took this opportunity to swap book recommendations, obviously.
As for her workspace, Hailey says, "I have an organized mess, I know where everything is." To break it down, she's messy. She may or may not leave things around the house from time to time, but she knows exactly where to find what she's looking for.
2. Tell me about how you navigate the world of social media. How do you make sure you're taking the good and leaving the bad?
"Social media is such a double edged sword."
Hailey's had great success creating a TikTok community around her music.
"I've connected with people all over the world."
The connectivity of it all is what she really loves, along with this ability to build a community.
What she finds difficult, is being active on social media often is pretty much the expectation for musicians now. You have to be sharing what you're working on and giving viewers a sneak peek of what's next. It can be a lot to keep up with at times for Hailey and many other artists.
"People are very brave online. They say things they wouldn't say in person and have no problem saying it over a screen."
For Hailey, she says 95% of her comments are positive and great, but there's the 5% that will say whatever they want and that's what sticks with her at the end of the day.
"Part of you starts to believe it a little, and it can be tricky, but you have to separate yourself. It's their insecurity they're taking it out on you, and can't control what they say.
Hailey also cautions about the danger of comparing ourselves to everyone else online. She says, "It can be dangerous. We're all unique and amazing, and our differences should be celebrated."
3. Your family is so supportive. Why do you feel it's so important to have the support of your family when pursuing a career as a musician?
For Hailey, her family has been her primary source of support. It's important, no matter what career path you pursue, to have a source of support and a place where you feel cared for.
"There are so many things you don't know until you know," Hailey says, on learning a lot in her young career. Learning the nuances of the music industry have come with both positive and negative experiences, and a lot of lessons learned. She says, "It can be a tricky industry, and to have them (her family), it's really important in continuing to build a career."
4. There are lots of distractions and people with opinions on how you should do your job. How do you stay on track?
"For me, I'm always relating things to my core values as a person … if in my gut it feels wrong, if it doesn't resonate, that's when I know. As I've gotten older, I've leaned in and learned to trust myself a lot more."
Reflecting back on who she is as a human and how she wants her and her music to be perceived is what she always keeps at the center of her mind to ensure she's making the right decisions for herself.
"You always have to remember who you are and what you stand for."
5. Tell me about the qualities you admire in your role models. How does that influence how you want to represent yourself?
A vocal #swiftie, Taylor Swift is Hailey's ultimate icon. She's been influenced by Dolly Parton, Keith Urban, Shawn Mendes, Billie Eillish, Lindsay Ell, and Tenille Townes as well.
"Growing up listening to Taylor Swift was a huge thing for me. She's always been a great role model, she's poised, and she connects with fans on a personal level. I've always appreciated that she uses her music for herself to get through things, but then gives it to fans to help them too."
In channeling this in her own way, she wants everyone to know that her music comes from her heart, and she wants everyone to be able to relate to it in some way.
"I want my music to be a safe place. When people listen to my songs I want that to be what my music does, because in writing those songs, they do that for me."
About Hailey Benedict
Hailey Benedict always wondered what 20,000 fans looked like to an artist on stage. At the age of fourteen, she was able to see exactly what it looked like when she got to take the stage at a Keith Urban concert.
Pursuing singing, piano and guitar from a young age, Hailey has always been immersed in a world of music.
Growing up in St. Albert, Alberta, her classmates didn't resonate with her hobbies. Hockey is what most kids are into, and the more she dedicated her time to music, the less she related to them. Hailey experienced a lot of bullying throughout grade school and high school and never really felt accepted by her peers. She often turned to songwriting as a place of therapy.
Thankfully, she has the best relationship with her younger sister Makenna.
"My sister is my best friend. She's been the one person who's always understood. She's my biggest support and we get along so well. I'm so grateful for her and for this because I didn't have that in high school."
Benedict is known for performing at senior's residences, schools, and philanthropy events. She's a huge advocate for mental health awareness and anti-bullying, which landed her recognition as the youngest ever Global Woman of Vision award recipient.
Preparing for her post-secondary adventures, Hailey was accepted with scholarship to both Belmont and Berkeley but has taken some time from school given the pandemic.
Hailey's Top 30 Single "Wanted You To" and American Idol Audition
Her Top 30 single, "Wanted You To" was produced by Dan Davidson, who she's learned a lot from. "He's so talented and such an amazing human being. I soak it all in when I'm in a studio session with him."
As for the song, while she didn't write it, it's something that immediately resonated with her. "As soon as I heard the song, I was like 'oh man, this is a bop.'" She continued, "It feels like me. It feels like something I'd write or say. I resonated with it."
In the Fall of 2020, Hailey was invited to audition for American Idol, after producers saw one of her viral TikTok videos. She did some auditioning over Zoom, was flown out to audition for TV and was ultimately sent home from the first television audition round. For a while, she was left feeling defeated, but she bounced back and persevered.
"I thought this was the universe telling me this isn't for me." On the valuable lesson she learned, "If I had given up then, I wouldn't be here with this song. It showed me how important perseverance is."
Benedict performed through 2021 with The Blue Jay Sessions and made waves at the 2021 CCMA Awards in London Ontario.
RELATED: Catch the recap of the 2021 CCMA Awards in London …
The young artist released her first music video ever, for "Wanted You To" in early December and has a whole lot planned for 2022.
Follow Hailey Benedict on Instagram, TikTok, Facebook and Twitter.
Stream Hailey Benedict's Music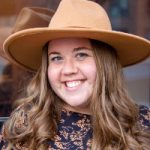 Country music lover with an unhealthy collection of concert t-shirts. Always looking for up and coming artists. Believer in music's ability to soothe the soul. Connect with me on Instagram and Twitter.