Kelly Prescott and a career in music were written in the stars. Growing up in a family of country music legends, the apple certainly didn't fall far from the tree.
After a new EP release, a cross-Canada tour with Dallas Smith, a west coast tour with The Mavericks and an iHeart Radio Future Star feature, Kelly's chalked up some big wins for 2022.
Kelly is currently traveling across the country with the Canadian Pacific Holiday Train, which she co-produces with her brother Kaylen.
Before she hit the tracks I had a chance to catch up with her. Here are five questions with Kelly Prescott.
5 Questions With Kelly Prescott
1. Where do you continue to find motivation and inspiration in your work?
"For me, I always looked to my heroes who came before me so much."
A career of lessons, highs, and lows, Kelly Prescott has looked up to some of the women who paved the way in country music. She looks up to Terri Clark.
"I've looked up to Terri Clark for so long. When I think about how much she struggled, she's been open with me about how hard it is to be a woman in this industry. I think about if any of my heroes had given up, how would that have affected us."
"Where would I be if I didn't have Emmylou Harris."
"I'm discovering the next generation that's coming up and there are some phenomenal women who are so much more talented than I am even now. It's so motivating. It gives me so much hope for these talented women, and that's what keeps me motivated."
2. You always look like you're having fun doing what you love. How do you make sure you're staying true to yourself?
"I am always having fun, that's such a big part of it. I try not to take myself too seriously. When I start taking myself too seriously, I lose sight of what I want and I've done that before. I've lost sight before, I've made mistakes, and it builds character. It also teaches you what you don't want."
For Kelly, sitting around, playing guitars for the fun of it is such a good reminder. It reminds her why she's pursued the career she has, and why it's all worth it. 
"That's what life is, you fall, you pick yourself back up and get your shit together."
The moments in Kelly's career that weren't right have led her to where she is now.
"Being authentic is what's always worked for me, it's where I've seen the best results."
3. What can you say about surrounding yourself with the right people, the right team and the right mentors?
That comes with time and experience.
"In my twenties, I was quite insecure, I wasn't where I am now. You felt competitive and jealous. You always pitted yourself against other women. The second I turned 30, it was like holy shit we need to do this together and lift one another up."
Kelly formed a core group of female artist friends that she's still best friends with. It was so solid and refreshing, and they could be there for each other.
"Terri Clark and Patricia Controy took me under their wings and taught me some valuable life lessons when it came to this industry."
Kelly has surrounded herself with incredible people. Her partner Chad is her band leader, guitar player, and partner in life. She says he's been a huge support, along with her parents. 
"My management and my agent are huge. I love them, I feel like I'm finally in the right place at the right time with the right people. It takes a long time to figure out, you don't learn that quickly. You have to surround yourself with people who lift you up."
4. Time for yourself is an important investment. What are some things you do for yourself? How do you make sure you carve out that time?
"I'm still not great at that, but even when I'm working my ass off, I still find time to play and have fun."
While Kelly admits she does struggle with finding balance, she does carve out time each day for yoga practice. She takes time away from her phone and dedicates it to herself.
She also finds a little bit of peace in the kitchen.
"I really love to cook, it's hard on the road. It's creative, I love being in the kitchen and trying new things."
5. What advice do you have for young women pursuing a career in music that you wish you were given when you were first starting out?
"I wish that authenticity was encouraged more."
There's a lot of comparison in the music industry. Kelly's no stranger to the "if you were more like her", "if you looked more like her", "we'd be able to find a place for you".
"That's really discouraging. Nobody listens to you when you're telling them what you want to do and who you want to be. If you have a gut feeling something doesn't feel right, don't do it. If you feel like you're not being true to yourself, just stop, you don't have to please people."
She finds this balance a struggle as well – you're taught to be grateful for the opportunities not everyone gets, but there has to be boundaries.
"It's the ones who were true to themselves that became stars – Carolyn Dawn Johnson, Linda Ronstadt, Dolly Parton. Just be true to yourself."
About Kelly Prescott
On both sides of her family, Kelly Prescott has come from Canadian country music royalty, including her two Hall of Fame grandpas.
"My brother and I were doomed from the start" she chuckles, thinking back to her childhood.
Growing up in the Ottawa Valley on 85 acres of land, her family ran a recording studio.
"My brother and I grew up between a recording studio and a tour bus. There was a rotating cast of musicians and artists. I knew from a very young age that it was all I wanted."
Kelly recalls being surrounded by adults all the time, and feeling like she grew up quickly and felt more comfortable around adults.
Kelly started writing songs when she was four or five. She recalls her first song being about cattails and the lake, and pussy willows.
She recalls performing as a young singer at fishing and boat shows but also giant arenas. Kelly remembers singing Nelly Furtado and No Doubt back then.
"You could make a quirky movie out of my childhood. It wouldn't be a success story, it'd be strange."
At age eight, people from the Snoopy TV show came to her dad to produce a country kids album, and she ended up recording an entire record.
It was high school when Kelly was ready to take music as a career seriously. She went through every phase. While she grew up listening to classic country, her dad worked in country music, so it was the last thing he wanted to listen to at the end of the day. They listened to a lot of 70s, Joni Mitchell, Linda Ronstadt, and Gladys Knight.
After releasing a record with her brother Kaylen, and almost "killing each other many times" they decided they work well in the studio together, but not as well on stage.
Kelly would release her first solo record in 2016, titled Hillbilly Jewels. She followed that up with a move to Nashville, a record deal, and a single release. When that didn't work out, she headed back home.
Out of angst, she decided to dive into a project that meant a lot to her, filled with music that she actually loved and felt inspired by, and released her sophomore project Love Wins.
"Those were songs that the label didn't want me to release, they were too rootsy. To this day, that's my favourite project I've ever done. It meant a lot to me, and it got me my first CCMA nomination."
Cloud 9 is Kelly's latest record which features "Trailer Trashed" and her current single "Convertible".
"I love classic country. I was going through a big 50s/60s Hawaiian phase. I loved the chord progressions and melodies, and that's where Trailer Trashed came from."
"'Cloud 9' is really special to me. 'Cloud 9' was the first song I wrote during that first lockdown. Anxiety was at an all-time high. I ended up smoking so much weed to cope, self medicating, using it as an anxiety meds. Music is therapy, that song was therapy."
The last few years have been productive to say the least.
"I'm here to make country sexy again … And gross. And funny."
Follow Kelly Prescott on Social Media
Instagram – @kellyprescottmusic
Twitter – @kellyprescott
Facebook – Kelly Prescott Music
YouTube – Kelly Prescott Music
TikTok – @kellyprescottmusic
Stream Kelly Prescott's Music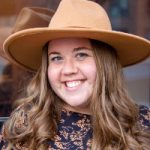 Country music lover with an unhealthy collection of concert t-shirts. Always looking for up and coming artists. Believer in music's ability to soothe the soul. Connect with me on Instagram and Twitter.