I'm excited to introduce the Front Porch to Hamilton-based country singer-songwriter, Taylor Wilson. You can catch her October 1st at Stonewalls in Hamilton, with special guests, Matt Teed, Jeff Forgeron, and Jessica Sole.
Taylor Wilson's path to her career as a country artist makes perfect sense. She grew up dancing six days a week, surrounded by music, with vocal influence from her grandma. Her family surrounded her with music from a young age, and she has been able to dig into that and develop a sound and space for herself as a musician in the Canadian country world.
She has the fondest memory of standing on her grandma's coffee table singing Shania Twain, being commended for her singing, but shooed away for being on the table! Right from the beginning, she's had support for her journey to music.
Taylor is also hard of hearing and September is Deaf and Hard of Hearing Awareness Month. At four years old, her mother took her to the doctor after constantly calling her name to no response. They discovered she was hard of hearing, and today she's at about 50 percent hearing capability in both ears. After wearing hearing aids for some time, she found them impeding on her ability to hear herself play and sing.
A naturally inclined musician, Taylor taught herself to play the piano in highschool, and taught herself to play guitar after being gifted one by her boyfriend. She does admit she's not the sharpest guitar player to this day, but she's been able to enjoy the process of learning to play.
Wilson is no stranger to digging into her emotions. Learning to manage anxiety and depression from a young age, combined with a number of traumatic experiences throughout her teenage years, the artist found solace in songwriting and began to explore her opportunities in writing.
After going through the worst possible experience with an ex, Taylor found herself in a dark place and spent a lot of time learning what healing meant for her. She decided to spend time on herself and really lean into her talents.
"I owed it to myself to not let it destroy me."
She decided songwriting was something she was going to take seriously. Channeling her experiences and emotions, she leaned in and began chasing her dream.
Taylor Wilson's Songwriting
After meeting Jordan Honsinger through a previous job, they connected and started to tell her story. They sat down to write, and through that she worked out her previous relationship. She grew honest with her emotions and turned them into something productive. This process led to her first single in early 2020, "Don't Look Pretty."
"The moment when it all starts to come together – it's like wow, that happened, and I have something to show for what I went through"
The song is really about the healing process after going through heartbreak. It really isn't pretty and there are a lot of dark days, but you find yourself at the end of it. There really is light at the end of the tunnel. Taylor hopes this message resonates with folks. As someone who has struggled with her mental health, she really wants listeners to feel a piece of that progress and understanding of the really difficult times. They will get better.
Cue: a global pandemic.
Having time at home and being isolated pushed Taylor to explore deeper into the realm of cowriting. She joined the app "We Should Write Sometime," where she connected with co-writer and good friend, Jessica Sole. The two of them started writing once a week, then it grew to a few times a week, and they've really embraced their sad girl songwriter selves and have written a lot of heartbreak tunes. Jessica introduced her to Shawn Moore, who has been working with her on her current project.
She's also been extremely grateful for the connections she's made and the songs she's been able to write with artists through Cuttable.
So what can you expect from Taylor Wilson in terms of sound?
"I want to be sassy and tell it how it is. I'm not afraid to speak my mind."
Her music is layered with rock influence and thoughtful lyrics. She doesn't want to be slapping her name on music that doesn't resonate with her to begin with. For Taylor, it's about speaking the truth and connecting with people through their shared experiences.
Taylor is looking forward to playing some more shows this fall, and releasing new music in early 2022.
You can connect with Taylor Wilson on Instagram, Tik Tok, and Facebook.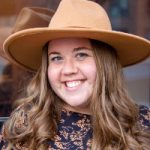 Country music lover with an unhealthy collection of concert t-shirts. Always looking for up and coming artists. Believer in music's ability to soothe the soul. Connect with me on Instagram and Twitter.