Named an "Artist to Watch" by Upstar Music, Countrypolitan, and on our list of artists to watch in 2023, Parker Graye is poised for another big year. 
Parker polished off 2022 with more than just this; her songs landed on Spotify's Fresh Finds Best of Country 2022 and Amazon Music's Best of Country 2022 and Best of Canadian Country 2022.
She also crossed one million streams across digital platforms – well before her goal of hitting it by her birthday.
RELATED: We had a chat with Parker in Season 1 of our podcast On The Porch with Front Porch Music …
Her latest single, "Good At Gettin' Gone" has received critical reception across a number of publications, tastemakers, and platforms.
Parker and I chatted about her evolution, lessons she's learned, and more. Here are five questions with Parker Graye.
5 Questions With Country Artist Parker Graye
Listen to Our Conversation With Parker On The Porch
1. How have you evolved from your first single "Do Over" to the current single "Good At Gettin' Gone"? How do you measure growth outside of numbers?
"Ou, great question. It's funny, I was having this year in review today and thinking about 'Do Over' to 'Good At Gettin' Gone'."
"I was really exploring who I was, and I knew, I just wasn't confident in it yet. Every song, I've gotten closer and closer to who I am as a human being."
RELATED: Check out her single about cowboy heartbreak in "Cowboys Go" …
What she's learned through this process and this evolution is she's not one for compromising her beliefs and values to fit a mould.
"I'm not willing to go outside of what I know is me. If something isn't me I just don't do it. It's non-negotiable, there's no compromise."
"I've gotten laser focused on what I want to talk about, what I sound like, and pulling what I believe is relevant in the music industry and into the space from a style and songwriting perspective."
When it comes to measuring growth outside of what's quantifiable, Parker focuses on how people are reacting to her music and if it's resonating.
"Are people getting excited about the song and its lyrics? If lyrically it doesn't resonate for me, I feel like I've missed the mark a little bit."
"More people are reaching out and telling me about their personal experiences and that for me is a bigger measure of success than numbers."
I've done the thing I've alway set out to do. My music has reached the people who need it."
2. What's your strategy for staying focused on your goals and managing the many distractions the music industry offers?
"Honestly, that's so hard. It's really important for newer artists, like myself, to know what your brand values and core values are."
"I have to think about what's important to me and what am I doing this for? If it's important to me, it's likely important to someone else. I have to root myself in that and it's the hardest exercise every day."
REALTED: We talked to Parker about her single "Last Time" …
It's one thing to set your values and your beliefs, it's another to make every decision with those thoughtfully in mind. Honouring your beliefs is something that can be difficult with so many different perspectives weighing in on your journey.
"Between therapy and hunkering down; doing what's important and going off of 'feel'. Does this feel right? Would I be proud to show this with the world?"
3. This career path isn't for everyone, and it's not easy on one's mental health. What do you do to take care of your mental health? What's your advice to others about making sure they're checking in on themselves?
"I'm a firm believer in therapy, whether you're leveraging community programs or a counselor or therapist and really talking it out and getting the appropriate mental healthcare."
"As someone who struggles with depression and anxiety, it's integral to my day and crucial to overcoming the trauma I've experienced in my life."
Parker's physical and mental health are deeply connected. She got into crossfit a few years back and it has become a space for caring for more than just her physical health.
"Going to the gym is a non-negotiable. I can sense when I don't train for a while, I'm more scattered, less focused, I can't make decisions."
"Lastly, I swim in and out of this practice, but journaling. Writing out my experiences, whether it's free flow or with gratitude prompts. I know sometimes it seems overwhelming for some, but set a two or five minute timer."
RELATED: The very first time we introduced you to Parker Graye with her single "Before You Leave" …
"I bought Headspace. It's so easy to say you're too busy – we all have two minutes. Headspace has options for you no matter your schedule."
"You have to find the things that work within your day – you will feel better."
4. You also have a background in marketing. Without crossing over your hourly rate, what are five things you think independent artists need to prioritize when building their brand?
Overall look and aesthetic. You need to have something that sets you apart. What is the differentiator?
Sharing yourself with the audience. You have to be comfortable with sharing parts of yourself. What sheds light on a different part of your life.
Strong but simple marketing strategy. How to market your music, including your back catalog, promoting your demos — even if they're garbage quality — and a good content strategy
Public relations. It is simple, it takes a lot of work on the front end at first, but I've shared my tools and media kits and how and what I do. Coming from a corporate marketing background, I had to learn music PR.
Learning particular parts of the music business. Pick parts of the business and learn and understand how it works. You need to know what's going on and when you're being taken advantage of.
Having a good mentor is absolutely critical. "I've had mentors in business and as an artist. I take a long time to trust people and it can be very difficult to do so in this industry."
Parker offered up more advice for aspiring artists.
Parker says you have to listen.
"I listen to people. Is what they're saying resonating with me? Do I feel what they're saying is aligned with my values? Are they in a space in the industry I'm not super knowledgeable in and can learn from?"
Relevancy is also important.
"If someone's in the scene today, working and hustling, they have a good finger on the pulse of what's going on. They know what the expectations are. They're giving you something different and current."
Someone who believes in you.
"I look for someone who believes in what I'm doing. If they don't show interest and communicate that clearly, we're clearly not a fit."
Respect.
"Do I respect them? It's easy to get on a train of I need a mentor, but if you don't really respect them, you're not going to do what they recommend, you're not going to work harder for yourself.
Do your research.
"You gotta do the dirty work — dig. Where did they come from, who did they work with, have they had bad relationships or deals in the past and if so why? Do your due diligence, do a pulse check. If they support you and you're learning from them, make your best judgment."
About Parker Graye
Vancouver-based, Nashville-bound, Parker Graye has been writing music for years. Dialing into her emotions, she's on a mission to make country music sad again. For her, it's the way a sad song can transport you back to moments in your life and you can feel those emotions over again. The power of a sad song is like no other.
In 2022, listeners saw three tracks from Parker Graye. "Last Rodeo" was released in June, and in August, she surprised listeners with her sad girl country cover of Avril Lavigne's "Complicated". In October, she released "Good At Gettin' Gone" which has already collected over 500,000 streams.
RELATED: Have a listen to Parker's sad-girl country version of "Complicated" by Avril Lavigne …
Spending much of her time in Nashville, Parker has been working with Tori Tuller and Kate Malone on a lot of her new music. The trio have created dreamy, western sad songs that catapult you to a different place to fully immerse you in the stories they write. She's defined her sound, her songwriting soul, and her place in Canadian country music.
With a new single coming in February, and an EP slated for later this year there is much more to come from Parker Graye.
Connect With Parker Graye On Social Media
Instagram – @parkergraye
Twitter – @parkergraye
YouTube – Parker Graye
TikTok – @parkergraye
Looking for mental health resources but aren't sure where to start?
Inkblot Therapy connects you to accessible, affordable mental health resources.
Room For Her provides accessible, effective, convenient, and affordable mental health support for all women.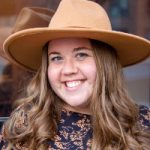 Country music lover with an unhealthy collection of concert t-shirts. Always looking for up and coming artists. Believer in music's ability to soothe the soul. Connect with me on Instagram and Twitter.