Sarah Scott is a Country Music Alberta (CMAB) award-winning and nominated Radio DJ and Podcaster. 
Sarah took home "Industry Person of the Year" in 2020 at the CMAB Awards. She currently works with Stingray at Real Country 95.9 FM in Lloydminster, Alberta. She's also on the Board of Directors for CMAB.
Sarah also founded, hosts and produces the music business education and artist spotlight podcast called Studio B Podcast.
We caught up with Sarah to get a business-industry perspective on what it's like working in the music industry as a woman.
5 Questions With Sarah Scott
1. What's one major challenge you've had to overcome over the years as you've built your repertoire of expertise?
There are a lot of women (and men) who need to check their egos at the door. I feel as though all of us need to practice checking our egos at the door.
2. What's your advice to music business professionals looking to find where they can make an impact in the music industry?
Attend as many industry events as you can and network. Talk to the artists and industry and ask them how you can support them. You may not even need to ask them – just by attending and by talking, you will probably notice a common theme. If you believe you can make a difference and you're doing it for the benefit and in the interest of the whole music scene, actually take action and roll with it. You will make an impact.
For example, I was at the time (in 2018/2019) (and still am) starting to get asked by new artists and even industry, "Do you know anyone who…," "Who can I talk to about…" and "Is there anyone you recommend for…"
The business/industry side of things can feel like a huge web and sometimes intimidating – I even felt that at the beginning! I still do! I wanted to change that. I still want to change that. We have an incredible industry and such amazing talent, and although most of us know most of us, we are still welcoming new incredible talent all the time.
At the time (2018/2019), there didn't seem to be a great platform or easily accessible/informational directory to allow artists or industry to find people to work with outside of in person events and/or very expensive seminars or courses.
That is what inspired me to start a music business education podcast in late 2019 called "Studio B Podcast" (which has obviously expanded), and in mid-2022 the blog, "Industry Feature Friday." I've also seen more connecting and networking throughout the last two years too and that's been so exciting! It's another tool for artists to use in their quest to find the right fit for their project, single or album. Both are available everywhere online for everyone to access when needed, easily and efficiently.
I have also made myself available for questions and support.
3. You wear many hats through consulting work, hosting a podcast and running a blog, and working in radio. How do you ensure you're balancing your work with your mental and physical health? How do you prevent burnout?
It took a couple years to figure this out because I wasn't a young gun or like fresh out of university when I truly found my passions. I was 27 (which is still young, but society still likes to think I'm an old hag sometimes). There were so many people younger than me and my age who were already on Morning Shows, had their own programs and syndication. I felt like I had a lot of catching up to do and I was constantly comparing myself to others. It felt like I was constantly playing catch up for a couple of years.
In all honesty, I have avoided burn out RECENTLY because I really love everything I get to be a part of and everyone I get to talk to. Most of it never feels like work or like "my job."
I also shut off "business" around 8pm. If you message me any time after 8pm on Facebook/Insta/whatever social platform, I won't respond. I may read it, but I ain't responding. My phone goes on silent.
How I avoid burn out though is by prioritizing and scheduling in advance (when I can), and by allowing myself to be flexible – and then once again, prioritizing. It's easier said than done sometimes, but I'm lucky to have so many people in my professional and personal life that understand I can't do everything and be everywhere.
Continually educating myself on the industry and the people (in it) has been very, very important and beneficial. I have many more places I want to go in my career and more positions I aspire to be in, but I understand the work, dedication, flexibility and time it's going to take to get there. Once again, that helps with the prioritizing and allowing myself to be flexible. It helps because even when it feels like I'm going nowhere fast, knowing that most of what I'm experiencing or have experienced, that's part of the process, and knowing people I look up to or work(ed) with have gone through the same experience or a similar one, it gives me the confidence to keep going. Educate yourself!
Just venting to someone I trust helps. Believe me, I get pissed off and frustrated, it's not all roses and sunshine over here. Sometimes it helps to hear a situation out loud and realize how overdramatic I'm being or how small the issue actually is or how stupid I sound or sometimes to even validate my point.
For my physical health, I'm a runner and I love a good gym session. One of the reasons I really rely on being active is because in very simple terms, I always feel like I can take on the world after a good session or run.
4. Where have you looked to find support from mentors throughout your career? What do you think are some best practices for those seeking mentorship?
Honestly, I've never had a mentor. There are people I look up to, people who I aspire to be like and have had lots of support, but never a mentor. So this is a bit of a hard question for me to answer. I haven't really found anyone who suits my vibe.
Sounds cheesy, and I'm not a lone wolf, nor am I trying to be, I just like to learn a lot from a lot of different people. I look up to a lot of different folks for various reasons, and I believe that has allowed me to see and approach the industry and my position within it, with a more well-rounded and open minded, well, approach.
My advice though, is if you're seeking mentorship, find someone you trust. Everyone has their own agenda, politics, opinions and their own way of doing things. Find someone who has had a positive impact in your life thus far, who's given you great advice and who has the same passion and drive. Laurie Brown is a great example – she may not be a mentor directly, but she is someone who has always championed me and my career. I LOVE what she has done and is doing in the industry and I always feel confident emailing or texting her or even telling artists to get in contact with questions. She's an incredible force in this industry.
Recently, my Program Director (who's the best!) has offered to set me up with a radio personality within Stingray to mentor me and I'm totally down to learn. Still working on it though! (We've all just been very very busy – it's not hard to find a great personality in Stingray to want to learn from).
I also took one of those expensives courses called Canada's Music Incubator
(CMI) for Artist Management. I feel like a lot of people forget that. I will advocate for them for the rest of my career because even to this day, over a year after I took the course, I can still email any of them for advice or just to tell them an achievement and I know I'm supported.
5. In your experience, what's one valuable thing women in the music industry can really benefit from?
In short, give women a chance. That goes for other women too – give other women a chance. It may not seem like there's room for all of us, but if we make more space together, we can make more opportunities so that there can be. Also, can men and other women stop saying, "Wow, you're ACTUALLY good," ? That's not a compliment.
More About Sarah Scott
(from Studio B Podcast's website)
Sarah Scott is passionate about supporting emerging and independent artists. It's this passion that drives her consulting work in the music industry.
She participated in Canada's Music Incubator (CMI) Artist Management program ('21) and has brought this knowledge, along with almost fifteen years in the music industry, to her work in radio, press kits, interview prep and how to stand out as an artist.
Sarah works with independent and emerging artists across genres to help them understand the world of radio and media. She helps them find their fit and take advantage of radio stations, TV stations and media outlets that will take notice of their work at the different levels or singles of their career.
Sarah helps artists with their communication and presentation, EPKs and press kits, and shares knowledge about radio trackers (and tracking), and supports them with various industry resources so that they feel confident and comfortable approaching PDs, MDs or on-air personalities (or any media).
She helps artists grow networks, tighten relationships, and build new ones.
Follow Sarah Scott On Social Media!
Instagram
Studio B on Instagram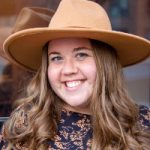 Country music lover with an unhealthy collection of concert t-shirts. Always looking for up and coming artists. Believer in music's ability to soothe the soul. Connect with me on Instagram and Twitter.