Mackenzie Leigh Meyer, known to many as "Dive Bar Diva" has been hot on the radar in the world of talented independent artists for a number of years.
The multi-instrumentalist, singer-songwriter has delivered soulful ballads ("Before You") and tongue and cheek anthems (Dial Tone, Barbie Doll) alike. 
This year, Mackenzie took home her first CMAOntario Award for "Roots Artist Of The Year" and when I say the room was on their feet, I think that alone tells how genuinely connected Mackenzie is to her artist and industry friends. I think we were all proud of her well-earned achievement.
Known for being friendly and welcoming to everyone, uplifting women alongside her All Woman Music founder friend, Nico le Rayy and starring in a music video here and there, Mackenzie has also joined life on the road as part of Robyn Ottolini's band.
I sat down with Mackenzie to learn more about her journey as a woman in country music.
5 Questions With Mackenzie Leigh Meyer
1. You've been in the gigging world for a while now. What are your top tips for ladies hitting the stage at some of those dive bars?
The bar scene can be a rowdy place, but musicians cut their teeth and earn their stage legs in the likes of dive bars everywhere. Being a woman in a crowded bar can be a tough gig.
"I've been luckier than others, I haven't been harassed at all and some of my friends have unfortunately. I'd say make sure you're in a room where there's a safe space between you and the crowd. Where I play, there's always a ton of security, and good space between the stage and where I play."
The Dive Bar Diva knows it's important to be aware of what's going on around you, but also not to change how you are because of the situation.
"I don't think you should ever change your behaviours based on someone else and how they're acting and receiving you."
Her final tip is to have a drink before you play. It'll loosen up any nerves you may have pre-show.
2. You have a cheeky way of delivering pretty authentic, hard messages. When you're writing these songs, what are some of the feelings you have to work through in the name of art and delivering a message?
"For me, it's always making sure I'm being authentic and not preachy. It can be tricky when you're hitting on some of these topics."
"My approach is more, 'here's how I feel about the situations I've gone through and what I think about them."
"I feel relief but also joy being able to write about the things that have been bothering me. It's frustrating when you're trying to say the right thing and you want it to come across a certain way. But most importantly I want it to come across as true to me."
3. It can be distracting watching the careers of others around you. How do you combat any negative feelings you may have about your path and the timing of your own career?
"We all have those negative feelings. Although I'm pretty good at reminding myself that it's not a one-time thing. People receive opportunities, it can be available again. I can apply again next year, make my submission package better. It's more of a learning experience."
Many artists struggle with comparison. It can definitely be hard to separate your own journey from those of your peers. For Mackenzie, she actually has it sort of figured out.
"I'm also really good at focusing on the things I've accomplished and I'm proud of. In this industry, you have to be good at that because there's a lot and you can lose sight of why you do this. It can take away from your achievements and why you're pursuing this career path."
4. You are so creative when it comes to music, but also visual design, your brand, and even your music videos. Do you have any advice on your method behind all of the creative madness? This can be hard to manage for independent artists.
"I don't know if there's a method. I've been musically active for ten years and an artist for five. At first, I was definitely figuring it out. I took a look at what other artists were doing, picked what I liked, and developed my own look out of it. As much as there was some intent, there was some intent in being influenced by people, music, looks. You end up with your own source of identity because all of that learning is happening at the same time."
"One thing you really need to do is expose yourself to as much as you can so you figure out what makes sense for you and what doesn't."
5. Madeline Merlo talks about knowing yourself outside of the "artist" and what makes you you so I want to highlight that more. Who is Mackenzie Leigh Meyer outside of the musician and artist?
"It's almost hard to answer. I like to say I prefer people to meet me in 'this' light. I'm very different, I hate to say Mackenzie Leigh Meyer is an identity, but it's part of it."
"I'm a lot 'smaller' as a person than a performer – I'm pretty quiet. I like to stay in. I keep it pretty easy-going, and love being outside. I'm pretty chill and easygoing."
For Mackenzie, she's always separated her stage persona because she has to be more outgoing and loud. Something that's just not natural for her as an introvert. Her self-worth and who she is are tied to the creative elements of what her role entails.
"Mackenzie Leigh Meyer is more social and loves to be out, but I'm a hard introvert and I love to sit and be creative."
About Mackenzie Leigh Meyer
Mackenzie Leigh Meyer is a rising star in the country music scene, known for her enchanting vocals and unique style.
Mackenzie's musical journey began with the release of her debut EP, "Dive Bar Diva," in May 2018. Her talent and charisma have not gone unnoticed, with industry professionals like Ken Scott, known for his work with legendary artists like David Bowie and Supertramp, comparing her to the likes of Carrie Underwood after collaborating on her EP "Should Have Known."
In 2020, she released the dreamy love ballad "Before You," produced by multi-CCMA Award winner Jeff Dalziel. This captivating track quickly gained recognition, becoming an instant addition to Spotify's "Live Country" and Amazon's "Breakthrough Country" playlists.
Mackenzie's electrifying stage presence and dynamic live performances have captivated audiences at renowned country music venues, including Boots and Hearts, Havelock Jamboree, and Lucknow's Music in the Fields. Her talent also earned her a finalist spot in the Boots and Hearts Emerging Artist Showcase and a win at the 2023 CMA Ontario Awards for "Roots Artist of the Year".
Mackenzie has been playing across Canada this summer with Robyn Ottolini, and will hit the road as part of the band for the Canadian leg of the All My Friends Are Hot tour. Meyer will also release her upcoming single "House Husband" before 2023's end.
Connect With Mackenzie Leigh Meyer On Social Media!
Instagram – @divebar_diva 
Facebook – Mackenzie Leigh Meyer 
TikTok – @divebar_diva 
YouTube – Mackenzieleighmeyer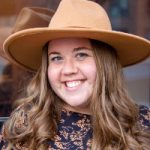 Country music lover with an unhealthy collection of concert t-shirts. Always looking for up and coming artists. Believer in music's ability to soothe the soul. Connect with me on Instagram and Twitter.