Jaimey Hamilton recently shared her latest single and the accompanying music video, "Stompin' Ground".
Letting listeners in on her favourite place in the world, "Stompin' Ground" is a nod to her favourite memories, spent with her favourite people, in her favourite place.
"Stompin' Ground" follows the previously released "Anxious Heart" which we shared last summer.
RELATED: Have you heard Jaimey Hamilton's single, "Anxious Heart"?
You can see Jaimey Hamilton on stage as she makes her fourth appearance at British Columbia's Sunfest Music Festival.
I connected with Jaimey recently to chat about her journey to music. A three-time cancer survivor, a four-time Sunfest performer, and more, Jaimey Hamilton has proved she is both resilient and passionate.
A Journey Sparked by Adversity
Jaimey's love for music began at a young age when she started playing the guitar at just nine years old. As she honed her skills on the guitar, she discovered her voice, which led her to venture into songwriting. At the tender age of 12, Jaimey began singing at local events.
Jaimey's journey took an unexpected turn when she was diagnosed with cancer not once but three times, at the ages of 5, 9, and 12. Despite the challenges of spending considerable time in the hospital, music became a constant companion and a beacon of hope during those trying times.
Music became her healing outlet, allowing her to express her emotions and find solace in the midst of pain. On top of that, while she had to quit playing sports and missed school due to time in the hospital, guitar was one thing that she was still able to do.
"I was into sports and loved going to school and I had to give that up a lot of the time when I was in the hospital or not feeling well," says Jaimey.
A Dream Fuelled by Resilience
After receiving a life-saving bone marrow transplant at the age of 12, Jaimey's love for music only grew stronger. She found unwavering support from her parents, who encouraged her musical pursuits and supported her learning on the go. As she stepped into her teenage years, Jaimey's passion for music intensified, and she decided that this was the path she wanted to pursue wholeheartedly.
Jaimey says, "I feel like as I got older, that's when I decided this was what I wanted to do full-time, this is my dream."
At 16, Jaimey's wish was granted by Children's Wish BC, and she got the opportunity to record a song in Toronto. This marked a significant milestone in her musical journey, and it was her first taste of the world inside the recording studio. The experience paved the way for her collaboration with Adam Alexander, who became her first musical partner in crafting heartfelt and meaningful songs.
Going Back To Her "Stompin' Ground"
Jaimey's dedication and persistence led her to record her first pop EP, "Parachute," which allowed her to showcase her talent and passion for songwriting. She poured her heart into the lyrics, creating music that resonated with her audience on a deeper level. But it was her song "Stompin' Ground" that held a special place in her heart.
Written in 2017, "Stompin' Ground" was inspired by Jaimey's fond memories of spending summers at Cowichan Lake, a place filled with happiness and cherished moments with friends and family. With the help of Scott Hills, Jaimey wanted to merge her love for country music with the magic of her happy place.
On creating the idea for the music video, Jaimey says, "I wanted to tie in my actual happy place but also the idea that country music brings me to my happy place."
The song's visual and captivating essence became the perfect backdrop for a music video that showcased the beauty of her summer haven, thanks to the incredible videography by Sean Lyons.
Connect with Jaimey Hamilton On Social Media!
Jaimey Hamilton's story reminds us of the incredible power of music to heal and inspire. No matter where her journey takes her, Jaimey knows music will be by her side. Follow Jaimey Hamilton on social media to keep up with her musical journey.
Instagram – @jaimeyhamilton
Facebook – Jaimey Hamilton Music
Twitter – @Jaimeyhamilton
TikTok – @jaimeyhamilton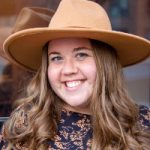 Country music lover with an unhealthy collection of concert t-shirts. Always looking for up and coming artists. Believer in music's ability to soothe the soul. Connect with me on Instagram and Twitter.