What better way to celebrate International Women's Day than with our latest Women In Country spotlight!
Mariya Stokes is in the studio recording some new tunes with hopes of releasing new music later this year. She's looking forward to sharing show announcements for 2022 and hitting the stage. 
After co-hosting the Country Music Association of Alberta Award Show last year with George Canyon, Stokes is very excited to get to Red Deer for this year's festivities. She will be performing during the weekend's festivities, and is nominated for three awards; Horizon Female Artist of the Year, Horizon Single of the Year, and Songwriter of the Year. 
RELATED: Elyse Saunders was one of our past Women in Country Music Spotlight artists …
Mariya is active in the country music community in Alberta, prioritizes the art and creativity of songwriting, and has learned a lot from her time with the Calgary Drop-In and Rehab Centre. 
Here are five questions with Mariya Stokes!
Five Questions with Mariya Stokes
1. How have your small-town roots been a positive influence on your journey as a country artist? How do you stay rooted in your values with the influences that bombard an artist?
"I stay in contact with my parents and my family. They ground me really quickly."
For Mariya, her family is really a source of grounding and balancing. She says there have been times when she's felt off balance, and will go home and to spend the day working with her dad. It's always a reminder of where she came from.
"Their perspectives are always coming from a place of knowing me before these experiences and moving to the city."
Her family offers a perspective on her character that she knows she needs. Whether it's a reminder of who she is and why she chose the path she has, or she just wants to remove herself from the busy life she's built, her family offers a secure place for her. 
Finally, Mariya emphasizes the importance of a strong team.
"Surrounding myself in the industry with people who will call me out when my actions don't align with my values is truly important, and I've done that.
Her team is really good. As someone who gets pretty active and excited on stage, she will never forget being told, "You can be graceful and passionate at the same time."
As a reflective and intuitive person, Mariya looks inward intentionally when she's feeling like she's not aligned with herself.
"Being curious about why I feel not grounded, reflecting on what's making me uncomfortable, and going through those motions" is what Mariya feels is important to uncover what may not be right for her.
She tries to start every day with her 'morning pages' where she free writes before she starts work. Depending on how she's feeling, she writes out her thoughts so she can understand where she may be coming from on each day.
2. You've made an impact on a number of organizations from a philanthropic point of view. Why do you feel it's critically important to use your platform to support important causes?
A past volunteer at the Calgary Drop-In and Rehab Centre, she worked on two charity records and independently organized numerous coat drives for the organization.  
For Mariya and where she grew up, the move to Calgary was huge and uncovered a lot of experiences and circumstances people experience that she'd never been exposed to before.
"Poverty is less visible in small towns, at least the one I grew up in."
Mariya initially got involved with the Calgary Drop-In and Rehab Centre when a friend asked her to, and it turned out to be a huge eye opener for her. She learned a lot about the stigma around experiencing homelessness.
"It's almost like that's a type of person and the stigma around it is really so messed up."
Together, with local artists, the staff, and clients at the Centre, Mariya participated in a record, which shares the stories of those who have had such different experiences from her own. They collaborated and wrote songs and learned a lot about one another.
"Wayne, he reminds me of my dad. He had a really good job in oil and gas, found the love of his life, lost his wife and two sons in such a short period, and just couldn't function. He was so depressed."
She learned something really valuable about music.
"For me, I found that music is a universal messenger that makes people listen to things they wouldn't just get in conversation." 
It was music that reached a lot of different people, and made homelessness a human thing.
"I realized that society is set up really fucked up after working there. I don't realize what an impact this experience had on my life. I instantly go back there to the injustice and trauma that I was exposed to and the human beings and their experiences."
It's so important to immerse yourself into things that are new and make you uncomfortable, it's really part of the learning experience.
3. Social media is a tricky thing to balance. How do you ensure you're keeping your social media active but also prioritizing your mental health?
"I've been struggling with my mental health over the last two years, but especially over the last couple months. When I feel like that, I try not to post as much. I try to avoid it 100% sometimes." 
There certainly can be a fine balance between a healthy relationship with social media and one that doesn't serve your well-being. 
On the other hand she says, "It's a wonderful tool, especially if you're an independent artist. We can connect directly and have more control over our work."
You have to be deliberate in how you interact with social media, what you take from it, and how much of yourself you give away there.
"There's always access to people via socials. I don't think I deserve access to people 100%, and I don't think people deserve access to me 100%."
4. You're a songwriter first. For you that means you're not afraid to venture outside the walls of country music. What's your advice for young songwriters on developing a sound that's true to them?
"My songs – none of them sound the same. They're completely different and that's going to continue."
Mariya values the creative experience and even prioritizes it. What's great about her music, is she's sharing these pieces of her life with listeners, and it's always going to be how she wants, not because she's tied to a particular sound or genre, or subgenre of country.
"It's really important to learn to trust your gut because you're going to know when something feels right or doesn't. If you can trust your gut and be curious at the same time, be open to trying things. Maybe it'll work and maybe it won't, but you'll learn either way."
Appreciating the process is another common theme that recurs when spending some time chatting with Mariya. In coming from a place of appreciation for the process of exploring a story, she takes care in crafting each moment.
"Know that each song is a snapshot in time, it's a moment that you get to exist in, and when the song comes out, if you can look back and say we can do the best we could in that moment and I'm proud of the work we did, there's no pressure. The song's going to do what the songs going to. If you feel good about it then do it."
5. Last one! Prioritizing a life outside of your career is part of maintaining a healthy, however tricky, balance. How do you ensure you're feeding the other areas of your life without compromising important opportunities for your career? 
"I had a few years where I didn't at all and started burning out really bad."
Mariya is deliberate about time off. She schedules time off in her calendar. She constantly works to balance her own well-being, which includes choosing between her personal and professional life.
Stampede weekend is her favourite, but this time around, she's skipping out on the first weekend to be a bridesmaid in her friend's wedding. She has to make a conscious choice and an effort to see the people she loves, and it's important to say no sometimes to work.
For her own well-being, she tries to move or exercise, meditate, or do morning pages every single day. Journaling is grounding and reflective, and sometimes when she doesn't know how she feels about things, it gives herself the space to problem solve without a screen full of distractions.
Get to Know Mariya Stokes
Growing up in Stavely, Alberta, Mariya's parents ran the local bar. She would sit on the steps outside the barroom while the bands were playing, and this is where she became obsessed with live music.
Mariya started voice lessons at 8 years old, and the rule was her parents would pay for her lessons, but she had to sing for their friends.
"At fourteen, I heard a Taylor Swift song on the radio for the first time and felt like it was written for me. I thought if she can do this I can do this.
She then got her first guitar to learn to play when she was fifteen. She played anywhere from poetry galleries to western stores, and anywhere local that would have her.
When she turned eighteen, Mariya decided she was going to pursue music as a career. Her goal was to make enough money to survive solely on music, and while that wasn't going to happen right away, it did happen fairly quickly. She had moved to the city, got a serving job, taught guitar and vocals, booked gigs, and was able to quit her job a year and a half later.
"I had time to write and develop my craft, but I was definitely broke."
Mariya had been writing and playing a lot for a few years, and anticipating the release of her first single was definitely emotional.
"The imposter syndrome was real. Being a woman, queer, or BIPOC performer, there's a different level of expectation." 
RELATED: See a list of LGBTQ Canadian country artists who are paving the way in the industry …
Taking The Next Step And Releasing Music
Her first single, "Hands On My Body" came from a vulnerable and honest place, and sharing that story was nerve-wracking.
"I was nervous how my family and friends would react, but also the industry."
"Hands On My Body" wasn't even an option originally. It was her co-writer who encouraged her to share the song with her producer, and they all agreed it had to be released.
"It's about self-empowerment, asking for what you want, and consent. At that point in my life, it was really nerve-wracking."
While Mariya has come a long way since her first release, she can still look back and relate to those feelings of hesitation and anxiety around releasing her first song.
"When it comes time to put a song out, I've stalled releases in the past because I get so nervous about putting out art."
"Rebound" was released in 2020, explores the complexity of falling for someone emotionally unavailable and in love with their ex. It comes from a place of understanding both perspectives. 
RELATED: Learn more about Mariya's single "Rebound" …
"Break My Heart" was released in April 2021, and is all about falling in lust, having the guts to just go for it, and feeling that confidence. 
Mariya explores a number of themes throughout her songwriting. We're looking forward to more new music from Mariya Stokes this year!
Follow Mariya Stokes on Social Media!
Instagram 
Twitter 
TikTok 
Facebook
Stream Mariya's Most Popular Singles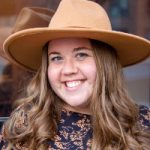 Country music lover with an unhealthy collection of concert t-shirts. Always looking for up and coming artists. Believer in music's ability to soothe the soul. Connect with me on Instagram and Twitter.