Emerging Canadian country artist Amanda Jordan made her television debut on this week's episode of The Bachelor.
The Smith Falls, Ontario artist performed her newest single "I Choose You" for Clayton Echard and his date, Susie Evans on January 11th, 2022.
Written by Ruthie Collins and Natalie Stovall and produced by Scott Cooke and David Cohen, "I Choose You," is about the kind of love you just can't put into words.
Amanda was just getting over a breakup when she first heard "I Choose You".
"When I first heard 'I Choose You', I was going through the most difficult breakup I've ever experienced" says Amanda. "I was trying to convince myself it was for the best but couldn't seem to move on. Listening to the song, I had this moment of 'it's him and there's no one else I can spend my life with' which made me love it even more so I had to record it." – ABC.com
Watch Amanda Jordan Perform On The Bachelor
This isn't the first time a Canadian country singer has been featured on The Bachelor franchise.
Tenille Arts first took the stage in 2018 for Arie Luyendyk Jr.'s season, performing "Moment of Weakness". This led to her signing a record dea. She was invited back in January 2019 for Colton Underwood's season, performing "I Hate This," and again in 2020 for Peter Weber's season, performing "Somebody Like That".
RELATED: Learn more about Tenille Arts and her appearance on The Bachelor …
Amanda's two singles, "Pretty Girl" & "Love You To Pieces" collected half a million streams in 2021. She found herself on Spotify's Best Country Songs of 2021 Canada and Fresh Finds Country: Best of 2021. 
Jordan is gearing up to release her debut EP later this year.
Follow Amanda Jordan on Instagram, Twitter, Facebook and Youtube.
Stream "I Choose You" By Amanda Jordan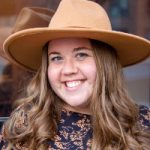 Country music lover with an unhealthy collection of concert t-shirts. Always looking for up and coming artists. Believer in music's ability to soothe the soul. Connect with me on Instagram and Twitter.