Angelica Appelman's debut single "Happy Place", which has been performing well on all streaming services, now has a heartfelt music video that has really brought the song to life.
The official music video for "Happy Place" debuts on Youtube April 21st at 7:00pm, but you can get a first look right here on Front Porch Music.
Bringing Angelica's Debut Single To Life
Teaming up with CMAOntario-nominated Roadhouse Productions, the video showcases a couple simply enjoying each other's company, snapping polaroids, and chasing waterfalls. The leading couple is played by Appelman's real-life best friends, whose love she's always admired.
"It was so special to make this music video with my best friends because I have always admired their love and how they reflect the values of this song," says Angelica. "Between chasing waterfalls, capturing their beautiful love story, and just basking in the joy that it was to make this dream come true music video with Roadhouse Productions, it brought me to a happy place and reminded me that this message matters. It was so fun and uplifting and that's what it's all about!"
The lighthearted themes of the music video and the genuine fun Angelica and her friends are having will surely put a smile on your face – maybe even bring you to your happy place?
RELATED: Learn more about Angelica Appelman's debut single …
The Success of "Happy Place" Out Of The Gate
With over 35,000 streams, "Happy Place" has been an impressive debut for the up and coming singer-songwriter. Angelica Appelman has really leaned into the experience.
Reflecting on the last few months, she says "You only get one debut single release and I've been so grateful for every moment that has come with releasing 'Happy Place'."
Her debut single was picked up by CBC Country/SiriusXM and landed 5th in the Top Ten Most Active Indies along with 10th in the Top CanCon Downloads on Yangaroo in its first week out of the gate at Canadian radio. 
With more to come this year, stay tuned for Angelica's debut EP, A Reason or a Season, set for release in Fall 2022.
Connect With Angelica Appelman On Social Media
Instagram 
TikTok
YouTube
Facebook
Stream "Happy Place" By Angelica Appelman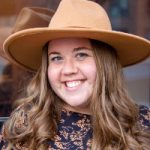 Country music lover with an unhealthy collection of concert t-shirts. Always looking for up and coming artists. Believer in music's ability to soothe the soul. Connect with me on Instagram and Twitter.