Avenue 65 have released their third single "Heart Of Our Hometown" since forming the harmony-driven husband and wife duo.
"Heart Of Our Hometown" builds on the prior singles, "Touch My Heart" and "Without Crowns". Checking off the love song and the party anthem, "Heart Of Our Hometown" checks off another box for Avenue 65; diving in deeper and paying tribute to people who have left, who have been lost, and have left their mark on their hometowns.
Diving Into The Meaning Of "Heart Of Our Hometown"
"We knew right away, right from the very introduction to the song.," says Jo Janzen, who's been playing the Alberta music scene for a number of years.
Written by Doug Folkins, Anthony Fiddler, and Dan Harrison, "Heart Of Our Hometown" is a song both Jo and Jeff connected with immediately when they heard it.
"I grew up in that little town and went to a two-room school until he went to junior high," says Jeff, on embodying his roots and connecting with the song. He continues, "The connection is the legacy people leave behind when they move away without knowing the mark you left."
While "Heart Of Our Hometown" is an emotionally driven track, it's backed by a powerful drumbeat and production that uplifts the song, giving it life. It creates more of a nostalgic experience, looking back on the good old days, feeling joy and gratitude for the impact of the people who make up that small town.
The relatable aspect of "Heart Of Our Hometown" doesn't just stop at those who have experienced small town living; it really connects anyone who's experienced loss, and can look back and know how much they were impacted by another person or place. We've all experienced this in some way, and Avenue 65 does a beautiful job of encompassing this in such a meaningful way.
More About Avenue 65
Joanne (Jo) and Jeff Janzen met through a youth musical group in their late teens, and fell in love along their travels. After spending time in Jo's home country of Australia, the couple moved back to Canada, to Alberta, where they settled to start their family.
After a number of years working the bar scene, Jo persuaded Jeff to play music and sing with her. During the core of the pandemic, with nothing else to do, he'd join her livestreams, sing harmonies, and eventually began to participate more.
Finally being persuaded by his wife, the duo began their project as Avenue 65, and have lots of plans for their group. With three singles out now, and more on the horizon, we are excited to hear more as the year goes on.
Visit Avenue 65's website to learn more, and follow Avenue 65 on Instagram and Facebook.
Stream "Heart Of Our Hometown"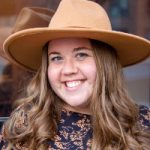 Country music lover with an unhealthy collection of concert t-shirts. Always looking for up and coming artists. Believer in music's ability to soothe the soul. Connect with me on Instagram and Twitter.