Dustin Bird continues to celebrate the release of his latest single, "Get Go." I had an opportunity to chat with Dustin to get know him a little more, along with what he's been up to this year, and more about "Get Go".
The Stirling, Ontario native grew up with an undying love for music and an absolute passion for being a musician. Surrounded by family and friends who were unconditionally supportive, Bird started performing local shows when he was about fifteen years old.
"I knew I wanted to dive in and play music for people, but that was also combined with sheer terror and nerves when it came to performing," Dustin said in our interview.
Looking back on his early days as a performer, he's extremely grateful for those who stayed and watched him grow through what he called "the nonsense and nerves of playing the wrong chords and being red hot and embarrassed."
Fast-forward to today; Bird has found his presence as a performer, but is constantly working on refining his craft and dialing into the audiences he's presented with.
Bird has had a busy summer to say the least. After spending some time writing with Ty of the Hunter Brothers, he flew to Shaunavon, Saskatchewan, for a hometown show presented by Ty Hunter.
RELATED: The Hunter Brothers' album Been A Minute contains hit after hit …
"I walked out on that stage and it was so magical."
The hometown crowd was welcoming to say the least. The show was a highlight for Dustin and his summer back to live music.
He was also on the docket for Country Cares at Blue Mountain, attended the CMAO Awards, and toured with Tim Hicks for a number of shows on his Campfire Troubadour tour.
RELATED: Check out the highlights from Tim Hicks' Campfire Troubadour tour featuring Dustin Bird …
Another highlight of his summer was the Stirling Agricultural Fair. There's nothing like your hometown crowd and the support of familiar faces while on stage.
After the release of his debut album, Unscripted early this year, Bird has been hard at work on what's next. Each song from "Unscripted" tells a story that's reflective of something Dustin was experiencing, or something that really influenced some creative momentum.
"It really is an exploratory, self-discovery project that was really unscripted."
"Get Go" is a new chapter for this singer-songwriter. "Broke and Lonely" was an opportunity to really lean into some of his own emotions and create space for him to work on his new project.
"I want this to make you feel good as a listener and find a piece of yourself in my journey."
Dustin finds it easy to be pulled in a million directions when thinking about his sound. He's constantly working to balance how to be the truest version of himself as an artist, but also immerse what he learns from others into his work.
"I'm inspired by everything around me and every sound in every lyric. It's easy to be influenced, but I just want to be as authentic as possible."
He's been stoked to finally bring "Get Go" to listeners. He is looking forward to a handful of fall performances and a music video release for "Get Go."
First time checking out Dustin Bird? Here are my top five tracks to get you started:
You can follow Dustin Bird on Instagram, Twitter, Facebook, and Tik Tok.
Stream Dustin Bird's Music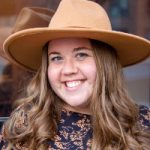 Country music lover with an unhealthy collection of concert t-shirts. Always looking for up and coming artists. Believer in music's ability to soothe the soul. Connect with me on Instagram and Twitter.