The holidays are here and Hunter Brothers new album, Joy To The World is the perfect soundtrack for cozying up and embracing the Christmas season.
Featuring family favourites selected by Hunter Brothers, a duet with Madeline Merlo, and two Christmas originals (one co-written with Dustin Bird), Joy To The World is the perfect tree-topper for the holiday season.
RELATED: Listen to the best Christmas country music playlist …
"This project is a very meaningful one as Christmas is one of the most special times for us. From mom's cinnamon buns, to the chocolate fondue, candlelight service, and the general presence of joy and support of loved ones. We wanted to capture that feeling on this record, and ultimately sing about what is most meaningful to us." – @hunterbros via Instagram
There's just something about our favourite christmas tunes being delivered by our favourite country quintet of brothers. Pairing their seamless harmonies with these cozy tracks is just what we need for a joyful Christmas season.
Joy To The World track listing:
Joy To The World
Have Yourself a Merry Little Christmas (featuring Madeline Merlo)
You're a Mean One Mr. Grinch
O Holy Night
What I See
What Child is This?
Christmas is Coming Again
Santa Claus Is Coming To Town
Carol of the Bells
Check out more by Hunter Brothers on all streaming platforms and connect with Hunter Brothers on social media!
Instagram
Twitter
Facebook
TikTok
Stream Joy To The World By Hunter Brothers
Watch The Music Video For "What I See"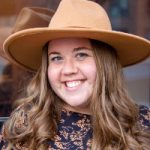 Country music lover with an unhealthy collection of concert t-shirts. Always looking for up and coming artists. Believer in music's ability to soothe the soul. Connect with me on Instagram and Twitter.