"Canada's Country Girl" Kendra Kay is a soulful, down to earth musician from Elkhorn, Manitoba.
Growing up in rural Manitoba, Kendra knows a thing or two about working on the farm, caring for horses, and barrel racing. Her love for traditional country music is deeply rooted in how she grew up and the way she can truly connect with the stories told.
The triple A hockey player turned country musician shifted gears at just fifteen years old after a shoulder injury sidelined her from contact sports. Losing something that she'd put so much effort into was difficult for her as a young teen, but she decided to channel her feelings into a new passion.
RELATED: Have a listen to Kendra Kay's single "Homegrown Heart" …
Kay had participated in junior choir, taken singing lessons, and enjoyed singing when growing up.
Her parents loaded her up and travelled to Nashville where she would record a demo so she could enter a singing contest. Inspired by everything music city had to offer, that trip to Nashville changed everything for her.
"I always loved singing, but it wasn't ever an option for me until that trip. It's been all I wanted to do since and I've never looked back."
Directing all of her energy to music, Kendra began writing and performing. She took a second trip to Nashville the following year and released her first single to radio before graduating high school.
If not for her family, Kendra isn't sure how far she would have progressed in her career today, citing her parents as 99% of the reason she's even pursuing music as her career. Her mom and dad were the ones who kept her going, saw how much she enjoyed singing and how she always comes alive on stage.
2019 was a huge year for the young country singer with her back-to-back win as the MCMA Fan's Choice Award, signing with Sakamoto Talent Agency, and performances she'd only dreamed of.
2020 turned a lot of plans upside down for Kendra. She went from playing shows weekly and spending much of her time on the road, to spending time back home on the ranch. This was difficult for her at first.
"My live show is definitely where my heart is."
It didn't slow her down for long. Pivoting her strategy, Kendra spent the last year and a half zoom writing with artists and writers across Canada and in Nashville, some of which she never would've connected with, if not for the virtual world we were all thrust into.
The time she's had at home has been a good reset for Kendra Kay. She's taken the time to really dig into what she's all about.
"Sometimes when you're in the hustle and bustle, you're recording and writing and it's a cycle. You can lose sight of who you truly are as an artist when you chase the commercial market."
She's proud to have rediscovered the direction of where she is ta as an artist and where she wants to drive her career.
RELATED: Listen to Kendra Kay's latest single "Homegrown Heart" …
She lives on the ranch still, rides horses and tends to the cows. She's always been involved on the farm when not on the road.
Reinvigorating another passion, Kendra also took to the road with her horse. She's never taken her horse to race before, but she's captured some titles over the last two summers as a barrel racer. It's been a special experience for her and her horse to do something else that she's always loved.
Kendra Kay is looking forward to 2022 and what the next year will offer. She's excited to jump back into performing. She's ready to get back on the road and chase the rush she gets from being on stage. She's also excited to share more new music!
Be sure to check out Kendra Kay's latest single, "Homegrown Heart" on all streaming platforms.
Check out Kendra Kay on Facebook, Instagram and Tik Tok.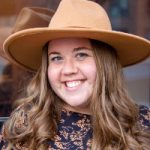 Country music lover with an unhealthy collection of concert t-shirts. Always looking for up and coming artists. Believer in music's ability to soothe the soul. Connect with me on Instagram and Twitter.