MacKenzie Porter has had a banner year. 2021 saw a number of single releases, an opening slot for Jordan Davis, CMT's Next Women of Country, four CCMA Award nominations, her debut at the Grand Ole Opry, and more!
Let's break down Porter's achievements of the year.
"Thinking 'Bout You"
Dustin Lynch's 2020 track "Thinking 'Bout You", which originally featured Lauren Alaina, made it's re-release debut in March featuring MacKenzie.
Lynch made the call to the up-and-coming female country crowd for submissions when he decided to re-release the track.
"I fell in love with her tone – it was effortless and honest. Her voice is something that can't be taught, it's clear she was born with that talent. She was brilliant at bringing her uniqueness to this song, but also keeping it familiar for fans of the original," says Dustin Lynch, on MacKenzie Porter joining him for the duet.
"Thinking 'Bout You" made waves in Canada and the United States throughout 2021, and the duo took their track to a number of stages across the United States.
"Thinking 'Bout You" Performed On Jimmy Kimmel
Porter made her late-night television debut with Dustin Lynch for a performance of "Thinking 'Bout You" live on Jimmy Kimmel in early November, the same week the song cracked top five at country radio.
"Pickup", "Unlonely Me", and More
After riding the "Thinking "Bout You" wave for much of 2021, we finally got a number of new tracks from Porter to close out the year.
"Unlonely Me" was Porter's first solo-release of the year, hitting streaming platforms on September 10th. Drawing her inspiration from the isolating quarantine experience we've all shared, "Unlonely Me" is about wanting to rekindle an old flame, something many of us may have considered when hanging out at home alone.
Watch The Music Video For "Unlonely Me"
"Heaven Heard Me" was released on October 22nd and was co-written with fellow Canadian artist, Steven Lee Olsen, along with David Cohen. Inspired by her husband, Jake Etheridge, Porter leaned into the love and support she and Etheridge have for each other and their careers for this one. One of her favourite songs to date, she's so grateful for the love they share.
"Pickup" followed and was released November 19th. To say this song is contagious doesn't even do it justice.
It's the perfect pop country track you just can't help but move to. While the song is actually looking back on a relationship that may have ended when it shouldn't, the music is so easy to get lost in. If you're looking for a quick dose of serotonin, pop this one into your headphones.
"Coming Soon To a Bar Near You" rounds out Porter's releases (as far as we know) for 2021. Switching gears a little, this one's about breakups and filling the void from a barstool.
"'Coming Soon To A Bar Near You' details where all the broken hearts go to try to heal and all of the different ways we try to forget how we got there. It's about heading to a bar after a breakup to fill that hole in your chest. It never usually works but we all still do it anyways," says MacKenzie of the latest release.
Jordan Davis, Walker Hayes & Next Women of Country Class of 2021
Porter joined Jordan Davis for the 'Buy Dirt' tour. Also on the tour were pop-country duo Seaforth. The tour kicked off in September and ends in mid-December for a total of seventeen tour dates. Porter takes the stage with Davis during his set to duet his smash single, "Cool Anymore".
Recently announced is MacKenzie Porter's slot in the opening seat for Walker Hayes' 'Fancy Like' tour, which will kick off January 27th, 2022 in Grand Rapids, Michigan and will close in April.
Porter also earned a slot on CMT's Next Women of Country Class of 2021, alongside fellow Canadian artists Tenille Arts and Sacha.
MacKenzie's Grand Ole Opry Debut
Porter made her debut at the Grand Ole Opry on November 12th, where she wowed her audience and took in every moment. She performed fan-favourite, "These Days," debuted "Pickup," and also surprised the crowd to join Dustin Lynch during his set for their duet, "Thinking 'Bout You".
MacKenzie Porter Performing at the CCMA Awards
MacKenzie Porter was also nominated for four CCMA Awards; Female Artist of the Year, Amazon Alexa's Fans Choice Award, PRS Guitars Video of the Year for "Drinkin' Songs," and Entertainer of the Year. While she didn't take home any hardware, she and Dustin Lynch lit up the stage and electrificed Budweiser Garders with their duet of "Thinking 'Bout You".
RELATED: The 2021 CCMA Awards were the perfect return to live music the industry needed …
Like I said, MacKenzie Porter has had a banner year, and this isn't the best of what's yet to come for the rising country star. We can't wait to see what she gets up to in 2022, and the Front Porch will surely be cheering her on as she continues to succeed.
Cheers to a great year MacKenzie!
You can connect with MacKenzie Porter on TikTok, Twitter and Instagram.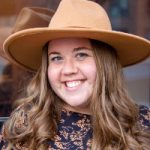 Country music lover with an unhealthy collection of concert t-shirts. Always looking for up and coming artists. Believer in music's ability to soothe the soul. Connect with me on Instagram and Twitter.