Mallory Johnson is definitely turning heads in country music … this time, with the release of her debut album, Surprise Party.
After a huge year, Mallory Johnson has a lot to look back on in 2022. She received a CCMA nomination for Country Music Special or Program of the Year, for "Wise Women – The Show." Mallory also scored a semi-finalist position in SiriusXM's Top Of The Country, and Billboard-charting single "Married".
Surprise Party is a cake topper to the year she's had.
Some Favourites From Surprise Party
Surprise Party is a 12-track album, which includes the work tape of Mallory Johnson's collaboration with Twin Kennedy, "Wise Woman". Here are a few favourites from the album.
Inspired by the misconception that buying things on sale saves you money, "Goin' Broke" is a fun one. Spending too much, buying more because it's cheaper, and trying to keep up. 
"Married" landed Mallory Stingray Trending Track and was featured across the country, along with landing in the Billboard Country charts. "Married" is a cheeky tune about wanting the wedding, the champagne, the party, but not the marriage. You can't help but sing along when "Married" comes on … at least I can't.
Mallory Joined Us On The Porch To Talk About "Married"
"Not Your Heart" is a common story from the dating world … being friend-zoned. Mallory says, "It's easy to fall in love with your best friend but equally difficult to navigate that friendship when one person's love is romantic while the other's is platonic." This song perfectly captures the vulnerability and difficulty that comes with navigating this difficult relationship dynamic.
The title track, "Surprise Party" is about hope, feeling loved, and having good luck. It's a soft slow song that honestly feels like a hug from a friend. Wanting the best for the people in your life is important, and "Surprise Party" just depicts this so well.
A final favourite is "Party Dress". It has a really cool classic rock edge to it. There are a number of nods to gallivanting carefree, bridesmaid clichés and more, memories you can't let go of when you look at that party dress you wore.
RELATED: Mallory joined us "On the Porch" in July… 
The Road To Surprise Party
Mallory's album release is the perfect way to cap off the year. Johnson has been touring her home province of Newfoundland and Labrador in support of her release, and partnered with Newfoundland's Dildo Brewing Co. & Museum for the "Surprise Party Sour".
Surprise Party is a culmination of the beautiful songs Mallory has been writing with a number of fellow Canadians including Carolyn Dawn Johnson, Patricia Conroy, Jason Blaine, Tenille Arts, Kelly Prescott and more.
We connected with Mallory on our podcast "On The Porch with Front Porch Music" and we talked about the album coming together, the project initially being an EP, and the natural growth into a full-length release.
Mallory says, "One evening I got together with Carli and Julie Kennedy and we started writing "Surprise Party." Something clicked after we finished writing this song and the theme of the entire record just organically fell into place. "Surprise Party" wrapped the project in a beautiful bow and what was initially an EP, turned into a full length concept album —something I've always dreamed of doing. The songs started to perfectly weave together to tell a celebratory story sprinkled with champagne, confetti, and birthday cake.
Mallory's effortless country soul is weaved deeply into her music, capturing the attention of listeners looking for a collection of cheeky, emotionally vulnerable songs that tug right at the heartstrings.
Stream your favourite songs from  Surprise Party on all platforms now!
Follow Mallory Johnson on Social Media!
Instagram – @maljohnsonmusic
Facebook – Mallory Johnson Music
Twitter – @maljohnsonmusic
TikTok – @maljohnsonmusic
Stream Surprise Party by Mallory Johnson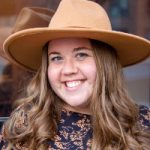 Country music lover with an unhealthy collection of concert t-shirts. Always looking for up and coming artists. Believer in music's ability to soothe the soul. Connect with me on Instagram and Twitter.