What do you do on a -30 degree Saturday night in Edmonton? You hit up Rogers Place with about 6000 of your closest friends for a hoedown with some of your favourite local country musicians. Paul Brandt brought his The Journey tour to Edmonton on February 2nd with fellow canucks High Valley, Jess Moskaluke and The Hunter Brothers
The Hunter Brothers were the first in the all-Canadian lineup – read about the Hunter Brothers performance here. They were followed by fellow Saskatchewan native Jess Moskaluke who got everyone warmed up with an enthusiastic performance. She thanked her fans for helping "Cheap Wine and Cigarettes" to go platinum, getting the crowd to sing along. Moskaluke laughingly told the crowd that their singing was better than Calgary's, knowing that her encouragement of the Battle of Alberta would get everyone going.
High Valley took the stage next, opening with some of their newer tracks like "County Line" before breaking into one of their older hits "Love You for a Long Time" which got the crowd clapping along with their hands in the air.
The Rempel brothers spoke about the first country song they ever learned how to play and had couples two-stepping at the back of the floor to John Michael Montgomery's "Be My Baby Tonight". They ventured further into the country music nostalgia by segueing into Alan Jackson's "Chattahoochie" while they introduced their band members.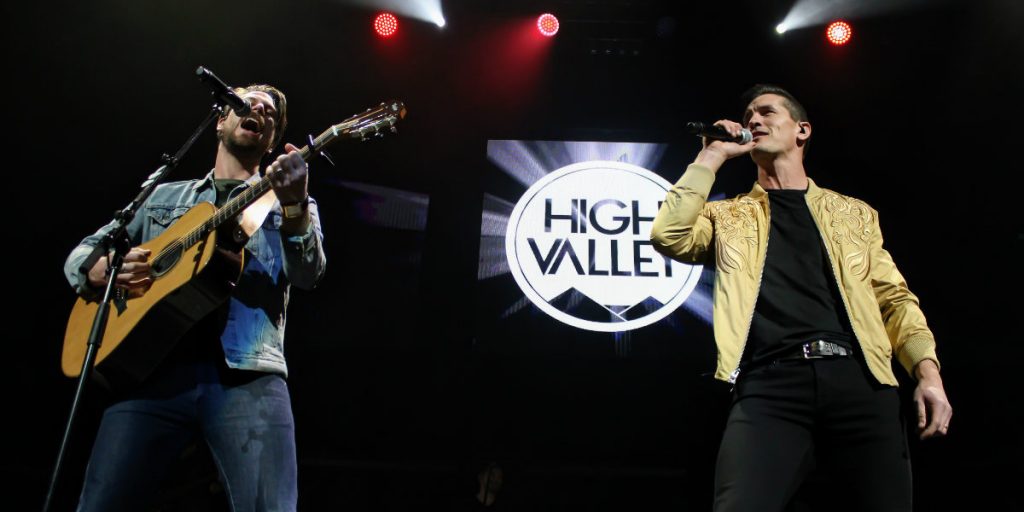 During "Young Forever", Brad riled the crowd saying that Calgary sang it louder which sparked Edmonton's competitive spirit to belt out the song at the top of their lungs.
Brad explained that the brothers grew up in a small town in Northern Alberta with no radio or television but lots of bluegrass transitioning info a bluegrass gospel jam session, finishing it off with Walk the Moon's "Shut Up and Dance", with a bluegrass twist.
High Valley closed out their set with "I Be, You Be".
Paul Brandt made a dramatic entrance with flashing lights and thumping bass, wearing an Alberta t-shirt and a guitar strap featuring the hashtag #notinmycity, a movement started by Brandt to bring awareness to the issue of human trafficking in Canada.
He engaged the crowd right away, opening with "The Journey" and stepping out on the risers to greet his fans. Brandt belted out "My Heart Has a History", the most played country song in Canadian history, which had everyone signing along.
High Valley appeared on a riser at the back of the stadium to join Brandt for "When You Call My Name" before joining him on the main stage.
"It's pretty nice to be home in Alberta", said Brandt.
He made his way to the riser at the back of the stadium to perform "Small Towns and Big Dreams", encouraging the crowd to sing louder by – you guessed it – igniting their competitive spirit with Calgary. The Alberta native knew exactly which buttons to push to get his fans to sing their loudest.
Brandt brought the Hunter Brothers up onto the riser stage with him, announcing "we grew up the same way – in church". Brandt and the Hunter Brothers sang "Life's Railway to Heaven" and "Amazing Grace" while Brandt threw rubber ducks (an ode to "Convoy") into the crowd.
Brandt slowed things with "I Do" as couples slow danced and a video montage of Brandt's wedding played on the screen before picking things back up, singing "Open Road" with Jess Moskaluke joining him.
Brandt closed out his set with "Alberta Bound" and was met with such an enthusiastic response from fans that he barely had to sing, finishing the song off to raging applause.
Brandt returned to the stage for an encore, singing "Thank You Thank You" and "Convoy" before inviting High Valley, The Hunter Brothers, and Jess Moskaluke to join him for "Walk the Line" in a tribute to Johnny Cash. Brandt's signature bass vocals were reminiscent of the Man in Black's memorable sound.
Brandt's inclusive performance gave an air of camaraderie and friendship between the performers, leaving the audience with a feeling of warmth as they exited into the cold winter evening.
Were you at the show? Let us know what you thought of the show, and what stuck out to you the most.
In country music, the Front Porch has long been a place of reflection. A place where you can look at the life you have inside that front door. A place where time almost seems to stand still, where you can get away. It's also a place where you can go to observe the world as it passes by you. To think about your place out there beyond the driveway.