Raquel Cole is hot off the most recent leg of the Washboard Union's Road Back To Cavendish tour. Playing for crowds across the country, Raquel has turned heads not only with her incredible vocals, but her skill as a multi-instrumentalist.
Cole placed in the Top Three in SiriusXM's Top Of The Country in 2021, took the stage with Don Amero at the 2021 CCMA Awards, and scored her first Top 50 radio single, with her song, "Think About You".
Raquel Cole has learned a lot about herself and her career path over the years, including balancing her solo career and her role as part of the band, The Woods.
It's time to dive in and learn more about Raquel Cole and some of the things she's learned over the course of her more than a decade in the music industry.
RELATED: Raquel was one of our Artists To Watch in 2022. See the full list here >>>
Five Questions With Raquel Cole About Music And More
1. You're Raquel Cole but you're also ⅓ of The Woods! How do you balance both? How do you make sure you're giving your best to both your solo project and band?
Partaking in a band was more of an accident than intentional for Raquel. Friends of hers in Nashville were starting a band, and she was a fan of the music they were creating and really enjoyed seeing them live. While looking for a third member so they could be a true three-part harmony, Raquel "filled in" and began playing with them.
This happened around the same time she decided she would start saying yes to things. 
"I was always scared of making the wrong decision or doing the wrong thing that would mess up my career."
Raquel genuinely relies on staying organized and utilizing her calendar so she can be fully present with both her solo work and the band.
"It's tricky at times, because I started saying yes, and it's really exciting that they're happening simultaneously, but I have to make sure I don't double book myself."
Raquel loves her work and likes being busy, so balancing both projects is something she really doesn't mind. She's able to make time for both, partly because her career grew out of a hobby.
"I turned my hobby into a career and didn't leave room for any new hobbies."
2. Where do you feel on your journey that you learned a valuable lesson about building your career?
"I've had experiences over my life so far where I had to learn the hard way."
Trying to appease everyone she's working with is something Raquel has learned is just not possible; and when it's related to her career and what she wants, it's her own perspective she's learned, that matters most.
On learning this lesson she says, "Not being honest with people about how I really felt, trying to save face or not hurt someone else's feelings and ending up in this place where you have to tell them you don't like something. That's where I had to make changes."
She's learned that being honest right off the bat when you don't want to commit to something is important. It isn't fair to other people who you've said yes to. It's their time you're taking, not just yours.
"Having the hard conversation is much better than going with the flow and doing something because you felt like you had to and not giving it your all."
3. You played 70's rock 'n roll music with your dad who is a drummer, growing up. You also love Bryan Adams and Avril Lavigne. How do all of these loves shape your musical style?
Raquel didn't initially pave her way in country music. She saw herself in a soft pop space. As she started writing music, she fell into the genre. She didn't intend to write country songs, but that's where her stories led her. She's never felt that her specific musical influences have
"That's The interesting thing about influences and playing your music; when I hear a song I've written, I don't usually think, oh this sounds like it's this artist! Someone else usually brings it to my attention. You think you're different and you're strange and you're not like anyone else – but you're the adding up of everything you've been exposed to in your life, yet you feel completely original."
4. You've participated in philanthropy shows and causes. How do you suggest artists find ways to connect with their communities and give back?
For Raquel, mental health awareness is a huge area of importance for her. No matter what your profession is, there can be a huge impact on one's mental health.
"I've worked with different organizations down here (Nashville) that work with veterans. We sit down, hear their story and write a song together."
Raquel began working with veterans when a friend invited her to tag along. Another thing she said "yes" to as part of her promise to herself has really paid off.
"Music is healing. You hear it your whole life, and seeing it in real life is so meaningful."
Awareness and support around mental health is important to Raquel because for her, it's about not having to pretend you're okay when you're not. SHe had no idea that veterans were dealing with such levels of PTSD and mental health concerns, and for her it's really been really rewarding to get to do some small thing to share in their healing journeys.
"I love the one-on-one experience. wherever that is – music or non-music, when someone gets to feel heard and you can help them feel heard and seen, that's powerful. You don't have to help someone write a song to do it. You can't fix someone. But you can listen, and that goes a long way."
Community connection is important as a whole. Playing music in church growing up was a way for her to share her gift with others. It's meaningful to connect with people over the things you share.
5. Can you share a little bit about your relationship with social media? How do you balance the demand for more and the need to disconnect sometimes?
"Sometimes if I don't post about it, it feels more special. Me living my life is what's important.
The whole, it only happened if you posted it on social media isn't true."
Raquel knows the struggle of managing expectations and balancing social media effectively. She doesn't like to dive too deep because it's easy to get caught up in comparing yourself against others.
"I could play a show for people in a theatre with 500 people and have an amazing night. But then my peer shares a post of performing for 20,000 people. It shouldn't take away from my experience."
You really have to decide whether you're going to let it consume you or not.
Get To Know Raquel Cole
Raquel Cole grew up in Vernon, British Columbia. It wasn't until she was grown up that she appreciated the beauty of her hometown. She grew up in a home surrounded by music. She and her parents were always singing.
Raquel's dad was the one who noticed she was musically inclined and got her into guitar lessons. She was having her first recording studio experiences at ten or eleven years old, she recalls. He wanted her to get the feel of the recording studio, the process, and the environment. Her dad was also a drummer, so they'd have friends over, and play music in the basement. It really shaped her into a musician and singer who was truly passionate.
When it came to songwriting, Raquel always felt like she had something to say and something to feel inspired by. It was a unique experience for her to be writing and performing her own music already as a young teenager.
"I was definitely the girl with the guitar in her own songs," Raquel recalls. She was constantly playing guitar wherever she was.
"I had a lot of drive looking back as a young person. I was always searching for something big."
Songwriting is what eventually drew her to Nashville. There was a moment she realized she was no longer visiting Nashville anymore, she was visiting home. There was no specific memory of moving, only it becoming final that she was settled and working in music city. Making a move at that time didn't feel final or definite.
"Nashville can be very draining and it can also be very inspiring at the same time," says Raquel on how she's built her career there, surrounded by talented people every day.
The pandemic really showed her how much she loved being around live music. She felt drained not being able to experience live music or play it.
"I promised myself I'd never complain about being out on the road again."
Raquel has always been inspired by Celine Dion. She's her favourite singer, and as a young artist, she always wanted to be her. She was a huge fan of Bryan Adams, and says John Mayer changed her life in high school. She really resonated with Michelle Branch and Colby Callait as an artist, it's the direction she initially pictured herself.
As she found her space in country music, Raquel fell in love with Keith Urban and Lady A.
Raquel's Music And More
You can hear Raquel's latest release duet with fellow Canadian artist Don Amero, "Let You," at Canadian country radio and on streaming platforms now.
Raquel has a number of shows later this year to finish off touring with The Washboard Union.
If you're listening to Raquel Cole for the first time, here are a few songs I think you should check out:
Think About You
Hate That I Need You
Find The One
Imogene
Dropped Your Halo (my personal favourite)
Raquel Cole on Social Media!
Instagram
Twitter
Facebook
Youtube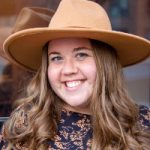 Country music lover with an unhealthy collection of concert t-shirts. Always looking for up and coming artists. Believer in music's ability to soothe the soul. Connect with me on Instagram and Twitter.