Taylor-Rae is the 2022 Boots and Hearts Emerging Artist Showcase runner-up and a three-time 2022 BCCMA nominee.
She released her latest single, "If This Is Love" on February 17th, the first release after her big move to Nashville in the fall of 2022.
She's now played a number of shows around Nashville, including her debut at the famous Listening Room writer's round.
Named one of our Artists to Watch for 2023, I wanted to catch up with her and highlight some of her achievements and the hard work it takes to get there.
Here are five questions with Taylor-Rae.
5 Questions With Taylor-Rae
1. Let's start with a fun one. What would you say your top skills are? What's one other job you know you'd be good at if you weren't a singer-songwriter?
This first question is a fun one.
We're encouraged to take ourselves so seriously. So, I asked Taylor-Rae to think about what she's good at, what would she consider her "top skills" are?
"I'm really good at getting a dance party started. I'm really good at walking dogs, as per my first job out of university. People still think I walk dogs, I haven't walked dogs in ten years."
On top of all that, she happens to be quite witty. But in all seriousness…
"I'm a really good problem solver and I know I'm quick thinking on my feet. I'd make a really good lawyer. I'd be a good teacher but my argumentative skills would definitely be put to better use in the world of law."
You Can Catch Her Wit On Display In Our Conversation With Her On The Porch
2. There's a lot of noise when it comes to what's going on with everyone else's careers. How do you stay focused on your own path and what's best for you?
"I think it's important to know your lane and realize that while we're all shooting for the same outcomes, we all have different ways of getting there."
She mentions the same thing doesn't work for everybody, and looking around at what everyone else is doing is taking away from you being creative and innovative in defining what you have to offer.
"It's impossible not to compare yourself to your peers, I'd be lying if I said that doesn't happen."
For Taylor-Rae, it's about letting yourself have those moments, but not letting them become consuming. There will always be something you want that another artist has or is receiving, but you have to be focused on your path.
Taylor-Rae says, "Your whole world is circling around this one thing and your whole life becomes your career. You have to make a conscious decision to rationalize with yourself."
3. What's a piece of advice someone gave you that you still feel is important/relevant?
"A producer told me this industry is really tricky in the way you will feel inferior in some rooms. Everyone is feeling a certain way, but regardless of how you're made to feel by others, that's more on them than an actual reflection on you. It has nothing to do with your talent or who you are as a person."
The advice is great whether you're in the music industry or not. Egos can be hard to take in, there's going to be people you come across who want you to feel inferior so they can feel important and valued.
The other piece of advice Taylor-Rae had is also interesting.
"There really is no industry standard. Finding your own lane is really important, block out the noise. Copying someone else isn't going to help you stand out. Everyone's path to get where you want is so different."
The music industry is evolving constantly, and while there are things about the industry that make it fickle, trying to mold to what it's currently asking for could be a detriment within a year even.
4. You recently moved to Nashville to expand your career. How does one pick up and move to a new city and put themselves out there to meet new people and enter the scene?
"I think the biggest thing for me was making sure I was putting myself in the right rooms and making productive networking connections."
Like many folks who have moved to Nashville to pursue their dreams say, it's easy to get caught up in the whirlwind and going out all the time. She says, "you still have to do that, but you have to be focused on finding those places where you can have great connections."
Sounds easy – but how does one move to a brand new city where they know a handful of people and start to build out their circle? How do you get past the nerves of it all?
"Look for those associations and groups that align with your goals and see how you can be part of them. I don't know if I've gotten past the nerves of it. Being in this industry long enough, even when things are nerve-racking, the more you do it, the more comfortable you get with being uncomfortable. So you go to events alone, you introduce yourself to people and suddenly you're opening up your world."
5. Let's talk social. It's so easy to get consumed by the virtual world of social media. When do you know you need a break from social media? What do you do to recharge?
"I know I need to step back when it starts feeling too heavy on me personally."
"It's inevitable because we have to post and stay on top of trends, but I try to go on social media during work hours and make it part of my job. After that I let myself off."
RELATED: We talked about trends and about her first TikTok video in our conversation with her on our podcast …
The delicate balance we're all trying to strike, it can be extra difficult when it's deeply embedded in your work.
"I have been trying to find more fun ways to use social media, being more candid in that sense, it's more fun for people to see more than just promoting music, and it makes it feel more fun for me too."
BONUS: Taylor-Rae's Self-Care Tips For the Singer's Voice
Steam – get a steamer, steam before, steam after
Hydration – before you sing, don't drink alcohol or caffeine, stick to water (caffeine tightens the muscles around your voicebox)
Avoid loud rooms – you know you're going to go out and yell because you can't hear one another but it can really strain your voice
Don't sing from your neck muscles – it can really cause strain. Instead, find your power in your stomach and keep everything relaxed up top
Do your warmups and cooldowns – reset everything before you go into a room, if you've performed and all went well, there's still room to strain after you leave the stage
About Taylor-Rae
"Alberta-born, west-coast trained, and Nashville based" is the best way to describe Taylor-Rae's journey to music city.
Growing up in Edmonton, Alberta, Taylor-Rae shared a love for singing with her dad, where they would fire up the karaoke machine to entertain family friends. Discovering she had a voice better suited for the world to hear, she began her pursuit in country music.
After a number of years in Vancouver where she attended university and sang in Vancouver's soul choir, she released her first album in 2019, which includes the relatable song, "Nashville".
In 2021, she released "Hellbent" along with "Are You Still Up", written by Carly Pearce, Phil Barton, and Adam Argyle, which has been streamed almost two million times. She followed up with the summer single "I Can't" and a second place finish at the Boots and Hearts Emerging Artist Showcase in summer 2022.
We Talked To Taylor-Rae and the Other Emerging Artist Showcase Finalists Right After They Got Off Stage
Taylor-Rae has released her first single post-Nashville move. "If This Is Love" is a power ballad that combines her love for soul and country, and steps into an emotional side of deciding whether the love you're feeling is enough, or if it's okay to want more.
RELATED: Catch our previous coverage of "If This Is Love" …
With her Listening Room debut in the headlights, Taylor-Rae will continue to play rounds in Nashville, including the Listening Room, and release more music this year. You won't want to miss what she's up to next.
Connect With Taylor-Rae On Social Media and Stream Her Music!
Instagram – @taylorrae.official
Twitter – @taylorrae_music
Facebook – Taylor-Rae
TikTok – @taylorraeofficialmusic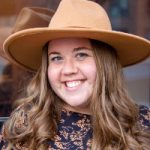 Country music lover with an unhealthy collection of concert t-shirts. Always looking for up and coming artists. Believer in music's ability to soothe the soul. Connect with me on Instagram and Twitter.