Vanessa Marie Carter's latest single, "Relapsin'" has been out for the summer and has been the perfect track to get us moving.
A few years ago, Vanessa Marie Carter was crowned the Emerging Artist Showcase winner at Boots and Hearts, she's experienced work with two record labels, and made the bold move to Nashville to grow professionally and personally.
RELATED: Give her single "Relapsin'" a listen. But be prepared for it to be stuck in your head …
Now an independent artist, Vanessa has learned a lot about herself as an artist and entertainer.
A cheerleader of women, and especially women in country music, Vanessa and I chatted about her experiences in the music industry and advice she has for artists building their careers.
5 Questions With Vanessa Marie Carter
1. What's the first thing that comes to mind with the phrase "Women in Country Music"?
"Underrepresented."
"Untapped."
"This CMA Fest, at Spotify House, Lainey Wilson came out and she absolutely crushed anyone else who played that day. My boyfriend has not stopped listening to her for the last two months."
Vanessa notes that there's just so much talent, and women have to be that much better, that much faster, that much earlier to start to even get in the same room in many cases.
"I get so happy when I see any woman win ever. But especially in country music. I will be your cheerleader any day."
RELATED: Last month we put a spotlight on radio personality Sarah Scott …
2. In your opinion, what's the most important first step for young musicians looking to kick start their careers as artists?
"From my experience, play as much as you possibly can. Playing in bars, especially shitty bars, with bad sound, and your mic stand falling over, drinks throwing around; all of those things teach you something."
"The whole saying of getting your stage legs is really invaluable." Spending five years performing four to five nights a week was a huge time investment, but one she could never replace.
She did learn this the hard way; getting signed to a label early, it not working out, and then starting from the beginning and building from the ground up again. While at the time it was difficult, it's something she's glad she was able to do.
3. Independent artists wear many hats. How do you manage your business as an artist and where have you decided to build out a team to support you?
"It's a lot, and it's becoming more because of the way social media works nowadays. People want and need to see so much more of you all the time."
She's currently managing herself, and her rule of thumb is, "when you need a manager, one will come to you. You make enough noise, you can't book shows on your own anymore, that's when it's time to build out the team."
She's observed that a lot of people hire managers and agents before they need to, including herself when she was much younger in her career.
She does the business stuff she needs to do, but ensures it doesn't take the joy out of writing and performing.
"You do it because you love it."
4. Where have you seen the most growth for yourself as an artist and entertainer over the years?
"Playing in bars was a game changer, and playing that much was a game changer for me."
While It was a huge sacrifice to give that much time, because she didn't have a social life at the time, it was a transformative experience and critical learning for Vanessa. She worked a day job, and managed a really busy gigging schedule for five years.
She says it was the best school she ever went to. The learning she had on stage could not be replaced by anything else.
On top of this, both record deals she's had didn't end the way she wanted them to, and things like this that don't go the way you want end up being the best learning curves, even if challenging at the time. It's these experiences that teach resilience, and also continue to remind artists why they've chosen this career path. The love of music and performing outweighs these experiences.
5. In your experience, what's one valuable thing women in the music industry can really benefit from?
"We as a collective need to not focus on the negative part of identifying as a woman in country music. We need to be focusing on becoming the best artist you can be, whether you're a man or woman; people will listen."
Vanessa notes that while there are a lot of battles women face in country music, it's really powerful to focus on being better and becoming great so that people can't ignore you and what you bring to the table as an artist.
"People, and women can fall victim to being pitted against each other when feeling like there's not enough room at the top. More women kicking more doors down just means more opportunity for you."
More About Vanessa Marie Carter
Vanessa Marie Carter grew up in Oakville, Ontario, educated in music from a young age. She began dance at just three years old, and tapped into musical theater at six. At the age of eight she began working with a vocal coach. She continued to pursue all of these activities all through high school.
She stepped away from dance and musical theater when she headed off to university in Waterloo. Third year university is where she got connected with a former manager who introduced her to the Wax Records team.
This led to her first record deal, fast-tracking her degree by finishing her fourth year in one summer, and joining the duo Autumn Hill. After nearly a year together, Vanessa parted from Autumn Hill and Wax Records.
She took this learning experience with her as she started to build her solo career. She had yet to play live with a full band, so she connected with the band she still plays with to this day and started at square one.
The band took every gig they could get, playing four to five nights a week, wherever they would have them. The live performance not only taught her a lot about herself as an entertainer, but taught her to love music again, after a difficult experience.
Vanessa won the Emerging Artist Showdown at Lucknow's Music In The Fields in 2015 and the Emerging Artist Showcase at Boots and Hearts Music Festival the following year. She was able to take the stage at Boots and Hearts again in 2017, 2018 and 2021.
It was 2017 when she also decided to make the move to Nashville, after traveling back and forth for a number of years.
Getting out of her comfort zone and moving away from her very supportive family (she refers to as her safety net) was the best thing for personal and career growth. Vanessa has evolved in both areas. She notes that the experience of figuring things out entirely on your own is such an empowering experience.
Follow Vanessa Marie Carter On Socials!
Instagram
Twitter
Facebook
TikTok
Stream Music From Vanessa Marie Carter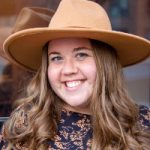 Country music lover with an unhealthy collection of concert t-shirts. Always looking for up and coming artists. Believer in music's ability to soothe the soul. Connect with me on Instagram and Twitter.