Justine Blanchet released her latest single "Hard To Love" on August 19th, The music video for "Hard To Love" will premiere on September 9th.
Justine has been hard at work between Quebec and Nashville since her previously released music, working on a matured sound and a look to match. Blanchet feels more connected than ever to the music she's putting out and her brand as an artist.
She can't wait to share more new music, just around the corner.
RELATED: Have a listen to Justine's new single "Hard To Love" …
Until then, we caught up with Justine to chat more about her music evolution, her latest single "Hard To Love" and how deeply connected she is to the story behind it, and more.
Getting To Know Justine Blanchet
Justine Blanchet first started tapping the piano keys at just four years old. Music was something she was surrounded by growing up.
Her and her three siblings all joined the Air Cadets, something she loved, especially since she was homeschooled. This was where she made friends and got to take part in some really cool social activities growing up. Air Cadets is also where she added the saxophone to her repertoire.
One of the youngest to ever participate, Justine took part in a talent competition composed of some of the most talented young people from each branch of the Air Cadets. An opera singer at this time, they traveled three hours from home to take part in this contest, where she would take first place, and tour through Quebec with the top musicians in Cadets.
This experience was one of huge growth for Justine. The seven week tour marked the first time she was away from home for an extended period of time. It was the first time she would take the stage and perform more than just one song at a time. This is also where she caught the stage bug. She knew from this experience she wanted to be an entertainer and musician.
Diving Head First Into Country Music
At fifteen, Justine decided opera was not her long-term career path. Working with her long-time vocal coach, going through the songs she'd written over the last couple years, they landed on country music.
As Justine began to explore her identity as a country singer-songwriter, she told stories of her own life and the lessons she learned growing up.
The next learning curve came with releasing music for the first time. She loved to take part in all aspects of the creative process, from directing her videos, to the marketing work around the music.
Her first radio single "Strong" gave her the confidence boost she needed to continue to put her heart and soul into her craft.
Justine Blanchet's New Era Of Music
"Hard To Love" is her current single, which was released after almost a year. When it came to her next chapter of music, Justine thought taking a break and clearly defining her next chapter was what she needed.
Spending time working on new music, removing herself from a toxic relationship, and finding herself in her style and presence as an artist, Justine Blanchet is ready to release a collection of work that has evolved in the same way she has over the last number of years.
She's excited for the release of her EP, but before that, the music video for "Hard To Love" and perhaps a couple more singles.
Follow Justine Blanchet To Be The First To Know About New Music
Connect with Justine Blanchet on Instagram, Facebook, Twitter, and TikTok.
Stream "Hard To Love"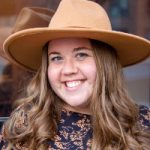 Country music lover with an unhealthy collection of concert t-shirts. Always looking for up and coming artists. Believer in music's ability to soothe the soul. Connect with me on Instagram and Twitter.