One of Canada's top country artists Jason Blaine has released his latest single "Drink Too Much" and we had the chance to catch up with him to chat about it.
"Drink Too Much" is a great song that everyone can relate to. It's a song about unwinding with your significant other and friends after a long week of work – and perhaps drinking a bit too much. It's a song that almost makes you long for your life back in your 20s when you would go out anytime anywhere. It's about chasing that feeling again.
Jason Blaine has been a staple in Canadian country music for more than a decade. With over 12 Top 10 singles, multiple CCMA, SOCAN & CMA Ontario awards, over 20+ radio hits, six full length albums, and over 8 million digital streams, Jason has become one of Canada's Canadian treasures.
It's been almost a couple years since we've had new music from Jason Blaine, and "Drink Too Much" is just the start of a big year. He has plans to release a full EP this Spring – and we suspect a nation-wide tour will follow. The tour is just speculation, but it's the next logical step.
We had the chance to connect with Jason Blaine and we talked about so much! Our love for music, inclusiveness in the industry, his single, and more. Check out the full interview below.
Interview With Canadian Country Artist Jason Blaine
Front Porch: Thanks so much for joining us up here on the Front Porch Jason! We're really thrilled to have you here, and even more excited about your new single "Drink Too Much". Tell us a bit about the song.
Jason Blaine: Thanks for the invitation! First, let me say how much I love your passion and support for Canadian Country Music! I follow Front Porch on Instagram and enjoy checking out your interviews!
"Drink Too Much" was actually a song that was pitched to me this past year. When it came time to start choosing songs to cut, I realized I actually didn't have anything like it. I had been writing so many deep songs, emotional songs, lovey-songs, that when I first heard it, I thought, YES! This is just fun! It's also lyrically exactly how my wife & I both get to feeling sometimes. Juggling careers and our four kids, sometimes we just need to take a night to call a sitter and hit the town with some friends and yes, maybe Drink Too Much!
Anyone know what I mean?!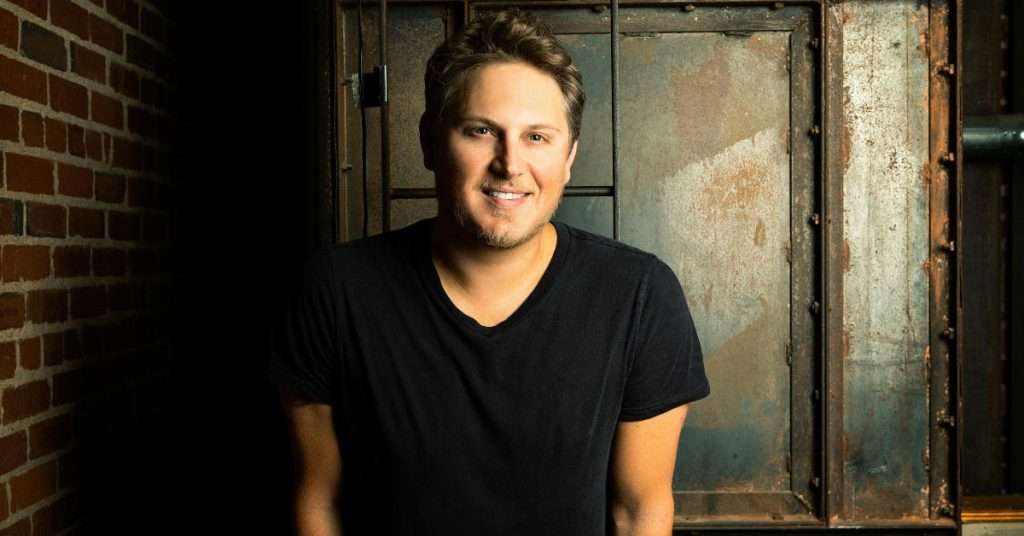 FP: You're an incredible songwriter. Having written songs with so many fantastic artists, can you tell us what your songwriting process is like? Where do you draw inspiration, any places that you seem to write best?
JB: Well, thank you, that's very kind of you to say. I've been fortunate and blessed to have had a number of my songs live a life every songwriter hopes for. Whether it's been my song or another artist like Madeline Merlo, Petric, or Chris Janson, recording a song I've had a hand in, it's always a thrill to see thousands fans singing along to it. That's the real pay off and the greatest feeling. My process has always been to start with a title or "a hook". Sometimes that will come from the general idea or theme but it all begins with an idea. Then we all collaborate on melody and vibe and try to come up with a fresh new way to convey a timeless concept, usually.
FP: You've also started a Charity Golf tournament – what is the driving force behind that? We'd love to learn more about this.
JB: Thanks for asking! Yes, this June I'll host my 7th Annual Charity Golf and Concert Fundraiser in my hometown of Pembroke, ON, benefitting various local charities like The Boys & Girls Club, The Robbie Dean Centre (mental health crises centre) and many others. It's the thing I'm most proud of so far in my career. My driving force has really been wanting to use the gift of music to give back and thanks to so many of my artist friends and an amazing committee of volunteers, we've been able to make a real positive impact and raise over $500,000. Folks can check out www.jasonblainecharity.com and @jasonblainecharity on Instagram to see pics and videos of past years, celebrity guests and all the charities we've supported.
FP: Over the past couple of years, there has been more pressure for gender parity on radio stations, music festivals, and the country industry as a whole. What are your thoughts here and what do you think needs to be done to increase representation in the country industry?
JB: I know, there's been an obvious lack of amazing ladies on the radio for quite some time now,  more than ever before and it's a shame because country music has such a long history of amazing woman who only need one name. I'm talking Patsy, Tammy, Tanya, Dolly, Wynonna, Reba, Martina, Faith, Shania, Trisha and The Dixie Chicks right up to Carrie, Kacey, Maren and Miranda, and SO many others that I'm huge a fan of. I especially loved the 90s era of country woman, when they kind of dominated that decade. Let's not forget about our great Canadian ladies like Michelle Wright, Patricia Conroy, Carolyn Dawn Johnson, right up to Madeline, Meghan, Kira, Jess Moskaluke, and Tenille (both of them!).
I heard about some radio DJ in the US who said they couldn't play back-to-back female artists and I thought, that is total BS and it's wrong. I'm not a fan of discrimination of any kind. Just play great songs from great artists.
FP: We learned that you have been in the studio working on new music – when can we expect some more music or an album?
JB: Sometime this spring! I'm thinking April or May for the release of the full EP. It's all done and ready to go and I can't wait to get it out there!
FP: And quickly – what are the top songs you can't stop listening to right now?
JB: Blake Shelton's "God's Country" and "Nobody But You", Ryan Hurd "Down To A T", and also both new albums by Maren Morris and Miranda [Lambert]. All super-cool.
Stream "Drink Too Much"
Lyrics to "Drink Too Much" by Jason Blaine
You've been crossin' t's and dottin' i's too much
Off to work and payin' every bill on time too much
Baby, you been up at the crack of dawn, and
Workin' out in the mornin'
Doin' what they tell you you should do too much
But it's Friday night, and I just wanna
Get a little loose, baby, maybe me and you
Need a long night off from bein'
Responsible, dependable, tonight
Don't you kinda wanna drink too much, drink too much?
Go a little crazy, get a little hazy
I don't wanna think too much, think too much
Just let your wild side run the show tonight, hey, baby
Don't you kinda miss the tipsy kiss and whiskey smile?
Girl, you know it's been a while
Don't you kinda wanna drink too much?
Let the taxi driver drive tonight
Fill the bartender's jar too high tonight
Yeah, we'll be up till the crank of dawn, and
Sleepin' away the mornin'
It doesn't matter what we get into tonight
I kinda wanna drink too much, drink too much
Go a little crazy, get a little hazy
I don't wanna think too much, think too much
Just let your wild side run the show tonight, hey, baby
Don't you kinda miss the tipsy kiss and whiskey smile?
Girl, you know it's been a while
Don't you kinda wanna drink too much?
But it's Friday night, and I just wanna
Get a little loose, baby, maybe me and you
Need a long night off from bein'
Responsible, dependable, tonight
Don't you kinda wanna drink too much, drink too much?
Go a little crazy, get a little hazy
I don't wanna think too much, think too much
Just let your wild side run the show tonight, hey, baby
Don't you kinda miss the tipsy kiss and whiskey smile?
Girl, you know it's been a while
Don't you kinda wanna drink too much?
I kinda wanna drink too much
Yeah, baby, drink too much
Yeah-yeah-yeah…