"Home Town Home" is the highly anticipated release from 2022 CMAOntario Rising Star nominee, Alli Walker.
"Home Town Home" follows Walker's first radio single, "Maybe I'm Still Drunk", which was released earlier this year.
After sharing "Home Town Home" among many other demos on TikTok in early 2021, the video went viral and Walker spent the next 12 months fielding DMs and comments asking when people could expect to hear the track on streaming platforms.
Alli Walker finally delivered for her fans on May 18th.
"Home Town Home" Is Alli Walker's Real Life
"This song tells the story of what's going on in my life currently, which is always my favourite place to write from," said Walker on the inspiration for the song.
Alli and her husband met after moving from their respective coasts to chase their dreams in Toronto, but have never escaped the draw of heading back to their small town roots.
"I'm in the process of moving to my husband's hometown, so it was easy to look back on the things I loved most about growing up in a small town, like parking lot hangouts and bonfires on Saturday nights. I know as long as I have some of those pieces, I will feel right at home in any new place."
RELATED: Alli Walker Is One Of Our Artists To Watch In 2022 …
"Home Town Home" Draws Listeners To More Than The Story
Listener response to this personal song has been undeniable. 
As a person who moved away from their small town and enjoys the city, I still found myself drawn to this one. The first time I heard "Home Town Home" was live at the El Mocambo, and the crowd reaction was undeniable. It wasn't just me who connected with the song.
For Alli, "Home Town Home" is about settling down in her husband's home town. For some, that might be the draw, but for other listeners, like myself, I think about all the feels that come with falling in love and finding home in your human and the place they grew up.
"Home Town Home" was written with long-time co-writer and friend, Dustin Bird.
You can find "Home Town Home" on streaming platforms now, and on her upcoming sophomore album, set for release in 2023.
Celebrating The Release Of This Single With Merch
Alli has dropped special merch to celebrate the release of "Home Town Home", which you can get here.
Follow Alli Walker On Social Media!
Instagram 
Tik Tok
Youtube
Facebook 
Stream The Latest Song By Alli Walker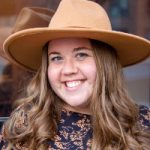 Country music lover with an unhealthy collection of concert t-shirts. Always looking for up and coming artists. Believer in music's ability to soothe the soul. Connect with me on Instagram and Twitter.