Jaimey Hamilton is here to remind us not to settle for anything less than what we deserve with her brand new single "Anxious Heart" out today!
Co-written with Matt Teed and Johnny Kennedy, Hamilton leans into an emotional and important message.
"I had so much fun writing this song with my co-writers Johnny Kennedy & Matt Teed over Zoom in 2021. It was definitely one of those rare songs that came so effortlessly in the writing room."
No stranger to leveraging emotion as inspiration, "Anxious Heart" follows Jaimey's previous single, "Save A Barstool For Me", which was a tribute to her late grandfather after he passed.
"I am so happy and proud of this song. I love that it's sassy, empowering and relatable. I hope when people listen to this song they remember to "never settle and never give in" to anything less than they deserve."
"Anxious Heart" is backed by powerful instrumentals that don't take away from showcasing Hamilton's soft , strong vocals.
"Anxious Heart" is available on all streaming platforms now!
Get To Know Jaimey Hamilton
Jaimey Hamilton is a fighter. By age twelve, she was receiving her third leukemia diagnosis. Leaning into her songwriting was a form of therapy, where she could share her feelings and manage what was going on in her life.
With influences such as Hailey Whitters, Carly Pearce and Miranda Lambert, her captivating melodies and soulful lyrics are sure to draw you in from the start.
"Anxious Heart" marks Jaimey's first single of 2022 and a summer full of live shows.
Be sure to check out Jaimey Hamilton's website to keep up with where she will be performing this summer!
Connect with Jaimey Hamilton On Social Media!
Instagram
Facebook
Twitter
TikTok
Stream "Anxious Heart" By Jaimey Hamilton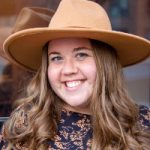 Country music lover with an unhealthy collection of concert t-shirts. Always looking for up and coming artists. Believer in music's ability to soothe the soul. Connect with me on Instagram and Twitter.