Graham Scott Fleming's new single "Better Man" is out now and is the perfect post-breakup empowerment track.
Packed with emotional lyrics and a hard-hitting electric guitar, "Better Man" showcases Graham's vocal range and ability to tell his stories in a way that connects with listeners at the core.
"Better Man" started out as a journal entry after an awful breakup. Diving into self-reflection, Fleming thought about the greater WHY. Why was he so upset, when this person has moved on and is happy.
Watch The Music Video For "Better Man"
"Why am I putting all this emphasis on another human and not so much myself?"
The song is really about bettering himself after a breakup, showing up for himself, and realizing he doesn't need to rely on someone else for happiness, it's something he needs to do for himself.
RELATED: Have a listen to Graham Scott Fleming's single "Deja Vu" and our introduction to him …
The journey is hard … and it's ongoing. He's really learned about how important it is to focus on loving yourself, that if we don't love ourselves, it's not fair to a partner because you're not giving them your full self.
Graham Talks to us About Some of the Easter Eggs In "Better Man"
"Better Man" represents a moment of growth for Graham Scott Fleming and we as listeners get to enjoy his ability to bring stories to life through song.
"Better Man" is available on all streaming platforms!
More About Graham Scott Fleming
Graham Scott Fleming didn't realize he could sing until grade twelve. He had fun doing karaoke with his friends but never considered himself a singer. One day, walking down the hallways of his high school, singing along with his friends, Scott caught the attention of the school's music teacher.
His teacher encouraged him to join the school's blues band, and after deciding to show up and sing with the band, he couldn't deny the feeling. He enrolled in three music courses and began his journey as a musician.
In 2011, he took first place in the North of Nashville Star Competition hosted by Kicx 106 Pure Country Radio station in Barrie Ontario. This landed him on stage, opening for Deric Ruttan.
He's been balancing work in musical theatre, such as productions of "Rent," "Hair," and "Kinky Boots" alongside writing and recording music. His love for both is apparent, and his passion for the arts is so prevalent in all of his work.
He's learned some important lessons about himself through his work in songwriting. He realized he was writing for others, what they wanted to hear, and trying to write from another's perspective. When he started writing for himself, the stories flowed and he felt genuinely connected to his music. What he's writing and releasing now is very much him and his stories.
RELATED: Get to know Graham a little more …
Fleming describes his influences affectionately.
"I grew up in cowtown listening to rock and roll and country music."
Working on broadway and in musical theatre, he's been exposed to a number of genres of music. His voice really is a culmination of the influences of the music he grew up with, country and rock, and also R&B.
"If you limit yourself to one genre, you're missing out on so much beautiful music."
Graham escaped to Nashville earlier this year to give himself a change of pace. He needed to be inspired again, and where better to do that? He went down with a goal of writing one song per day while he was there. Not only did he crush his goal, but he connected with a number of co-writers for sessions. He truly made the most of his time there and came home with a reignited spark.
Graham Scott Fleming is looking forward to a lot in 2022. He's craving the opportunity to hit the stage and perform. He's looking forward to connecting with people, sharing his stories, and learning theirs.
Be sure to check out "Better Man," along with his earlier releases, "High Life," and "Deja Vu."
Connect with Graham Scott Fleming on Instagram and Twitter.
Stream "Better Man" By Graham Scott Fleming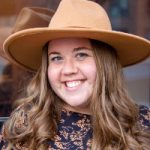 Country music lover with an unhealthy collection of concert t-shirts. Always looking for up and coming artists. Believer in music's ability to soothe the soul. Connect with me on Instagram and Twitter.