Cadence Grace has been surrounded by a world of music her entire life, in fact, you may recognize her as ⅓ of the group Runaway Angel. 
Encountering a major setback in her career, and her life, with the diagnosis of leukemia, Cadence has been a fighter and a pillar of resilience. 
Earlier this year, she released her single, "Don't" which represented a realization for her and her vision as a creative.
Cadence took the stage this summer at Harmoniafest and performed during CCMA Week with the Taylor Entertainment showcase.
Cadence and I connected to chat more about what she's learned over the years, the long-term impact of her cancer diagnosis and her next chapter of music.
5 Questions With Cadence Grace
1. You've been on quite the journey. How do you find music to be a source of identity for you? How do you ensure it's not 100% of your identity?
"Going through cancer, having so much of my life stripped away, it was the first time in my life I had to evaluate who I am without my looks, my career, and all of these things that I've lost. Who do I want to become after this?"
Cadence wasn't sure if she wanted to continue with music.
She spent time thinking about whether music actually inspired her every day and made her happy, or if she did music because it was something she had done for so long that it felt normal and safe.
Cadence tried her hand at web design and graphic design, diving into other aspects of her creative mind. Ultimately, she knew music was more than just something she was good at. Her parents knew this too and encouraged her to get back to what makes her happy.
"Music is a part of myself that I can't let go of. It makes me feel connected to myself and the universe. In some way I will always be involved in music."
Cadence and her parents took a songwriting class together, which is why you will find them on the songwriting credits for her 2022 single, "Don't".
2. What's your advice for finding inspiration when you aren't necessarily in a creative mental space?
"I find inspiration in really weird places. I listen to a lot of audiobooks. I'll hear one line or a couple words and I'll start thinking about how you can spin that concept into something cool."
Cadence makes sure she jots down these ideas so when she isn't necessarily in a creative space, she has somewhere to turn to for ideas.
Technically speaking, she's been songwriting from a different perspective. She will find premade loops and write melodies over them so she is always writing something, even if it's for practice and learning.
She's also been working at creating 5-8 melodies for the same loop, and then evaluating why one works better than the other.
"At the end of the day, I'm a creative nerd. I like a science-minded analytical side, but also I like letting my creative brain fly."
3. It can be hard to balance what's best for you as an individual and yourself as a business. How do you separate personal and professional when it comes to decisions that impact your career and well-being?
"This may not sound great but I usually let my husband help me," (insert…laughing fit from both of us). "I tend to let my music brain lead the way a lot and don't think rationally right away. I get excited. I want to do it, I want to do everything. He's very helpful with taking a step back and being a little more pragmatic and strategic about it."
On the flip side, Cadence is no stranger to being in a group, and how they worked together to ensure they were making the best decisions for their careers.
"In Runaway Angel, we just exhaustively talked to each other about how we did things. You have to be honest with what you want because there's more than just your career you're impacting."
4. You've been part of a band, you collaborate with artists, and you're a solo artist now. Tell me about how you measure growth and success as an independent artist.
"I'm chasing a moving target and that's one of the most dangerous things about working in this industry. You're always redirecting, and never living in and celebrating your achievements for more than a couple days."
Cadence stresses the importance of being where your feet are and taking in what's right in front of you.
"For me, it's about making a living from music, not necessarily chasing the commercial aspect. Ultimately I want people to connect with me through my music, I want people to connect with music in a way that I have because music has saved me more than once."
When it comes to chasing a goal post, or working toward awards and recognition, Cadence says there's something more important about the journey to these that outweighs being handed a trophy.
"Those accolades don't mean anything compared to what the relationships you genuinely build over time in this industry end up meaning to you. Focus on genuinely and authentically building long-term relationships. That is your measure of success."
5. What's the most valuable piece of advice you've been given? Why does it still resonate with you today?
"I had a meeting with someone in Nashville a number of years ago who said, yeah you're talented and you're pretty. There are a million girls in this town more talented and prettier than you. What sets you apart is if you're still here in ten years."
At the time, Cadence wouldn't understand totally what he meant by that. Today, she says looking back, it was exceptional advice … but had she taken it seriously in the moment, she may not actually be here today.
"It took years to see the relationships I was building and milestones I was achieving. For the most part, most of these people have dedicated their whole life to this and worked so hard. Maybe it was good I didn't listen back in the day or take it seriously."
She adds that, "At the end of the day, you have to be true to yourself and believe in yourself. This is not a forgiving line of work."
About Cadence Grace
Born and raised in Whitby, Ontario, Cadence Grace now splits her time between Courtice, Ontario, and Nashville, Tennessee.
RELATED: Meet Vanessa Marie Carter, last month's Women In Country Spotlight Artist …
Entering the world of musical theater when she was young, Cadence thought that was something she'd pursue. Then, she took part in an audition with a label and actually won. She signed a record deal and that was the end of musical theater. She wrote commercial music for The Hills, Degrassi, and more. At 21, Cadence landed her first publishing deal with ole, and continued to create music for film and television.
Sitting in the world of pop music for quite some time, she never really felt like she was part of the pop community.
"Being a young woman with severe self-esteem issues, being in the pop world was really intimidating. People always wanted me to be something other than I was, and it really always felt like they were trying to guide me away from being myself."
Karaoke Star And Meeting Runaway Angel Members
This led her to take a break from music, to then return in the country space when she auditioned for Karaoke Star on CMT. This is where she would meet her future band member Stacey Zegers.
After Karaoke Star, Cadence would head to Nashville to complete her first solo record, and shortly after would join Runaway Angel. The group would celebrate six radio singles and two albums that included two top five tracks on the iTunes Country Charts. With the release of Runaway Angel's second album came a life-changing diagnosis.
Leukemia Diagnosis And A Long Road To Recovery
Cadence was diagnosed with leukemia in 2018, and while she was told it was very treatable, she would embark on a long journey.
You can read more about Cadence's journey with her diagnosis and recovery at https://loveandleukemia.ca/. 
Cadence's treatment would not be successful and she was the recipient of a bone marrow transplant in 2019. A three-year recovery journey that is still ongoing. This is part of Cadence Grace's second chance at creating a life for her, and pursuing what she wants.
She did however, pull away from music entirely after her transplant. There was a pain in the experience of even listening to music that she was experiencing.
"I felt a lot of grief about it, and I had to separate myself from music for as long as I possibly could."
She also notes, "When you're in fight or flight, your creativity is the first thing to die."
Finding Her Way Back To Music Again And "Don't"
It would once again be the support and encouragement of her parents that would bring her back to a world of songwriting and music that re-sparked her passion.
"I wouldn't be where I am today without my parents."
Cadence and her parents took an online songwriting class together. She even learned a new way of writing through this class. She had never started with a loop before, but that's what they did, they worked backwards. Together, they wrote "Don't", which she would produce the demo for herself, and proceed to listen to fifty times in bed in the middle of the night. She felt her renewed energy for her passion.
Now, Cadence is spending time learning what her stage presence is like while flying solo.
"Singing alone for the first time in almost 10 years was one of the hardest things I've ever done. Being up there without Anne and Stacy felt incredibly vulnerable."
Stacey, Anne, and Cadence still write together (hmmmm maybe a Runaway Angel comeback in the works?), but she also enjoys writing on her own.
"There's something about writing a song alone. Your soul needs to say something. I love what I'm writing."
Cadence Grace is weaving her lived and learned experiences into her work as a songwriter, pushing herself to learn more every day.
Make sure to check out her single "Don't" and catch up with Cadence on social media.
Follow Cadence Grace on Social Media
Instagram – @cadencegrace1
Twitter – @cadencegrace
Facebook – @cadencegrace
TikTok – @cadencegrace1
YouTube – Cadence Grace
Stream "Don't" By Cadence Grace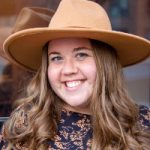 Country music lover with an unhealthy collection of concert t-shirts. Always looking for up and coming artists. Believer in music's ability to soothe the soul. Connect with me on Instagram and Twitter.