Dayna Reid introduces herself to the Canadian country music world today with the release of her debut EP, "Back To The Trailer".
Dayna recently signed a record and management deal with Open Road Recordings and RGK Entertainment Group, debuting her brand new music during Country Music Week at the 2022 CCMAs.
Reid's EP features three brand new songs that introduce her as an authentic small-town kid with big dreams, an infectious personality, and killer vocals.
Dayna and I sat down and chatted about chasing her dream, "Back To The Trailer" and more.
Getting To Know Dayna Reid
A small-town girl with big dreams and an affinity for helping others, Dayna Reid grew up in Elmvale, Ontario.
RELATED: Her label-mate Graham Scott Fleming is also from Elmvale! There must be something in the water …
While she always loved music and singing, she felt a career in music was out of reach for her. "I didn't think a career in music was in the cards for me," Dayna says, reflecting back on her childhood.
Dayna pursued Autism Behavioural Sciences at Niagara College and has been working as an Intervention Therapist in schools and group homes.
Her first taste of the stage wasn't until 2018 when she first entered the Magna Hoedown and came in third place. Not only did this experience make her feel like performing was a space that made her feel the happiest, it also motivated her to practice and enter the competition the following year.
The Magna Hoedown in 2019 is not only where she took home the winning spot, but she also met her mentor Beverly Mahood and co-writer and producer Mackenzie Shepherd.
Dayna says, "At that point I had to decide what I was going to do. If I was going to pursue my dream, I had to put the time into it."
As a team, they spent the majority of the last two years songwriting and developing Dayna as an artist.
Partnering With Open Road Recordings And RGK Entertainment
"I was ready for this opportunity but it was still a huge surprise," says Dayna, thinking about her debut release with Open Road Recordings.
They had just finished her album, and she was really excited to release this music they'd been working so hard on.
Being able to debut her music with label support is something she could have never imagined. "I know this doesn't happen every day. People work so hard. I am just not taking any of this for granted."
Debuting Her EP Back To The Trailer
Dayna's personal stories are intertwined into the songs she shares. Her perfectly balanced 90's inspired, contemporary sound sets her apart in the Canadian country industry.
On her sound, Dayna says, "When I was writing, I thought, I want to have something that sounds like the country music I listened to growing up."
1. "Back To The Trailer"
"Back To The Trailer" quite literally references the summers she spent living in a trailer. A lot of her formative life experiences happened while living there, good and bad, and she wanted to create this time capsule for herself of her friends, her dog Miley, string lights, and no air conditioning.
Dayna Talks About What It Was Like In That Trailer On The Porch
"I think people can relate to this. It's a fun summer song and I want them to think about something that brings back memories and reminisce."
2. "She's Me"
"She's Me" is a song that packs a punch. Not just instrumentally, but in its anthemic feel. The first time I heard it, there was something that just sparked, and I thought "this song is a hit."
Watch The Music Video For "She's Me"
Dayna says "When we were writing this song, I was really trying to figure out who I was. I started writing about this version of myself I was working towards. It changed my whole perspective on myself."
She also says that while it's called "She's Me" she wants it to be a song anyone can connect to. She says there are hundreds of small towns across Canada, and lots of kids in those small towns with big dreams and a curiosity for what's out there in the world for them.
3. "Long Way Home"
The third track, "Long Way Home" literally, and musically, slows things down and strips it back.
"The pandemic … it taught me how to slow down, and think about taking those extra couple seconds together," says Dayna. "The song keys into the holidays around the year and what makes it special. It's really about going home with that one specific person."
Dayna wants you to think about taking the long way home, you don't have to rush to the end of a really great date, or a special night with your friends or family.
What's Next For Dayna?
These three songs are an introduction to Dayna Reid as a songwriter, artist, and person. She's still working in the Autism community, and she's really excited to embrace this new chapter in country music. The people she works with are huge supporters, and she knows a thing or two about music's capabilities as a tool for therapy.
"I always knew I wanted to help people. I think I know now that I can also help people through music."
This is just the beginning for Dayna Reid, with more music to come in 2023.
Connect With Dayna Reid On Social Media
Instagram – @dayna_reid
Twitter – @daynareidmusic
Facebook – @DaynaReidMusic
TikTok – @daynareidmusic
YouTube – Dayna Reid
Stream Her EP Back To The Trailer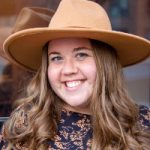 Country music lover with an unhealthy collection of concert t-shirts. Always looking for up and coming artists. Believer in music's ability to soothe the soul. Connect with me on Instagram and Twitter.