Ontario-based country artist Tyler Lorette's  newest single "Movin' On" is out everywhere now. Crossing over 50,000 streams on Spotify alone, the single is continuing to gain momentum.  
We connected with Tyler to learn more about how he got into music, how he balances school and his music career, and leaning into more of a country sound.
RELATED: Catch our previous coverage of his single "Movin' On" …
Interview with Tyler Lorette
Front Porch: Introduce Front Porch listeners to you – tell us about yourself! How did you get into music?
Tyler Lorette: I am a singer, songwriter, multi instrumentalist and producer from Courtice, Ontario.
Music has always been a part of my life.
My parents love music and in our house my mom and dad were always singing karaoke or blasting music on road trips. My mom sang at weddings back in the day for extra money to help pay for her education. Many of my extended family are musical, like my grandparents, uncles and cousins and my family on the east coast are all bluegrass players.
When I was two years old I would bang on pots and pans pretending that they were drums and then at the age of four I started plucking on the guitar and from there learned drums, piano and mandolin.
Between 9-12, I started to write and record original music and it was then that I knew how much I loved performing and connecting with people.
At twelve years old I was performing in over 100 shows a year and live streaming to a global fanbase.
FP: Tell us about the new single "Movin' On". How was the writing process? How do you feel this song fits the direction of your music?
TL: "Movin' On" has allowed me to really lean into my country sound. I love the story of "Movin' On", I know I am young but I have had my fair share of heartbreak so "Movin' On" is that transition from feeling broken to finally accepting that the relationship you thought was the one is over and is the road forward to something better.
I literally write everyday, it's just part of my schedule and I am always jotting down ideas and creating melodies on my voice memos.
With "Movin' On" the inspiration hit me at about 1AM (typical lol) as I sat down in my home studio and I started the structure of the song and the melody concepts. From there I met with my co-writer on the song Roberta Michele and we bounced some ideas around and finished the song pretty quickly, as it just all came together.
Then we had some meetings with my co producer Adam Newcomb on the direction and the song was born. 
FP: What have you learned about yourself through balancing school at Berklee and building your career?
TL: I have become really good at planning and meeting deadlines that's for sure!
Not going to lie, it's tough juggling school and a music career,  but it's all I know because I have been doing this as I said earlier since I was twelve. However, this is different  because my school focus now is music and production now and not just a random curriculum that is uninteresting to me. 
FP: You're currently on tour promoting your new music. How's that going? What's your favourite part of touring?
I just came back from doing a radio tour to help promote "Movin' On". I've had a blast meeting so many new people and performing the new tune. It's been great to connect with a different audience to share my music.
FP: What are you most looking forward to through the rest of 2023?
TL: I have a lot of new music coming out so I am really excited about that,  and there is also a new tour in the works. It's going to be really busy but in a good way and I'm looking forward to all of it!
Stream Tyler Lorette's Music
Follow Tyler Lorette On Social Media!
Instagram – @tylerlorettee 
TikTok – @tylerlorettee
Twitter – @TylerLorettee
YouTube – @TylerLoretteMusic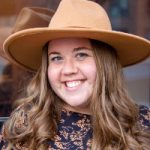 Country music lover with an unhealthy collection of concert t-shirts. Always looking for up and coming artists. Believer in music's ability to soothe the soul. Connect with me on Instagram and Twitter.