Canadian country favourites Hunter Brothers have dropped their latest single, "Peace, Love & Country Music" which marks their first single of 2022.
The comforting, familiar experience of Hunter Brothers harmonies, paired with a hopeful, uplifting message is just what we need after a lot of trying times over the last couple years.
"When we wrote 'Peace, Love and Country Music,' everything just seemed to fall into place. We could feel the energy before the write, and it carried through until it was finished," explains Ty Hunter.
He continues, "In a time where division can so easily happen, it's so important for us to find common ground in the midst of it all. We are hopeful that this song brings exactly what it says to everyone – peace, love and some good country music."
Watch The Music Video For "Peace, Love & Country Music"
We had a chance to connect with Hunter Brothers and chat more about the new single, getting back on stage, and celebrating country music with fans across the country.
An Interview With Hunter Brothers
FP: "Peace, Love & Country Music" is such an uplifting, soul-rejuvenating song, and it's the perfect time to release this one. What's most special about this release?
HB: Thank you so much for your kind words! There are a few things that come to mind.
The first, and probably the most special thing about this release, is the message of the song. In a day and age where division can be common, it's so crucial to come back to simple truths that ground us, and remind us of the fact that we are all human. Everyone needs a little more peace, and love and while music preference can be subjective, a little more country music is good for anyone's soul.
The other special thing about this track is that it represents the beginning of a new era and chapter. We wanted to start off a new season with a track that defines who we are, and who we want to be.
FP: How did it feel getting back into the studio after "Been A Minute" to record some new music? Was there a new energy with working on the next project?
HB: It feels amazing to record new music.
The difference between "Been A Minute" and the new music is the fact that we are going into festival season with the knowledge that we are ACTUALLY going to play all the shows on our schedule. It's so exciting to think about performing these songs live in the very near future.
I think there is new hope on the horizon, and that seems to add an extra layer of positivity to the overall vibe of the songs.
RELATED: Hunter Brothers Release New Album "Been A Minute"…
FP: What's your goal for listeners with "Peace, Love & Country Music"? What do you want people to feel when they hear this one coming through their radio airwaves?
HB: We are hopeful that this track not only provides positivity for all who hear it, but also encourages all of us to take action in speaking more kindly, loving each other more, and acting on things that will be uplifting at the end of the day.
We all have the opportunity with each interaction of each day to choose things that are positive, or negative.
Our hope is that this brings harmony to the way we view each other.
FP: Music has an ability to heal and to bring people together. With shows kicking up and festival lineups coming out, what are Hunter Brothers looking forward to when it comes to getting on stage again?
HB: We are SO pumped to be in the same rooms and fields with our music family and fans.
There is nothing quite like standing and singing at the top of your lungs, and feeling the weight of the world disappear during a show. It's a pretty generic answer, but still rings true, especially after the last two years.
And finally, a message to fans and listeners from Hunter Brothers
HB: We personally, from the bottom of our hearts, want to say thank you to each and every person who has faithfully supported our music. The fact that you listen, and choose to spend time with us in your vehicle, in your homes, or at a show means more than you will ever know! Thank you for showing love to the new track!
Keep up with where you can catch Hunter Brothers on stage on their website!
Follow Hunter Brothers On Socials!
Instagram
Twitter
Facebook
TikTok
Stream "Peace, Love & Country Music" By Hunter Brothers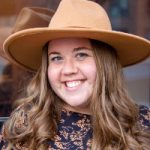 Country music lover with an unhealthy collection of concert t-shirts. Always looking for up and coming artists. Believer in music's ability to soothe the soul. Connect with me on Instagram and Twitter.