Jessie T is celebrating the release of her current single, and its accompanying hilarious music video, "I Can Be Your Margarita".
Co-written with David Madras, Greg Williams and Rich Cloke, "I Can Be Your Margarita" is a fun summer send-off, with no shortage of comedic energy.
I caught up with Jessie to learn more about her music roots, her music, and more!
From Kingston To Kitchener
The Kitchener-based, Kingston native has grown up with music since she was eight years old. She first learned to play the piano and delved into singing lessons when she was thirteen. Vocal lessons are what made her fall in love with the idea of performing.
One thing that stood in her way was crippling stage fright, something she took many years to learn to manage. Overcoming this meant one thing, she loved music more than her fear of performing.
"It reminds me that it's something I care about," says Jessie, recalling the difficulty of getting over this hurdle. She says she still gets very nervous, but has learned to manage much better.
Jessie's uncle had played in a band and one of his bandmates owned a recording studio. A christmas gift of studio recording time led to a 7-track CD of covers from Evanescence to Gretchen Wilson, to Carolyn Dawn Johnson.
A copy of the CD led to Kitchener-based producer J.Richard Hutt. Jessie began venturing to Kitchener to write and record, and decided to move when she was twenty. What she refers to as her "Kitchener family" included Jamie Warren, Carrie Demaeyer, Steve Hogg and JK Gulley.
Hitting The Gigging Scene And Her Debut Album
She began her journey in the world as a gigging musician by saying yes to every stage and bar that would let her play. Through word of mouth primarily, she built up a local audience and had regular gigs across the Waterloo Region.
As she expanded her shows outside of the Region, Jessie gathered her stage legs, learned to work an audience, and always ensured she had a song or two from as many artists as possible in her back pocket. She played country, rock, and more, spanning from the 70s and on.
Jessie has been proud to make a living doing what she loves, something she knows not everyone has the opportunity to do.
She's been fronting the Galley West band with Dave Menard for seven years, where they play regularly at the Stampede Ranch.
In 2016, armed with a catalog of music, Jessie T released her debut album Reckless Heart. Her proudly Factor Funded album included the single "Hellbound" which broke 100 on the BDS charts.
Rooted In Songwriting
Jessie T grew up listening to a little bit of country and 50s and 60s rock and roll. She remembers influential music from the Everly Brothers, Leslie Gore, Don Williams, and Charley Pride.
Growing up, Jessie's dad played in a country cover band. Her and her best friend would head to the legion to listen to the band play. She remembers the first time she went, a lady got up and sang "Die of a Broken Heart" by Carolyn Dawn Johnson. 
"I remember looking at her and thinking oh my gosh that's what I want to do."
From there, she fell in love with The Chicks, Shania Twain, and more.
When it came to eventually having to pick a lane for herself, she and her producer talked at length about where she would fall.
"I've always been in love with the story, and that's where country was decided."
Always being captivated by this piece of songwriting, she finds herself deeper into the country songwriter side of the genre, with her daily listening coming from the "Country Coffeehouse" playlist on Spotify.
Upcoming Sophomore Album
Her latest single, "I Can Be Your Margarita" and previous single "Title Track" are part of Jessie T's latest project, which will amount to her sophomore album release in early-mid 2023.
RELATED: We had the exclusive premiere of her music video for "I Can Be Your Margarita" …
"I Can Be Your Margarita" was never meant to be a single. Jessie says, "This was just a hang, it was never supposed to be a single." Jessie and her co-writers were in the middle of a complicated love song and were split down the middle of where to take it. They decided to do something fun to lighten the writing space and came out with "I Can Be Your Margarita."
Jessie started playing it live and the continuous crowd reaction led her to the studio to record. The hilarious music video sports the same light-hearted, comedic spirit, with a margarita making contest and some questionable mixology. 
Watch the Music Video For "I Can Be Your Margarita"
"The day itself was so much fun. We got to a point where we were thinking, 'how chaotic can we get with this video?'"
The previous single "Title Track" was co-written with Carrie Demaeyer and John Cirillo. Carrie had brought the idea to their co-write, and Jessie loved how the turn of phrase was used. She hadn't heard it before.
"At the time it resonated for all three of us. There's a certain amount of that song being more relevant to me now than even when we wrote it."
"Title Track" is similarly light in nature, however hopeful of a love worthy of being the title track.
Follow Jessie T On Social Media
Instagram – @jessiet.official
Facebook – @jessiet.official
Twitter – @jessiet_music
TikTok – @jessiet.official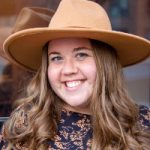 Country music lover with an unhealthy collection of concert t-shirts. Always looking for up and coming artists. Believer in music's ability to soothe the soul. Connect with me on Instagram and Twitter.