To say a career as a musician was written in the stars for Mallory Johnson even seems like an understatement.
Growing up in an exceptionally musically inclined family, touring with her family's celtic band, winning Newfoundland's Next Country Star, and crossing paths and being mentored by country music legend, Sammy Kershaw are just some of the stars that aligned for Mallory Johnson over the years as she pursued her career as a musician.
Johnson teamed up with Twin Kennedy for "Wise Women" in 2021 which snagged Music Video of the Year at the 2021 MusicNL awards and is up for Fan's Choice Video of the Year at the 2022 East Coast Music Awards.
Her star continues to rise. Mallory is one of this year's Top 8 Finalists for SiriusXM's Top of the Country Contest.
I got to connect with Mallory to learn about her career, her role supporting women in the music industry, and some of the lessons she's learned through her big move to Nashville in pursuit of her dream.
Five Questions with Mallory Johnson
1. Your personality shines in everything you do. How have you built a brand around yourself that feels authentic?
When I first met Mallory, she was a breath of fresh air. She was interested in making a genuine connection with each new person she talked to, and that easily spoke of her character.
"Authenticity is so important to me. You know, people can see through bullshit. Honesty is key because if you don't believe what you're saying, listeners won't either."
Mallory is unapologetically herself and being kind to people is very important.
She truly values the process of learning and making mistakes artists experience as they work through the development process.
"You can be the most talented person in the room, that doesn't mean you'll be the most successful. People love flaws and imperfections, and people will be drawn to you and grow with you and celebrate those moments you learn from."
Letting listeners and an audience in on your journey and the emotional ride is important and being yourself is a valuable part of growing an audience that you're truly connected with.
"I really value honesty and authenticity, even if it's a little rough around the edges. I don't want to sugarcoat things. Imperfection can be beautiful."
2. "Wise Women" was a big moment and a powerful message. What can you say about being a woman in a male-dominated industry?
"Wise Women" started with wine, and Carli and Julie Kennedy.
"We spent a night talking about the challenges about being a woman in this very male-dominated industry. From festival slots, to radio play, and the pay discrepancy when it comes to performing."
Some other themes they talked about were being overshadowed by male voices in the writing room, and for Mallory specifically, being told she was too picky when sending notes to a producer.
RELATED: Learn more about "Wise Women" by Mallory Johnson and Twin Kennedy …
This shared space of understanding and experiences really expanded through "Wise Women" and gave voice to issues women are constantly facing in the country music industry.
"Wise Women" became a girl power anthem and the music video was a whole other thing. No women were acting out a part in the video either. It was really special to get to celebrate that with these amazing women; we got to shine a light on how beautiful women are and the work they do."
3. What's your relationship with social media? Do you have advice for artists who struggle to find a healthy balance with it?
"TikTok is the best free marketing tool for an artist right now. If you're consistent, you're going to reach people. it's a no brainer to me. Every artist should be using TikTok."
Social media has created an avenue for artists to access fans, listeners, and communities all over. They're able to find a place where their music resonates.
"I'm not a good person to as about balance because I really suck at it."
Mallory has been working on being better with boundaries and social media, because as an artist, social media feels like part of the job. When she can't separate herself from social media in a meaningful way, she feels like she's always working. That's a sentiment she knows other artists share as well.
"I'm trying really hard to create a boundary, but I do have a difficult time balancing."
For independent artists, they're their own social media manager. There isn't someone managing this area of work for them.
"I manage, schedule, create my own ads – and it's marketing but also personal at the same time."
The best advice Mallory has for combatting this is trying the timers out and trying to put locks on social media when it feels like it's getting out of hand. It can be hard, but it's necessary.
"As a creative, how are you inspired to create a song or your art when your nose is constantly in a phone?"
4. East Coast music is vibrant and distinct. How does your East-coast upbringing inspire your music career and your sound?
"We can hear your East Coast" is something Mallory hears from listeners and she's proud of that.
It was an easy transition from celtic and folk music to the country genre. The building block of deep celtic roots is how she keeps that piece of her heart in her new music. Some of her melody habits, movement and vocals are influenced by her celtic background as well.
"It's my heritage, it's where I come from."
The bagpipes are a fundamental instrument for her.
"I love the bagpipes. There's a very strong emotional attachment formed with the bagpipes because of the events that surround it. People are piped in for a lot of emotional engagements."
For Mallory, whenever she hears bagpipes, she gets this pull of going home. The music she surrounds herself with holds a special place for her and her roots.
On her new music, Mallory says, "I hope that even now, people can hear hints of that."
5. How has the move to Nashville levelled up your career and art? What's one lesson you learned through the move to Nashville?
Like many artists, Mallory dreamed of moving to Nashville, and after a pit stop in Toronto to dip her toes into big city waters, she found her way there.
"It was a great move for me. The biggest thing that leveled up for me was what I've learned as a songwriter. I always want to be the worst writer in the room; that's how you grow and become great."
Mallory was hungry to be thrown into a mixing pot of experience and talent on every corner. It was motivating and inspiring for her.
"It's a transplant city in the best way – everyone is intertwined somehow in the music industry."
"You go to shows to see people who are better than you, you write with people better than you. It humbles you and makes you appreciate what you have to learn and what you have already learned."
In a city where many people are chasing the same dream, Mallory has to focus on her path and move forward with decisions that are best for her.
"I get demo-itis, I second guess myself a lot, and it's easy to compare yourself to other people when this is going on."
"It's easy to dwell on what you don't have compared to someone else, which is why it's important to surround yourself with positive people who bring out positive energy and are supportive of one another's achievements."
She continues, " You have to have a circle of people in the music industry who can be sounding boards and you can ask advice. Community is so important here and that's what's made my experience so positive."
Get to Know Mallory Johnson
Mallory Johnson comes from a very musical family, growing up around celtic and country music, and touring through North America and Scotland with her family's celtic band. She was just 11 years old when she recalls recording albums, lugging gear, and traveling in a van to play.
She took lessons and partook in musical theater, and while she never had the voice for it, theater taught her a lot about performing.
By late high school, Mallory set her sights on a country music career. She had been writing songs for years, and as she transitioned from a background in celtic and folk music, she was able to find similarity in the storytelling elements these genres all shared.
"That's where my heart was, was this storytelling."
It's this diverse background where she feels she's found her favourite musicians today. Citing Jason Isbell, Dolly Parton, Kacey Musgraves, and Brandy Clark as her favourites, she's drawn to each of their unique perspectives, sounds, and the space they take up in their respective genres.
She began performing at local open mic nights and eventually ventured into the contest world, where she won "Newfoundland's Next Country Star." The prize included a free guitar and the opportunity to record a single in Nashville. This experience is also how she'd find her way to working with Sammy Kershaw.
This experience was life-changing. She learned a lot from Kershaw, who has said, "Her pitch is so good, she has country soul, her phrasing is great and the way she breathes in the song, it's unbelievable that she has been sitting out there."
Having the opportunity to work with Sammy Kershaw and other talented people gave her the validation she needed to kickstart her journey. It was rewarding to be supporting by a group of people who see this revolving door, for them to take her seriously and compliment her was rewarding.
On deciding to take a leap of faith, Mallory says, "What's the worst that could happen, what will I regret more?"
It wasn't all smooth sailing, she's been turned down a number of times, but it's those no's she feels that make her feel like she's progressing.
"If you're not hearing no, you're doing it wrong. And the no's make hearing the yes's so much better."
Mallory always knew Nashville was the end goal, but she was encouraged to pursue a higher education. After enrolling initially in bio-chem nutrition at Memorial University, she transferred to primary/elementary education and taught music at a private school for five years.
She then moved to Toronto for a year where she tested the waters of living in the big city.
"I didn't think I'd be a city girl." As it turns out, she loved it.
The busyness of the city was comforting, especially since she lived alone in the downtown core. Toronto was her stepping stone to Nashville.
Now, Nashville feels like a small town in a big city. You're a very small fish in a very big pond, but a huge opportunity for growth and venturing outside your comfort zone.
"That's how you better yourself; you have to have new experiences."
For Mallory, Nashville has been exactly this for her. "This is the land of opportunity. It's a place to grow and get my butt kicked."
While she's now primarily based in Nashville, Newfoundland will always be home.
Newfoundland is so rich with talent, but Mallory wanted to put herself in a situation where she was forced to better herself or leave.
"Newfoundland is the salt of the earth for me. Music is part of the culture, and the people of Newfoundland support their own."
What's In Store For Mallory This Year
Mallory is excited about new music (and so are we)! She will be releasing her debut full length record, which was produced by Kent Wells (Dolly Parton).
The first single from the record will hit streaming platforms sometime in the spring. She's very excited, since she hasn't released music on her own since 2019, and she's more than ready.
She's excited to announce shows coming up throughout the summer as well (be sure to follow her on social media for details coming up).
We will also be following her journey with SiriusXM's Top of the Country, where she's placed in the Top 8. She will be partaking in a development project leading up to the Top Three selection for the finale at the CCMA Awards in September.
Follow Mallory Johnson on Social Media!
Instagram
Facebook
Twitter
TikTok
Stream The Latest Music From Mallory Johnson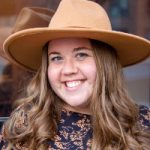 Country music lover with an unhealthy collection of concert t-shirts. Always looking for up and coming artists. Believer in music's ability to soothe the soul. Connect with me on Instagram and Twitter.