Avenue 65 is celebrating "Heart Of Our Hometown", their third single since forming the husband and wife duet.
I had an opportunity to sit down and chat with Jo and Jeff more about their upbringing, how they met, and how they eventually formed their harmony-driven duo.
Getting To Know Avenue 65
Joanne (Jo) and Jeff Janzen have been playing music together for a number of years. When you meet on a youth trip for musicians, fall in love and end up getting married, it's safe to say you've ended up playing music together for a long time.
RELATED: Learn more about "Heart Of Our Hometown" and give it a listen …
Jo Janzen grew up in a small town on the northeast coast of Australia, a "sugarcane" town. With her dad as a talented musician himself, she was surrounded by music her entire upbringing. After graduating from university she began working, and came across a program called "Up With People" where a love of music and performing was paired with community service. She applied and ended up sharing a lead role.
Jeff Janzen grew up in rural Saskatchewan, where he lived the life of a typical prairie kid. He filled his free time with fishing, hunting, and hockey. His primary exposure to music were the four walls of church, where his parents forced him to sing. Church music gave him an ear for harmonies, and his mother's piano gave him an interest in singing. Jeff's father is who brought his attention to "Up With People" where he was interested in the engineering side of producing the show.
After spending time on the road with this program, Jeff and Jo fell in love, and didn't separate. They got married, spent a few years in Australia, and made their move to Alberta, where they currently reside.
Convincing Jeff To Play With Jo
Avenue 65 came after a period of time where Jo toured the Alberta music scene as a solo act and Jeff built a career in the tech world.
Jo always applied what Jeff describes as a "gentle but kind pressure" to join her in performing, and a pandemic, locked away at home, with live streaming and a lot more free time is what it took to win him over.
Now, the pair have recorded a number of songs, including their first three singles, "Touch My Heart", "Without Crowns", and current track, "Heart Of Our Hometown", and will continue to build up to their first EP, which they're looking to release sometime in 2023.
RELATED: Learn more about "Heart Of Our Hometown" and give it a listen …
Their musical style is a blend of traditional themes and a contemporary sound. This combined with vocal layers and commanding instrumentals create a listening experience that draws a listener in.
Make sure to check out Avenue 65 on your favourite streaming platform and check them out on their website and social media!
Keep Up With Avenue 65
Stream "Heart Of Our Hometown" By Avenue 65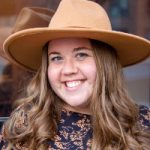 Country music lover with an unhealthy collection of concert t-shirts. Always looking for up and coming artists. Believer in music's ability to soothe the soul. Connect with me on Instagram and Twitter.