What a year right? 2021 was another year that no one will ever forget. But the state of the world didn't stop Canadian country artists from releasing some of the best music yet.
Music helped Canadians get through the year and cope with what life has thrown at all of us.
Canadian country music has thrived this year. We were introduced to so much great music from our favourite artists, and we were introduced to new emerging talent. People were actively seeking new music and new artists, and the proof is in the analytics.
Since the beginning of the pandemic, Google searches for music have been in a constant incline, overall, streaming has increased, and artists audiences are growing rapidly.
2021 gave us the chance to write about a lot of music. We also introduced you to some great emerging artists. Of all the music we wrote about though, there were some songs that you couldn't get enough of.
We took our top performing music reviews and created this list of the Top 10 Canadian Country Songs of 2021 from the Front Porch. This was determined based on how many people saw the feature on our website (Page Views).
So here are the top singles from 2020 on Front Porch Music.
2021's Top Canadian Country Songs
10. Madeline Merlo "It Didn't"
Madeline Merlo's "It Didn't" may have been released to radio in October 2020, but it remained one of the top posts on Front Porch Music throughout all of 2021. It has also been on the Top Canadian Country Playlist since its release.
"'It Didn't,'" Merlo says, "is one of my favourite songs I've ever written. It's about feeling the light at the end of the tunnel after a difficult time. It touches on my battle with depression and overcoming a tumultuous breakup. It was so exciting to have horns and play with new sounds sonically for this anthem. I wanted to make music that inspired me."
RELATED: The music video for "It Didn't" compliments the song perfectly …
This is one of the catchiest songs that has been released in a long time, so it's no surprise that "It Didn't" made the list of the top 10 songs of 2021.
9. Mackenzie Leigh Meyer "Before You"
At the start of the year, we had the privilege of premiering the music video for Mackenzie Leigh Meyer's single "Before You". Ever since that premiere this single has been one of the top songs on the site.
This is a beautiful song! It's a heartfelt love ballad that perfectly showcases Mackenzie's songwriting skills, and highlights her subtle and unique vocals. The lyrics flow poetically and tell a story that so many of us can relate to.
"This song is my take on finding your soulmate" she says. "When you're with the right person, they make everything better without seemingly doing anything. It's not about the grand gestures. Love is in the little things"
RELATED: Mackenzie Leigh Meyer releases a fun new song "Dial Tone" …
Mackenzie has had a great year, and we can't wait to hear what's next for her in 2022.
8. Annika "Encore" ft. Brett Kissel
This was a breakout hit for Canadian country artist Annika. Annika and Brett Kissel teamed up for a powerful song called "Encore".
The voices of these two artists fit perfectly together. The harmonies in this song are top notch and elevate the song to higher level.
"Encore" takes us on a familiar path for many. It's just that … an encore. One final moment together, no matter what it is, wanting it one more time.
RELATED: Annika is our female spotlight artist for October …
There's no surprise that this was one of the top songs for 2021. It's been a great year for Annika, and we just know that next year will be just as big.
7. Danielle Ryan "Weather Man"
This is a fun one! Emerging artist Danielle Ryan released "Weather Man" in April, and it quickly became a favourite here on Front Porch Music.
"As a farm girl the weather plays such a big part when we're making crops in the summer and the weather report was rarely right which would mess everything up," said Danielle. "I was inspired by that concept and related to a relationship I had at the time."
RELATED: Introducing Danielle Ryan and her single "Weather Man" …
This BC artist is just getting started. In 2016 she earned herself a top-6 spot in the 2016 Canadian Country Music Association (CCMA) Discovery Program, and won the Country Music Television (CMT)'s Chevy From the Tailgate Contest.
We were so excited to introduce you all to Danielle and her single "Weather Man". You all clearly liked it! It's number 7 in the top country songs on Front Porch.
6. Jade Eagleson "All Night To Figure It Out"
This is the third year where Jade Eagleson has had a top 10 song on Front Porch Music. This year, "All Night To Figure It Out" came in at number 6.
Released around Valentine's Day, the track is flirty, the lyrics are a little daring, but the song is still upbeat, as opposed to delivering the message in a ballad.
The song is still fun, and very easily gets stuck in your head. He knew when he heard the song that he had to record it; wiping off his boots and spraying cologne is exactly how he got ready for his first date with his wife, after a day of work on the farm.
RELATED: We spoke with Jade Eagleson about this top song of his …
"This song requires a lot of attitude vocally, and my producer really pushed me past what I believed I was capable of for it, and I hope that you can feel that, and it resonates with you all when you listen. I also got a kick out of the timing for this release too … Happy Valentine's Day everyone," says Eagleson.
5. Nate Haller "Lightning In A Bottle"
Nate Haller was one of the breakout artists of the year. His debut single "Lightning In A Bottle" took over the radio waves, and was one of the biggest songs on Front Porch Music in 2021.
The moment Nate heard "Lightning In A Bottle" he knew it was a song he wanted to record. To him, it felt like his life story. He met his girlfriend of four years at a bar and immediately felt "Lightning In A Bottle" that same night. This song tells a story that so many people can, and will hopefully relate to.
RELATED: Learn more about how "Lightning In A Bottle" came to be …
This song was a hit from the moment it was released to the world. It has amassed well over a million streams, and landed in the top 10 at Canadian radio … This doesn't happen with a debut single. The success that Nate has seen in 2021 is rare, but so well deserved.
We had the chance to connect with him at the CCMA awards, and he was one of the nicest guys we've met.
His follow-up singles "Grew Up On" and "Somewhere To Drink" ft. Brett Kissel and The Reklaws helped make this an unprecedented year for Nate. So we can only imagine what Nate has in store for next year.
4. Graham Scott Fleming "High Life"
This is another artist who had a banner year.
Graham Scott Fleming turned heads with his single "Déja Vu", but his follow-up "High Life" quickly became one of the top songs here on the porch. Since its release in the Spring of 2021, our interview with Graham about this song is consistently one of the top pages visited on the site.
It's no surprise that this song made it to position 4. Graham's vocals are so powerful, and may be one of the best male vocalists in the Canadian country scene. His voice is reminiscent of Dan + Shay, and it fills a void this industry
Our interview covered everything from how he got into music, where this song idea came from, who his inspirations are and so much more.
RELATED: Catch our interview with Graham Scott Fleming about his single "High Life" …
It's been a pleasure getting to know Graham over the last 12 months, and we know there's huge things coming for him in the New Year. We can't wait to share more about Graham Scott Fleming with you.
3. Parker Graye "Last Time"
This was one of the most Google'd songs in 2021. The amount of traffic Front Porch received when this song was released was nuts. "Last Time" by Parker Graye is an incredibly emotional and vulnerable song that audiences clearly related to.
This song was never initially meant to be released. Parker had recorded it just for herself as a way to process her emotions and feeling after a long and messy heartbreak.
Graye decided to play "Last Time" as part of her set at the British Columbia Country Music Showcase in 2019.
"The room was silent. At first I thought I made a bad choice."
The audience response was confirmation – but seeing the social media shares of her set later, comments about "Last Time", and the interactions she received, she took it to the studio with Spencer Cheyne.
The reaction to this song on Front Porch has been overwhelming. Monthly, our interview with Parker was among the top visited pages on the site. She knows how to take an emotion and make everyone listening feel it fully.
RELATED: Get to know this artist by checking out our interview with Parker Graye …
Parker is on a mission to make country music sad again, and we have to say … success! She loves a sad song, and performs them so well. We can't wait to hear what sad music she has in store for us in 2022. But for now, "Last Time" was by far one of the top songs of 2021 on the porch.
2. Meghan Patrick "Cool About It"
Meghan Patrick had a big year! From getting engaged to Mitchell Tenpenny, to releasing lots of great music, and nabbing the number 2 spot on the Top Canadian Country Songs of 2021 list with "Cool About It".
Patrick explains that "Cool About It" was one of the first songs she wrote during quarantine over Zoom. She'd been stuck with some writer's block, and this was the first idea she had that she was excited about.
"When someone dumps you it doesn't just break your heart, it kind of breaks your ego and your confidence."
The concept is based on wanting to be someone else, covering up the heartbreak, trying to be the person you thought they wanted and showing them what they're missing – acting cool about it.
RELATED: Watch the cinematic music video for "Cool About It". It's like a James Bond movie …
This song is still getting airplay on the radio charts, and continues to be a top song on Front Porch Music since its release.
Meghan has a history of releasing quality music every year, so we can't wait to hear what she has up her sleeve for 2022.
1. Hunter Brothers "Been A Minute"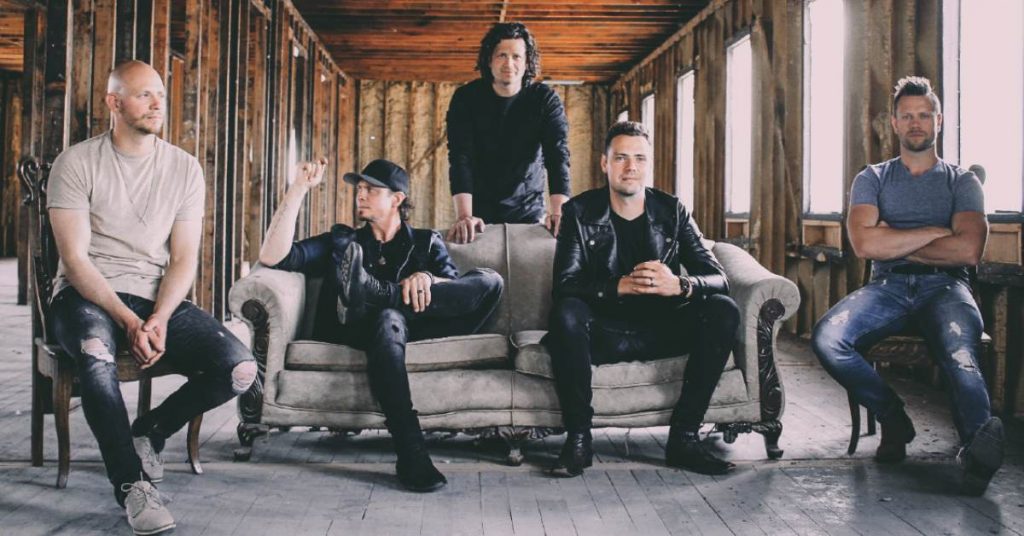 For the second year in a row, Hunter Brothers have the number 1 song on Front Porch Music. "Been A Minute" was by far the biggest song of the year.
Released in March 2021, this song was the summer anthem we all needed. It came at a time of the year when everyone was tired of being at home and itching to see people. It had "Been A Minute" since we were all able to see those we love, so this song helped with that.
"We wanted to put something into the world right now that points toward a day when we can all gather to laugh together, sing together and experience the community that we have all been missing over the last year", said Ty Hunter. "Whether it be that we haven't seen someone we love for a long period of time, or haven't had the ability to do something we love, the phrase 'it's been a minute' holds a lot of weight and felt more relevant than ever."
This song has been so popular throughout all of 2021. Each and every month, our feature of the song was the top page on the website.
RELATED: Check out our feature of "Been A Minute" and learn more about the song …
It was a huge year for the Hunter Brothers. They were one of the top Google'd artists of 2021, making it one of the biggest years for this band of brothers.
We know there's lots in the works for these guy in 2022, so we can't wait to share it all with you.
A Recap Of 2021
We started the year thinking this was going to be the best year ever.
Remember January? Everything seemed so hopeful and positive, but the world had different plans. It's hard to argue that it was all bad though. It was a huge year for country music.
So much great music was released, and the music was largely fun and hopeful. A Bit of a different theme from the music released the previous year.
When we look back at the year, it's hard not to smile a bit when you listen to all the great songs these Canadian country artists have shared with us.
What do you think? What songs were your favourite this year? We'd love to hear from you.
We can't wait to hear what 2022 has in store for us.
Be sure to follow along all year with the top music by listening to our Top Canadian Country playlist on Spotify
In country music, the Front Porch has long been a place of reflection. A place where you can look at the life you have inside that front door. A place where time almost seems to stand still, where you can get away. It's also a place where you can go to observe the world as it passes by you. To think about your place out there beyond the driveway.