Nate Haller broke out into the country music scene in March 2021 with his debut single "Lightning In a Bottle". After playing guitar for The Reklaws and Kira Isabella, Nate Haller traded in his fedora for a ball cap and stepped into the spotlight.
In our chat with Nate, we talked about a lot more than just slinging guitar and his Nate Hall to Haller evolution.
If you've had a chance to connect with Nate Haller, you'll know he doesn't take himself too seriously. That's why he suited up as "Chip Wreck" on The Reklaws' Winter's a Beach Tour.
He shared a little more about his new single, "Ain't Like Me", which for him is about how he and his girlfriend ended up together. He blew her away wearing a wine-stained tank top and crocs and socks.
Jenna and Nate reminisced on the high school days; they didn't go to school together, but Nate did tour the local high schools and play for students at lunch hour. Did Jenna really throw a pop can at him? You'll have to listen to the episode to find out.
On The Porch with Front Porch Music Season 1 Episode 11: "Crocs and Socks with Nate Haller"
We also played a round of "This Or That", which included us making him choose between his best buddies Callum Maudsley and Stu Walker. Listen to the episode to see who he chose!
Thanks so much for checking out this episode of On The Porch with Front Porch Music. If you liked it, please rate, review and subscribe … It's the easiest way to support our show.
Grab a drink, pull up a chair, and join us On The Front Porch, every other Tuesday.
On The Porch with Front Porch Music is a Front Porch Production and hosted by Logan Miller and Jenna Weishar. This episode was edited and produced by Jason Saunders.
The theme song for this podcast was written, produced, and performed by Owen Riegling.
Listen To Popular Episodes Of On The Porch with Front Porch Music
Catch up with past episodes of our podcast! We've talked to some amazing artists, and you'll get to know them better than ever before.
Here's some of our popular episodes below.
See a list of all our previous episodes of the podcast and have a listen.
S1:E8 – River Town Saints
S1:E6 – SACHA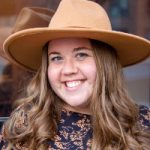 Country music lover with an unhealthy collection of concert t-shirts. Always looking for up and coming artists. Believer in music's ability to soothe the soul. Connect with me on Instagram and Twitter.