Alli Walker is celebrating the release of her sophomore album, "Growing Up".
"Growing Up" came with some notable achievements, including the cover of Spotify's Live Country playlist and Amazon Music's Just North of Nashville. Alli could also be spotted in Toronto on the Eaton Centre's major billboard at Dundas Square.
Following the release of "Growing Up", Alli announced her upcoming show supporting Niko Moon in Toronto in May 2023. This comes shortly after summer festival announcements where you can catch Alli at Boots and Hearts Music Festival and Cavendish Beach Music Festival.
It's safe to say Alli has a lot going on this year.
I sat down with her to talk more about her path as an independent artist, growth with the release of her sophomore album, and more.
Here are five questions with Alli Walker.
RELATED: Every month we shine the spotlight on a different woman in Canadian country music …
5 Questions With Alli Walker
1. Your sophomore album Growing Up is out everywhere now. What has been your biggest personal growth moment since your debut record, The Basement Sessions?
"I wanted to keep the same themes; I wanted it to be as autobiographical as possible. I wanted the themes of authenticity and storytelling to be shared. I'm a better singer, I'm a better designer, my music videos are better. I know who I am and how I want to present myself. Really, on all sides of the music business, I've grown and I'm proud of that."
Alli's first album chronicles her own mental health journey, and while Growing Up is staying true to this, she's made a conscious effort to create a universal tone.
On a personal note, Alli's come to terms with some of the feelings around chasing her dream.
"I feel regretful that I'm being selfish in missing time with my family as my parents are aging. It's the 'growing pains' of growing up but also learning that life is short."
2. You moved to Toronto at just 19 years old to pursue music, so it's easy to say you know your way around new and scary opportunities. What goes through your head when you're taking on a new challenge? How do you push yourself to do these things and not be limited by your comfort zone?
"Fake it 'til you make it. You really have to put on a superhero cape when you're in uncomfortable situations so you can be that superstar version of yourself. I've been down and having a not so good day, and had to put that cape on and be my best self even when it's hard."
Alli Talked To Us About The Big Move To Toronto. Have a Listen
Alli leans on the people in her life when she's feeling discouraged. Her husband, her mom, and close friends are people she trusts when she's in a dark space.
She's also learned that while difficult, it's important to take something from any circumstance. Putting yourself out there is huge and it can be discouraging when things don't go your way.
"I got into this frame of mind of, 'what can I do better, what have I learned, and what can I change next time?'"
3. Your fans may or may not know how truly independent you are. You're not only a singer-songwriter, but you manage almost every aspect of your brand (video concept, editing, social media, and more). What are some of the biggest "business" obstacles you've had to face? How have they been learning opportunities for you?
"A lot of music industry people don't want to talk to the artists specifically, so you need to have a manager to look better optically and I don't have that. Even though I'm 1000% in charge of everything, people don't take independent artists seriously."
Navigating the music industry as an independent artist can be extremely difficult, but Alli has persisted and is proud of the work she's accomplished as an artist and as a business person.
"My team is me and I'm proud of that. An artist should be in charge of their own business. You should be in charge of what you need. Being taken seriously as an independent artist is difficult to achieve."
4. Let's talk about the beast that is social media. You're consistent across platforms, you've amassed a sizable following. What do you think you've done well to connect with people across the virtual world?
"Every time I feel like I'm promoting something, people can see right through it. I have recognized that you have to be yourself and tell a story. That story should be about you and be authentic. People can see right through it."
This is feedback shared by a number of artists. The content that they feel is genuine usually outperforms anything else.
"Now, if anyone ever says doing social media isn't exhausting, they're lying. You have to come up with something for every platform, and jump on what's working for everyone else, but do it differently."
Alli's social media presence remains consistent, but certainly takes investment. While it's fun to do what's viral and trending, she's had better luck with what's uniquely her.
"Social media is part of our careers, and when you crack the code and something does well, it changes a lot. Something going viral for the right reasons like a song people love, you can see it directly in your analytics and streams. They become actual fans when you're being yourself. They're buying into you as a person because you're letting them get to know you."
5. Last one – what does a day in the life of Alli Walker look like? What are the most important parts of your routine?
"What gets me out of bed is my dogs having to go outside! I actually spend the whole morning (until noon) getting up; I'm not well until that point. I have to do my skincare, have breakfast, take the dogs out and then I am ready."
The afternoon is spent on whatever is needed to get done on her list. Whether it's emails, editing music videos, or grant applications.
"No day is the same, and sometimes I spend a whole day doing just TikTok content, or a music video. I edit my own music videos, and that can take a week sometimes."
Having the freedom to make your schedule comes with responsibility to stay on track.
"What keeps me going is there is too much to do and I have a long list. As an independent artist, no one is going to do these things for you."
BONUS: Independent Artist Starter Kit by Alli Walker
Live your life – that's something to talk about and share with people.
Learn who you are and what you want to say- what makes you different from other artists? This is the hardest thing.
Learn every aspect of the music industry in some way. You don't have to be an expert in every aspect, but if you're going to hire people, you need to have knowledge about what you're hiring and what to expect.
Don't be desperate and know your value. Don't jump onto something because it's shiny, think about what aligns with your end goal.
Have a really good reason why you want to do this forever, because that's the only thing that's going to keep you going. A support system is going to be part of that why.
About Alli Walker
Alli is a singer-songwriter and multi-instrumentalist. Originally from Prince Edward Island , she moved to Toronto at the age of 19 to pursue her passion for music. Se recently moved to BC with her husband and dogs.
She was named Spotify's Radar Artist on the Horizon in 2022 and was also nominated for Rising Star at the 2022 CMAOntario Awards. After more than a decade of perfecting her craft, performing live, and writing music, Alli released her highly acclaimed debut album The Basement Sessions in 2019. The album earned her a multi-week spot on the Top 10 iTunes country charts.
Using her online following to her advantage, Alli teased her fans with original tracks on TikTok and social media, amassing over 20 million views and 375K+ followers. Responding to fan demand, she recently released her sophomore album Growing Up, along with the title track as a single in early 2023.
RELATED: Alli is also an expert bagpiper … for real. She talked to us about her bagpipe career On The Porch …
Connect With Alli Walker On Social Media!
Be sure to follow Alli Walker on social media so you don't miss what she's up to next – including the release of her music video for "Growing Up", coming soon!
Instagram – @alliwalkermusic
Twitter – @alliwalker
Facebook – Alli Walker Music
TikTok – @alliwalkermusic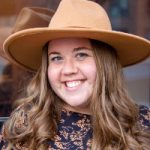 Country music lover with an unhealthy collection of concert t-shirts. Always looking for up and coming artists. Believer in music's ability to soothe the soul. Connect with me on Instagram and Twitter.