Canadian country singer-songwriter Amanda Keeles, from London, Ontario, has just released her second single, "My Heart Feels the Same Way Too".
This powerhouse track is a testament to her skill as a songwriter and musician, and it's clear that she has poured her heart and soul into it.
About "My Heart Feels The Same Way Too"
Collaborating with CCMA-nominated producer Johnny Gasparic (Bobby Wills, Clayton Bellamy), the result is a track that is both powerful and emotional, telling the story of a struggling relationship between a husband and wife who are unable to express their true feelings to one another about their struggling relationship.
It's a story that many of us can relate to with relationships not feeling quite right, and Amanda Keeles captures the emotions perfectly with her heartfelt lyrics. The goal with songs like these is for listeners who can relate to feel heard, understood, and not alone. 
RELATED: Check out our previous coverage of Amanda Keeles …
Recorded at MCC Studios in Calgary, Alberta, the same studio that was awarded CCMA Studio of the Year for both 2021 and 2023, Keeles is joined by a talented group of musicians.
Juno Award-winning bass player Chris Byrnes of The Road Hammers, Juno Award-winner Joey McIntyre on drums, and CCMA-nominated Keith Floen on keys all contribute to the track's impressive sound. In addition, CMAB-nominated Therry Lawson (The Travelling Mabels) adds harmony to Keeles' already powerful vocals.
Watch The Music Video for "My Heart Feels the Same Way Too"
More About Amanda Keeles
Amanda Keeles' love for country music started at a young age, surrounded by a family of musicians. Her passion for the genre has only grown over the years, and it's evident in the work she produces.
Keeles has won the Canadian Open Songwriting Contest twice and performed on stages across Canada. Her relatable lyrics, powerful vocals, and captivating stage presence make her a force to be reckoned with in the Canadian country music scene.
"My Heart Feels the Same Way Too" is a testament to Amanda Keeles' talent as a songwriter and musician. With this track, she continues to make her mark on the country music scene, and we can't wait to see what she comes up with next.
Follow Amanda Keeles For More!
Instagram – @amanda_keeles
Facebook – Amanda Keeles Music
Twitter – @amanda_keeles
Stream "My Heart Feels the Same Way Too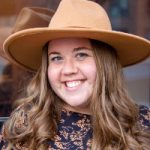 Country music lover with an unhealthy collection of concert t-shirts. Always looking for up and coming artists. Believer in music's ability to soothe the soul. Connect with me on Instagram and Twitter.