Robyn Ottolini is heading out on her first headlining tour through Canada and the United States this month.
She took home Female Artist of the Year and Single of the Year ("Say It") at the 2023 CMA Ontario Awards, and collected nominations for Fans' Choice, Music Video Of The Year, and Songwriter of the Year.
Robyn made the full-time move to Nashville in early 2023 and says it's finally starting to feel like home.
As for her first headlining tour, she's excited for more crowd interactions and connecting with the fans; "As an opener your time is limited. I'm excited to be more interactive."
To say Robyn is excited is an understatement, and she knows it's going to be a great time. She says, "Don't throw things at me and don't grab me and we're going to have the best time ever!"
Robyn's upcoming EP Growing Up To Do is set for release January 19, 2024.
Before she hit the road, we sat down for a spotlight conversation on all things social media, mentors, and the very vulnerable themes she shares through her music.
5 Questions With Robyn Ottolini
1. Tell me about your mentors. Who are they and what qualities in them do you believe are so important?
Robyn's mentors are people very close to her in her life.
"My parents are great mentors, my dad is a workaholic and always on the go. My managers are great when it comes to the industry. It gets overwhelming with all of the ideas, but they definitely know a lot."
When looking at what makes a good mentor, Robyn reflects on these people and why they've been good for her learning and career growth.
"Looking for people who care for you as a human, who don't care as much about the money but still understand earning it, people who are open to ideas, and are able to take no and not afraid to take no as an answer."
2. Congratulations on your first headlining tour this Fall/Winter! You've had a pretty busy show schedule over the last few years. How do you stay mentally well and healthy on the road?
"I try really hard to get enough sleep. I'm not a morning person so I'm pretty quick to tell people not to talk to me in the morning (nicely). A lot of sleep, a lot of water. I don't drink when I'm on the road anymore. Eating three meals a day, and diet coke. I'm also focusing on finding alone time – and my team is good with understanding this is my introvert time and leave me alone."
RELATED: Speaking of being busy, learn more about her single "Busy" …
"I love to give my best self to people so I need time to recharge. That's something I'm paying attention to is giving myself time to recharge."
3. You sing unapologetically about some pretty important themes. You also lead with a very vulnerable side of you. What are you thinking about before you release songs like "Sick of Sex", "Sad To Work", and "Five Years"? Is there any hesitation?
"They spook me out a bit. I remember when I got the 'Get ready for your release' message from Spotify and it was 'Sick of Sex', i remember thinking 'what the hell am I doing?'"
"When I think about these things though, I was always told if you're doing something you're scared of you're doing something that you believe is right."
"'Six of Sex' has been really interesting and the response has been interesting.It's about the pressure that goes with it, and the inside thoughts that you struggle with. The LA writers community is really embracing it and that feels special because for me that's a new community I've been introduced to."
"This song was important for me to write so that I could fully process my emotions instead of letting them fester in my mind and body," Ottolini reveals. "Sex isn't supposed to feel this way, but to me, it did and it does. I guess it's one of those songs that I sort of hope no one listens to because it's truly the most vulnerable song I've ever written and needed to write. At the same time, I know I'm not the only one who has gone through this, who is going through this, or who has felt this way."
4. You went from 0-100 as an artist, and that all started back in 2020. Have you had time to stop and catch your breath? What's one thing you wish you knew then that you know now?
"I lost my job but I had been doing music for a few years, investing my tip money into it. My neighbour actually suggested putting my songs on TikTok. That was a whirlwind."

"Now, I'm working really hard to be grateful for everything. I've had a really high peak and I'm working my way back up again and it's not as fast. Like damn, I have a headlining tour, a Top 30 song at radio. Damn you're still doing it Robyn, even if it's not exponential. And slower growth probably is good for your mental health."
"If I could look back, I would say drink more water, get more rest, and stick up for yourself faster. Don't be afraid to say no to things. That was really hard. Say yes to as much as you can. Practice more! Get ready, hurry!!"
5. What is your relationship with social media? Do you feel any obligation to be constantly performing on social media after building a following?
"I'm pretty addicted to social media, I won't lie, but I do love it. I love watching other people's content and getting inspiration. I love thinking about how to turn trends into something that relates to me."
"I try really hard to not play the comparison game and I'm pretty good at it. I try to have fun. I think because I really enjoy social media overall, it's easier for me to focus on the positive."
After viral success, it can be daunting to focus on numbers and growth and what is going to blow up next.
RELATED: Learn more about one of her earlier single "Match For My Memory" …
"I do feel pressure from myself. Why aren't these numbers growing faster? Do I have to post more? I've tried to change my perspective; I get to post, people are listening, and want to hear what I have to say."
BONUS: Do you have advice for artists who are trying to navigate social media?
"Yes! Social media is so important when it comes to your career. It's the way everyone's hearing your music nowadays. You need to stay current, learn fast, and have fun learning. It's part of the fun, so treat it like it is. Acknowledge the pressure, but don't let it lead your cause."
About Robyn Ottolini
Robyn Ottolini captivated audiences with her authentic voice, honest lyrics, and undeniable talent. Born and raised in Uxbridge, Ontario, Robyn's star began to quickly rise after the viral success of her 2020 breakup anthem "F-150".
Robyn's songwriting is both deeply personal and relatable. She has a unique ability to craft songs that touch the innermost corners of the human experience, drawing inspiration from her own experiences and the world around her. Her music often explores themes of love, heartbreak, and the rollercoaster of emotions that come with it all.
RELATED: Get to know Robyn when we talked to her a few years ago …
After spending time on the road opening for Shania Twain, Tyler Rich, and Tim Hicks, Robyn is hitting the road for her first headlining tour this fall. You can catch the All My Friends Are Hot Tour across Canada and the United States.
"I'm pretty chill, I'm a go with the flow kind of person for the most part."
Robyn really leans into the creative side of her work, not just as a songwriter and storyteller. She loves working on her cover art, social media, and more.
Look out for Robyn Ottolini's upcoming EP Growing Up To Do, set for release January 19, 2024.
Connect With Robyn Ottolini On Social Media!
Instagram – @robynottolini 
Facebook – Robyn Ottolini 
TikTok – @robynottolini 
Twitter – @robynottolini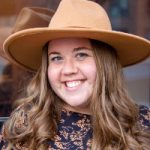 Country music lover with an unhealthy collection of concert t-shirts. Always looking for up and coming artists. Believer in music's ability to soothe the soul. Connect with me on Instagram and Twitter.