"Drink About Me" is the first country release from British Columbia-based artist, Mark Ledlin. After just one week on streaming platforms, the single has collected over 50,000 streams, marking for an impressive debut.
Taking "Drink About Me" To TikTok
Ledlin teased "Drink About Me" on TikTok, where it gained almost 80,000 views with the first video. Follow-up videos neared 100,000 views, with hundreds of comments asking when people could listen to it on streaming platforms.
While he's not huge on using social media, he really didn't expect listeners to have the response they did.
"Drink About Me" is inspired by a summer love that didn't work out.
The Story Behind "Drink About Me"
"'Drink About Me' is about a girl who broke my heart last summer," says Ledlin.
Lacing in a number of references to his personal experience, he wanted her to hear the song and think about what they had together. The song is also about being better off after a breakup.
He says, "If this person doesn't want to be with you, you're going to come out on top, they're the one thinking about you."
The song is contagious right from the beginning, and its catchy hook and relatable chorus make for the perfect summer playlist add.
RELATED: Catch all the top Canadian country music on our most popular playlist …
When all is said and done, Ledlin wants those going through breakups, or feeling the long-term effects of relationships that have ended to feel empowered to get through it and come out on top.
"Drink About Me" was co-written with Garrett Ward and Dan Botch, who also produced the single.
We chatted with Mark recently about his artist journey
Get To Know Mark Ledlin
Growing up between Germany and British Columbia, Mark Ledlin grew up surrounded by hockey. His parents met when his dad was playing professional hockey in Germany.
"I was on skates before I could walk" says Mark, looking back on his early childhood.
While he played his minor hockey career in Canada, his professional career had him following his father's skate strides to Germany, where he spends most of the year.
It was an ulterior motive that had him picking up the guitar and teaching himself to play.
"I thought, I'm going to learn guitar so I can pick up chicks."
It was a shot in the dark with auditions for The Voice Germany being held only forty-five minutes from where he lived that put Mark in front of a crowd to sing. While he didn't make it too much further past TV auditions, he learned one thing from his experience … Music was something more to him.
It inspired him to dive deeper into his music career. He began songwriting, citing the first 50 as "not any good" and the following 25 as "okay." He's now put some really good songs together with Garrett Ward and Dan Botch that he's proud of and excited to release.
Stream "Drink About Me" By Mark Ledlin
Check Out Mark Ledlin on Social Media!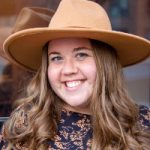 Country music lover with an unhealthy collection of concert t-shirts. Always looking for up and coming artists. Believer in music's ability to soothe the soul. Connect with me on Instagram and Twitter.