Canadian country artist Alli Walker's new single "Country Music" has been released and I'm really excited to share it with you.
Co-written with Brian John Harwood and Dustin Bird and produced with Emerson Drive's Danick Dupelle, "Country Music," is the perfect tribute to the songs that shaped Walker's love of country music.
RELATED: You're gonna love getting to know Dustin Bird. Learn about him here …
While there are thirteen intentional references, from "Strawberry Wine" to "Whiskey Lullaby", "What Hurts The Most", "Remember When", and more, "Country Music" is a time capsule of memories and the music that takes you right back to those moments.
"They truly are songs that myself and my co-writers grew up on." Walker adds, "Putting thirteen titles into an actual story was difficult to write."
"Country Music" garnered support when Alli first released the demo to TikTok, where it received millions of views, and thousands of comments asking when it would be released.
Making its way to streaming platforms today, "Country Music" is Alli Walker's first release since her 2019 album, The Basement Sessions: What I've Learned So Far. Staying true to herself, "Country Music" and Walker's sound are an evolution of her work and what she's learned since her first album.
I had the chance to connect with Alli to talk to her about this release. Here's what I learned from the conversation.
An Interview With Alli Walker About Her New Music
Alli Walker grew up as a kid who did everything, from sports to music. She played the piano, drums and guitar. It was her love for bagpipes that helped her realize her love for music was greatest.
Catching the lead role when she auditioned for her high school musical is what really changed her life. She knew she wanted to be an artist and performer.
Originally from Prince Edward Island, Walker moved to Toronto at just nineteen years old to pursue her dream.
After spending ten years getting her feet wet in the industry, Alli released The Basement Sessions: What I've Learned So Far in 2019. Driven by her themes of "mindful music" and "conscious country," The Basement Sessions surrounded life in her twenties and the ups and downs of mental health.
Alli's new sound is still true to what she believes, shows her growth and progression, and is still autobiographical by nature of how she writes.
"I didn't want to stray away from mindful music and conscious country."
At the beginning of the pandemic, Alli spent a lot of time writing on her own. She connected with Brian John Harwood and Dustin Bird and they've written a lot of songs together that she's really excited about.
Alli Walker has an active following on TikTok. After a number of her demos garnered thousands of views, Walker spent time interacting with the TikTok community she was building. She took to the app to let fans decide what song to release, what outfit to wear for the photo shoot, how to wear her hair, and even what hat to wear.
"This is literally what the fans want. I let them choose everything."
Leading with genuine authenticity, Alli Walker has captured the attention of people throughout the US and Canada.
With way more to come, Alli is looking forward to releasing a lyric video for "Country Music," as well as new music releases in early 2022. Knowing what's to come, collaborations with some amazing artists, and the release of her sophomore album next year, Alli is full of excitement.
You can catch Alli Walker in Toronto at the El Mocambo on Thursday October 21 and in Chatham at Sons of Kent Brewing on Saturday October 23.
Follow Alli Walker on Social Media!
Instagram
Tik Tok
Youtube
Facebook
Stream "Country Music" By Alli Walker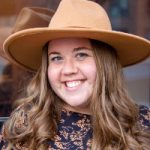 Country music lover with an unhealthy collection of concert t-shirts. Always looking for up and coming artists. Believer in music's ability to soothe the soul. Connect with me on Instagram and Twitter.