Somehow we blinked and we're at the season finale for Season 2 of On The Porch with Front Porch Music.

We're so excited to have multi-CCMA award winning country artist Dallas Smith.
Dallas dove into music after overcoming his fear of singing in front of people. Within a year, he went from jamming in the garage with his band (Default) to having a record deal and hitting the road as a frontman.
Dallas grew up with two very musical parents, recalling his house filled with Reba, k.d. Lang, Martina McBryde, The Judds, Brooks and Dunn, Alan Jackson, and Vince Gill. While he was into the Beatles and Led Zeppelin, he credits his mom's favourite music even in influencing Default's music.
Dallas shared a lot about his journey and relationship with the music business, getting involved through management and Local Hay Records, and investing time in mentoring emerging artists.
Dallas shared the "country record?" text that set off his solo career, and the organic experience of finding his way into Canadian country music.
We also dive into his self-titled fourth studio album, Dallas Smith.
RELATED: Dallas Smith's self-titled album features his new single "Fixer Upper" …
Follow Dallas Smith on Instagram, Facebook, and X.
On The Porch with Front Porch Music Season 2 Episode 22: "Overcoming Shyness, Default, And His Fourth Album" With Dallas Smith
Thanks so much for hanging out with us for another season of On The Porch with Front Porch Music. If you liked it, please rate, review and subscribe … It's the easiest way to support our show.
Grab a drink, pull up a chair, and join us On The Front Porch – we can't wait to be back for Season 3.
On The Porch with Front Porch Music is a Front Porch Production and hosted by Logan Miller and Jenna Weishar. On The Porch with Front Porch Music is produced by Jason Saunders. 
Listen To Some Of Our Favourite Episodes Of On The Porch with Front Porch Music
Catch up on any episode of our podcast you haven't heard yet!! We've talked to some amazing artists, and you'll get to know them better than ever before.
Here's some of our popular episodes below.
S2:E3 – Steven Lee Olsen
S1:E22 – Tim Hicks
See a list of all our previous episodes of the podcast and have a listen.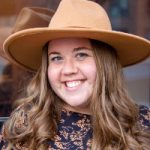 Country music lover with an unhealthy collection of concert t-shirts. Always looking for up and coming artists. Believer in music's ability to soothe the soul. Connect with me on Instagram and Twitter.