2023 has been another busy year for Nice Horse, and they're closing out with their brand new single "Things I Wish I Didn't Know", which was released Friday.
After a summer on the road for festival season, the band is ready to get down to the other side of work, with recording, release planning, and more.
From recording new music to surviving a tornado, headlining the Ponoka Stampede, and playing some festivals, this all-female quartet has seen it all in just one year.
Their New Single "Things I Wish I Didn't Know"
After only being able to hear "Things I Wish I Didn't Know" since summer 2022, being able to hear this one through headphones is something I've personally been waiting for. The live element of listening to a song the first time really sticks with people and those who have seen Nice Horse play this one live have been waiting for its release.
RELATED: A few years ago, the band talked to us about being women in the industry …
Lyrically, "Things I Wish I Didn't Know" is super relatable. No one wants to hear about their ex and that they're doing fine and have moved on. I think many would just rather not know, while others would like to find out on their own.
"I remember writing this one. I love everything that we write, and not everything is a smash, but you write because you love it," says Katie Rox. "Sometimes you can feel it a little deeper. We had written a bunch of songs, and I remember in this instance, I was listening to the demos, the chorus hit when the plane took off and I was like 'woah'."
Musically, there's a buildup, a chorus that soars, and it really pulls the listener through the experience and feelings of knowing those things you just wish you didn't know.
Katie says, "We love to be a fun band, but there is so much more depth to us. I'm excited to show this other side of us."
Stream "Things I Wish I Didn't Know"
Festival Season And The Festival Off-Season
Festival season was busy for Nice Horse as they found themselves at Boots and Hearts, one of their favourite festivals to play, and last-minute headlining the Ponoka Stampede.
Katie recalls a lot that the band has been through together, and this year they added some unwanted weather experiences to their list. Rushing between gigs as usual, the band found themselves in the middle of the season's largest tornado, and one of Alberta's most devastating on record.
Looking back now, Katie laughs and says, "If the industry doesn't take us out, a tornado will."
As the festival season winds down and winter approaches, Nice Horse takes a well-deserved break from the stage to focus on the creative side.
During the off-season, the band focuses on the behind-the-scenes work, including planning releases and music videos. This period of transition is an essential part of their journey, ensuring they continue to evolve and grow as artists.
As if they weren't already hard to keep up with, Nice Horse have also dabbled into the startup world with their brand new app.
"Bandie": More Than Just A Tour Manager
After years of organizing their schedules into intricate spreadsheets, and testing a number of tour management apps, Nice Horse have dabbled in the world of tech with the launch of their app "Bandie".
"We spent five years developing this app. We finally launched it, and I feel so passionate and excited about it. It's something that can help regardless of what you're doing," says Katie.
Bandie is more than a tour management app; the DIY band have really considered what they needed as a band, what they've noticed other apps are missing, and more. Bandie is the only artist management app that also includes an Advancing feature – something Katie notes is really helpful especially for those emerging bands who don't know what to ask for and how to ask for what they want.
What's In Store For 2024
Hopefully no more treacherous weather, that's for sure.
Looking ahead, Nice Horse is working on an EP they hope to have ready for release in 2024. A band made for the road, we will likely see another busy tour schedule for Nice Horse next year.
Follow Nice Horse On Social Media
Instagram – @nicehorsemusic
Facebook – Nice Horse Music
X – @nicehorsemusic
TikTok – @nicehorsemusic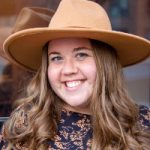 Country music lover with an unhealthy collection of concert t-shirts. Always looking for up and coming artists. Believer in music's ability to soothe the soul. Connect with me on Instagram and Twitter.