Genevieve Fisher has over a decade of music in her rearview mirror and so much more on the horizon.
Her latest single, "Best Thing About The Rain", co-written with Jennifer Schott and Aaron Goodvin brings a cheeky, flirty perspective to the gloomy rainy weather many people dread.
Immediately falling in love with the song, Genevieve says they were aiming for a little bit more of a laid back, sexy vibe with the song. The song came together so quickly, it felt so organic, and she was obsessed immediately.
"Best Thing About The Rain" follows her January release, "Thank You Music", an open letter to music for being there for Genevieve through the many challenges she has faced over the years.
I sat down with Genevieve, where she shared her insights on her years in the music industry, lessons learned, and much more.
RELATED: Catch our other Women in Canadian Country Spotlight artists …
5 Questions With Genevieve Fisher
1. What challenge have you had to overcome in the beginnings of your career? How has that been a lesson long-term for you?
"There is that challenge of one song that does so well, and then the next one doesn't quite do so well. I've learned over the years to not put such a high precedence on radio. There are other ways to connect with fans and industry people."
The ebbs and flows of the music industry have many artists wondering how they are able to remain consistent – whether it's at radio, or elsewhere.
"A lot of artists put so much time and energy into radio songs, but the whole point of 'Thank You Music' is the challenges of the industry, wanting to be authentic and true to fans as opposed to writing for radio and being commercial."
Genevieve Joined Us On The Porch – Get To Know Her More
2. Where have you found success in developing relationships with mentors throughout your career? What do you think is most important for young artists seeking mentorship?
"Songwriting – songwriters have been my biggest mentors. My friend Jen Schott has been my biggest mentor. She's been a songwriter for over twenty years and worked with so many artists. She really understands the ins and outs of the industry as well."
Genevieve encourages people to look around their circle of close people they trust. A mentor doesn't have to be someone who's been to the moon and back optically, but has a wealth of knowledge you believe in and trust.
"My manager has been with me for fifteen years, there's something to be said about loyalty and success. I wouldn't have gotten to where I am without him. I trust him with my life."
3. How do you balance the many hats you have to wear as an artist but also as a person with a life? How do you make sure you have time for yourself?
"I had a full-time job and I found I was struggling during that time because I was working and trying to go to Nashville and write and record and play shows.
It was a lot.
I was getting married in the summer when my song "Take It On Home" came out. It was chaotic. When I felt financially stable in my music career, I was able to step away from my job."
"Social media also takes up a lot of time. That's something I'm working on is taking time away from social media."
Genevieve wants to encourage people to think about how much "extra" time they're spending on social media and the things they could be doing for themselves instead.
She says she knows firsthand that finding a balance is important, but even if it's just getting outside for a walk, you have to be able to carve out time in your day for you.
4. With over a decade to look back on, how do you stay inspired? How has your creativity taken you elsewhere with new creative outlets?
"My creativity has definitely shifted as I've grown up and life has changed. Looking back five to six years ago, I was writing fun party songs. I've always tried to write honestly and about what's going on in my life at that moment. So naturally that's changed over the years"
"I find inspiration from very different things. Becoming a mom and being a wife, simple life kind of stuff. It's interesting to see you creativity shift as you go through life and experiences."
As a point of encouragement, Genevieve shares that a small show she played during Boots and Hearts one year landed her the opportunity to play herself as a character on TV. That has since grown into a few acting opportunities.
She wants artists to be encouraged with every opportunity they play. You never know where it will take you next.
5. How has becoming a mom informed your journey? Where have your perspectives changed? Where have they stayed the same?
"Becoming a mom has changed my perspective on how I define fame and success. When I look back to when I was little, my dream was to be on a stage with millions of people screaming my name. Now, I live for my son. I want to provide for him and make him proud and show him good work ethic."
" People pour their heart and soul into their careers and it's so inspiring. I have a different perspective since becoming a mom. Music is huge for me and I want to be successful, but where I'm at, I know I can show my son and make him proud, but also be proud of myself and my career."
About Genevieve Fisher
Genevieve Fisher, born and raised in London, Ontario, has had a passion for singing since she was a child. She started her career at the tender age of two, entertaining audiences with her rendition of "You Are My Sunshine" at the Ilderton Fair.
As she grew older, Genevieve began performing at various competitions and talent shows, honing her skills and gaining recognition for her remarkable voice. It was during her teenage years, around the ages of 15 and 16, that she started considering music as a potential career path. She began writing her own songs and ventured to Nashville to start to chase her dream.
Genevieve's breakthrough came with the release of her first song to Canadian country radio, titled "July." The track climbed to number 41 on the charts, marking a significant milestone in her budding career. Building on this success, her subsequent single, "Take It On Home," soared into the Top 20, solidifying her position as a rising star in the country music scene.
She's had nine Top 50 songs to date, a number of CMA Ontario nominations, performance slots at the CCMAs, and three number 1 songs on the North American Indigenous Music Countdown. She's played festivals and stages across Canada, including Boots and Hearts, Havelock Jamboree, Lucknow Music In The Fields, Manitoulin Country Fest, Trackside and Indigenous Day Live.
Connect With Genevieve Fisher On Social Media!
Instagram – @genevievefishermusic
Twitter – @genevieve_f
Facebook – Genevieve Fisher Music
TikTok – @genevievefishermusic
YouTube – Genevieve Fisher
Listen To Genevieve's Music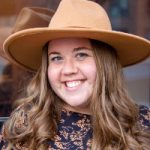 Country music lover with an unhealthy collection of concert t-shirts. Always looking for up and coming artists. Believer in music's ability to soothe the soul. Connect with me on Instagram and Twitter.