Another August has almost passed which means the Front Porch team has been at Boots and Hearts Music Festival for another weekend of country music. 
Jenna, Stage Manager Meg, and our intern Carolyn spent the weekend connecting with many of the artists who took the stage, including some of our Canadian country favourites.
We connected with many of the Emerging Artist contestants after their big night, including the 2023 Emerging Artist Showcase winner, Shantaia!
RELATED: We had Shantaia on the podcast a few weeks ago. Listen to the episode here …
We also chatted with Tim Hicks, who headlined Thursday night's kickoff party and gave some sound advice for the emerging artists. He also filmed a music video for his latest single "Yee to the Haw" right in the campgrounds that day!
We chatted with Graham Scott Fleming, Dan Davidson, Alli Walker, Teigen Gayse and more!
On The Porch with Front Porch Music Season 2 Episode 17: "Live From Boots and Hearts, The Emerging Artist Showcase, And More!"
Thanks so much for coming back for Season 2 of On The Porch with Front Porch Music. If you liked it, please rate, review and subscribe … It's the easiest way to support our show.
Grab a drink, pull up a chair, and join us On The Front Porch, every other Tuesday.
On The Porch with Front Porch Music is a Front Porch Production and hosted by Logan Miller and Jenna Weishar. On The Porch with Front Porch Music is produced by Jason Saunders.
The theme song for this podcast was written, produced, and performed by Owen Riegling.
Listen To Some Of Our Favourite Episodes Of On The Porch with Front Porch Music
Catch up on any episode of our podcast you haven't heard yet!! We've talked to some amazing artists, and you'll get to know them better than ever before.
Here's some of our popular episodes below.
S2:E14 – SHANTAIA
S1:E22 – Tim Hicks
See a list of all our previous episodes of the podcast and have a listen.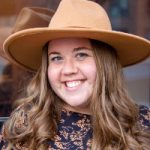 Country music lover with an unhealthy collection of concert t-shirts. Always looking for up and coming artists. Believer in music's ability to soothe the soul. Connect with me on Instagram and Twitter.